This Davidson Apartment Has 70 Plants Within 750 Square Feet
That's one plant per 10.7 square feet, if you're counting.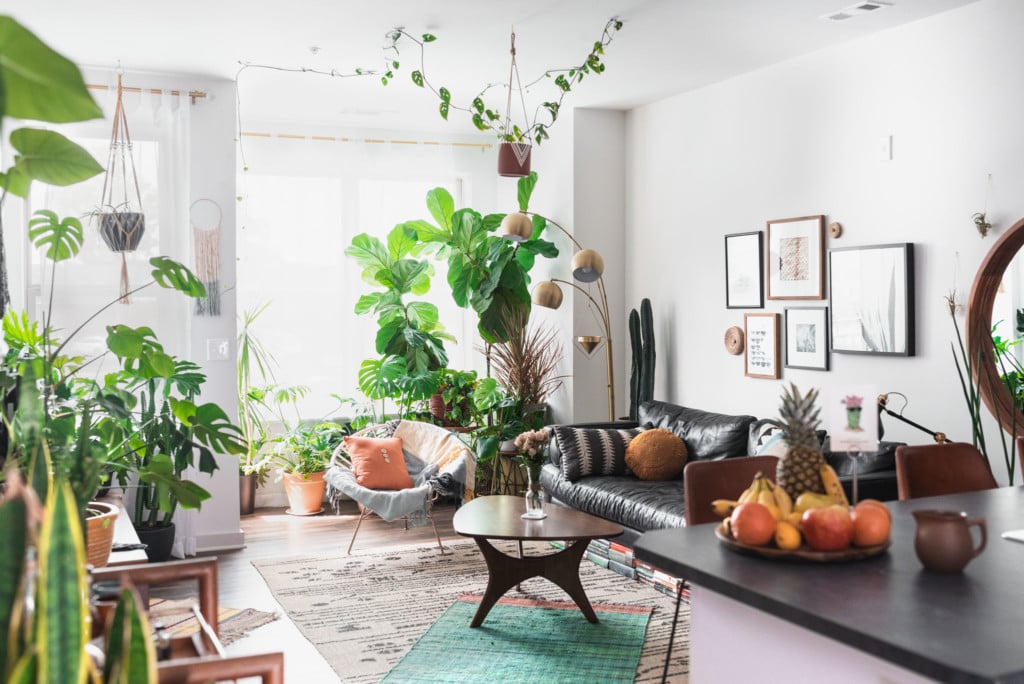 FRANK OCEAN IS PLAYING in the background as I enter Blake Pope's one-bedroom apartment in Davidson's Lynden complex, but the first thing I notice is not the music; it's the greenery. Sprawling and crawling on the ceiling, near the windows, and across the walls, about 70 plants define the 750-square-foot space. Envy overtakes me as I remember my own plants struggling to survive back home in Huntersville.
Cacti, Monsteras, air plants, Euphorbias, snake plants, and fiddle leaf fig trees give the apartment visible life. You'll even find clippings propagating in test tubes peppering the walls, but Pope says his plants haven't always been this successful.
"I've killed my fair share of plants, no doubt. Mostly, fiddle leaf figs have been murdered very quickly," the 30-year-old laughs. His girlfriend and roommate, Jules Wyant, nods to confirm. However, like most green-thumbed individuals, Pope stuck with plant caretaking despite the fallen soldiers. He eventually learned how to keep them thriving, realizing most people—including his past self—overwater their plants.
"To keep these alive," he says, motioning to the group of plants lining the natural-lit end of the living room, "it's a bit of constant checking in and watering. Usually, on all my days off, I'll take a good hour-block and just spend time making sure they're in good shape and happy. I'll move them around."
Though his days off are spent with his plants, Pope's time at work is what initially inspired him to get into gardening and design. The hip millennial currently bartends at Kindred and does freelance design, photography, and branding work, but he's been working with Ben and Katy Kindred at their Davidson restaurant since its beginning in 2015. Katy designed both Kindred and Hello, Sailor using her own eye for style.
"When we were opening Kindred, working with Katy was one of the first times I realized that plants are part of interior design and work within the design. That kind of clicked with me," Pope says, noting Katy as a mentor.
From there, his love affair with design and plants grew. "It was like a self-creative-obsession," Pope admits.
He's sure to mention how plants can create gorgeous geometry in the home, which makes sense, given the space's overall design—geometry and modern design go together like shiplap and farmhouse style. Pope leans heavily towards mid-century modern styles mixed with bohemian flair (thanks to the layered rugs and greenery). The apartment easily resembles what you'll see in a CB2 or Urban Outfitters catalog. Unsurprisingly enough, these are two of his favorite places to find furniture, in addition to West Elm and Article.
Though he curates pieces from big-name stores, Pope also shops local. He frequents Elisabeth Rose, a Davidson stationery shop, for "fun knick-knacks," and he finds cool ceramics (see: planters) from Holistic Habitat, which sources fair-trade bohemian items that can be found at Slate Interiors and Cotswold Marketplace.
Pope and Wyant are really into thrifting as well, and it's these secondhand stunners that give the place its homey feel often not seen in catalogs. Three colored analog phones quirk up a wooden bookshelf, for example, and a vintage trunk found at Sleepy Poet sits sleekly in beneath the TV, housing old DVDs.
The black leather sofa anchoring the living room is to credit for the rest of the space. From Article, the sofa is one of Pope's "most favorite things in the world," and it inspired much of the rest of the apartment's look—black and gold accents continue throughout the space. That is, until you reach the bedroom.
Perhaps the most alluring focal point of Pope's apartment (if you had to choose just one) is the peach statement wall soaking up the sunshine in the bedroom. Texture abounds in this room, with layered rugs covering the carpet and a rattan room divider acting as curtains, but the place pops with the unexpected hue complementing the greenery. Wyant likes to call the color a "terracotta blush," but the paint's given name is Peaches 'n Cream from Benjamin Moore.
The apartment's "livable modern" vibe extends from the living room to the bedroom and back again, with one quirky detail personifying the whole look.
Beneath Pope's beloved black couch, stacks of Harry Potter and history books fill the space underneath. The books are Wyant's—who was a history major specifically focusing on the WWII era and the Holocaust—and the books are there solely to keep one of the couple's two cats from clawing the underside of the couch.
And that's the thing—the couple doesn't try to hide real-life with interior design. The apartment is not a showroom, and it doesn't feel like one. It's a mix of passions, ideas, and personal belongings, just like a home should be.