This Incredible Pain: KinderMourn
How do you live with the loss of your son? Or daughter? Or the sudden loss of another loved one? One organization in Charlotte, KinderMourn, spends every day helping people move closer to finding an answer that may not exist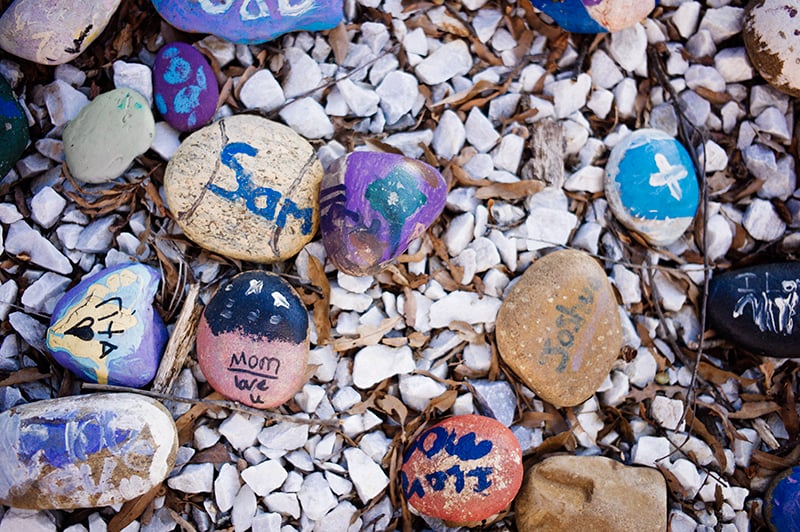 ONE MORNING in the spring of 2002, Peter Fowler walked into the kitchen of his in-laws' home in Stuart, Florida, to say goodbye to his 6-year-old son, Petey. He found the little boy making himself a bagel for breakfast. "I remember him hugging me and smearing me with cream cheese," Peter says. "That was the last time I saw him."
Peter and his wife, Lisa, drove home to Charlotte. Their two sons remained in Florida with their grandparents. Joe and Olga, as the boys called them, would drive them home after they spent Easter week together, most of it in the swimming pool. Seven days later, at his home in Ballantyne on April 5, 2002, Peter was mowing the lawn when voicemail messages started to appear on his cell phone. There had been a wreck on Interstate 95 in rural South Carolina. One son, 10-year-old Dave, survived with minor injuries, and he shared his dad's phone number with passersby who stopped to help. The messages they left on Peter's phone indicated that three were dead, including a little boy. In the skip of a heartbeat, Peter knew that it was Petey and the child's grandparents.
How do you live with the loss of your youngest son, and the memory of the two of you covered in cream cheese while you whispered, I love you. See you next week?
In the middle of a Charlotte coffee shop 13 years later, tears fill Peter's eyes as he considers that question. He's 58 now, and he's been asked some version of the question countless times. He's even asked himself a few times. This is the answer he has settled on.
"I don't block it out. It will always be a part of me. But I don't let it define me. For the sake of what KinderMourn was able to do for me, I will gladly talk about it."
***
SINCE ITS founding in 1978, KinderMourn has helped 14,000 families—most from the Charlotte area, all struggling to live with the loss of a child or other loved one.
Kelly Hamilton was 24 years old in 1985, working on her master's degree in counseling at UNC Charlotte, when she started as an intern at KinderMourn. Her first assignment: A family had just lost an 18-year-old daughter in a wreck. They pulled out a photograph to show Hamilton how beautiful she was. Hamilton didn't know what to say or do. When she was done talking with the parents, offering what comfort and counsel she could, she shared her helplessness with her adviser. She has never forgotten his response: "Did you listen? Then you did everything you were supposed to do."
Thirty years later, Hamilton is still listening. She has been KinderMourn's executive director since 1992, and she's devoted her professional life to the small nonprofit—running the organization, raising money, telling KinderMourn's story in the community, making sure every bereaved person is heard. She has looked at the photographs of their children and heard the stories of miscarriage, stillbirth, disease, accident, and violence. She has welcomed families to the holiday memorial services. These families, including Peter and Petey Fowler, have become a part of her life. She can't pass a Domino's Pizza without thinking of Neal Chastain and his parents, June and Eddie Booth. Thirty years ago, Neal would have his folks call Domino's to deliver a pizza with onions, mushrooms, and extra cheese to his hospital room. He died of leukemia on November 11, 1985, three days before his 22nd birthday.
A mother of two grown sons now, Kelly says KinderMourn helped her appreciate what's most important in life, especially now that she has grandson Lucas to love. From that first encounter, when she wondered how she could possibly help, she has come to reject the idea that her workdays are awash in grief. Instead, she says, "I've grown up around resilience. Around people who can rebuild their lives. Around hope."
***
AT THE FUNERAL Mass for Petey at St. Matthew Catholic Church in 2002, someone handed Peter Fowler a KinderMourn brochure. He stuck it in his sock drawer. Peter thought he could handle the death of his youngest child and in-laws, that with time he could return to some semblance of a life. But Peter, who worked in human resources for Duke Energy, found himself walking around uptown during the workday, looking at people passing him on the street and wondering, "How many of them are like me?" It got to the point where he couldn't say Petey's name. "Hell, it's my name," he tells me. "I needed help."
In December 2002, eight months after Petey died, Peter joined a support group for bereaved parents at the KinderMourn home off Kenilworth Avenue. His wife, Lisa, chose not to go; bereaved parents often respond to their loss differently. Peter shared the story of his son's death at the first meeting he attended. He still remembers it. "I thought I was the only dad dealing with this incredible pain," he says. "After hearing the stories from other dads, I felt a sense of relief. There was someone who was not only sympathetic, but was dealing with their own loss of a child."
Nearly every Tuesday evening for two years, he gathered with other mothers and fathers who had lost a child. Together, they spilled out their grief and their questions. What do we do at Christmas? How do we respond when someone asks us how many children we have? The support group gave Peter and the others a place to vent their frustration as well, at well-meaning friends and colleagues who say such things as Give it time; the hurt will ease. Or, This is part of God's plan. Or, I know how you feel. Or, Your child is in a better place. "That's always rubbed me the wrong way," Peter says. "Where is there a place that would be better than with his family and his brother?"
John O'Hare remembers the first time he saw Peter at their support group meeting. It was about a year after Peter had first joined. John and his wife, Diane, had just lost their only child, Ryan, on May 14, 2003. John, a retired Charlotte-Mecklenburg Police major, walked into a KinderMourn meeting and saw Peter sitting by himself, waiting for the conversation to begin. He remembers seeing Peter's eyes and how sad they looked. It's a look that lingers, even when Peter smiles today.
Twelve years later, John and Peter remain friends, sharing a love of Harley-Davidson motorcycles and an occasional dinner of chicken wings and beer. They share more than that, of course. "Losing a child puts you in a club no one wants to be in or should be in," John says. "Peter and I are in that group."
Lisa, who lost a son and both parents that day in 2002, chose to handle her grief in a more private way. She didn't turn to KinderMourn, although she was fine with Peter seeking the organization's help and now sharing the story with others. The Fowlers, though, would wind up divorcing. Their marriage, Peter says, was a victim of irreconcilable grief. If not for the wreck, he believes they might still be together. She chose not to comment for this story.
Their other son, Dave, now 23, did not turn to KinderMourn, either. Talking about what happened, Dave says, wasn't for him, but he is grateful for the outlet it gave his dad. Dave graduated from N.C. State in the spring of 2015 with a degree in public relations. He's living with friends in Colorado Springs, working at Starbucks while he charts a career path. He remembers a lot about the wreck, but says he sees no point in reliving what happened for this story. Although he doesn't think about it every day, he says it shaped how he looks at life. "What's important? Relationships. They're important."
Peter says that after the wreck, Christmas became just another day. Half-kidding, he often tells Dave, "The next time I put up a Christmas tree is when you give me a grandchild." And when someone asks how many kids he has, Peter has settled on an answer. "I say, 'Dave, who is 23, and Petey, who will always be six.' "
***
AS PETER learned to live without Petey, he decided to tell his story. He began speaking to various groups on behalf of KinderMourn as a way to raise awareness and support for the agency. He believes he honors Petey each time he talks about him. Twenty or so times each year, he stands in front of a church or civic group, a gathering of United Way heavy hitters, or young doctors learning how to practice medicine with compassion. He often pulls out a photograph of Petey and his grandparents. He'll take the audience through the wreck and its aftermath and offer what counsel he can: Tell someone who lost a child about KinderMourn; never tell a parent that time will make it better; remember what's important in life. He finds ways even in the most informal settings to share what he's learned about priorities: Every now and then on the golf course, a buddy will hit a bad shot and lose his temper. All Peter has to do is look at him and say, "Dude …"
One recent evening after work, Peter and another bereaved father spent an hour with Dr. Laura Netzley, a pediatric resident at Levine Children's Hospital. Peter told her about the wreck, the three deaths, and how he and his wife flew to Savannah to be with Dave, who had been airlifted to the ER there. Peter started crying—he always does when he talks about Petey—and then he recalled his response to the ER doctor telling him he had to leave the room while they cared for Dave. "I told him, 'No matter what you do to this kid, I'm staying.' "
More than 13 years later, he recalls the wonderful care Dave received in the hospital. But he will never forget that order to leave the room—it's a reminder that every word and gesture matters. His advice to Dr. Netzley: "No matter how strong you think those parents are or how busy you may be, they need some love and care. Asking or telling me to leave the room when he was all I had left …" His voice trails off.
***
JILL SHIPP and her husband, Scott, knew of KinderMourn before they lost their son, Will, on December 15, 1994, three days after he was born prematurely. She was a social worker who referred clients to the organization, never imagining she'd one day refer herself. The Shipps found comfort in an Empty Arms support group at KinderMourn for parents who lost a child to miscarriage, stillbirth, or early-infant death. Grateful for what KinderMourn offered her family, she went to work for the organization, first as a counselor and now Adult Program Director.
There is no right or wrong way to grieve, Jill Shipp reminds parents. She tells couples to respect each other's feelings, understanding that even the best marriage might not survive a loss no one can prepare for.
She tells parents it's OK to be selfish, to turn down a friend's invitation for coffee, to turn your back on the usual Christmas traditions, to take as much time as you need. Some people feel like they have to put up a front, Jill says, as if a few weeks' time and some casseroles from well-meaning neighbors are supposed to offer enough healing.
It's OK if your faith doesn't speak to you after a tragedy. This past Easter, Jill was still grieving the death of her mother, Raye, several months earlier. Although her family is active at Myers Park United Methodist Church, Jill couldn't bring herself to go to an Easter service this year and listen to hymns of hope. So she didn't go. In that same spirit, Peter Fowler typically attends Mass at St. Matthew Catholic Church on just two days a year now, on July 5 and April 5: "The day Petey was born and the day he died."
Jill, 50, has buried a child. She knows not to promise parents that the grief will go away. The best she can offer is a hopeful possibility: "This doesn't have to define your life. It's a part of your life. It's a chapter in a book. But it's not the last chapter."
Jill keeps a picture of Will on her desk, in a sunflower frame. She also has plenty of pictures of her three teenagers, Olivia, Abby, and Ethan.
***
PETER'S STORY, after the death and grief and anger, ends where all KinderMourn stories try to end: With memories.
Dave and Petey Fowler were born in Worcester, Massachusetts, and moved with the family to Charlotte when their dad took a job with Duke Energy. Four years apart, they were inseparable— playing with the neighborhood kids, riding bikes, and sometimes fighting like brothers fight before falling asleep in the same bed at night. Dave says he has vivid memories of the thick woods behind the family's first house in Charlotte, and how he and his brother would go back there to play. Petey was a Cub Scout. He had blond hair. His mom was a great cook, and he used to help her bake bread. He was in the first grade at Pineville Elementary School. He loved his teacher, Mrs. Partridge. She spoke at the funeral. He was all boy, especially the day he decided to grab a shovel from the garage and, for no apparent reason, dig some holes behind the shed. When he was done, he walked into the house covered in red clay, having worn his big brother's boots and clothes because he didn't want to get his dirty. He pronounced "napkin" "nakin." He loved dancing to that old disco classic, "(Shake, Shake, Shake) Shake Your Booty."
"He was a ladies' man," Dave says. "He would have been a flirt, that's for sure." Petey was scared to play baseball for the first time, so his parents told him he could wait a year before joining a league. The family used to eat out several times a week. Midtown Sundries was a favorite. Their regular waiter, Brian, had their drinks of choice waiting for them at the table when they sat down. Petey's was chocolate milk. After the wreck, when the three of them finally mustered the strength to return, Brian greeted them and innocently asked, "Did someone steal one of your kids?"
With the pain that comes from memories comes story after story about Petey. These are the stories a father shares to comfort others as they comfort him, for what else does he have to cling to?
One last one.
Not long before they said goodbye to each other that morning in Florida, Petey was riding in his booster seat in the back of the car in Charlotte when the most unusual thought came to the mind of the six-year-old.
"Daddy, what would you do if I died?"
Peter had to think for a moment about how best to respond. His answer still holds.
"Petey, I'd cry every day for the rest of my life."
Ken Garfield is a writer in Charlotte and works as director of communications at Myers Park United Methodist Church. He is the author of Billy Graham – A Life in Pictures. He also writes obituaries.
---
HOW DID IT START?
Former Charlotteans Lucy and Bill Christopher founded KinderMourn in 1978 after losing a daughter, Sally, at birth. Since then, the nonprofit organization has helped 14,000 families cope with the loss of a child or loved one through individual counseling, support groups, and more.
WHO CAN COME?
All bereaved parents, regardless of their child's age or cause of death, are welcome. KinderMourn offers programs for families that have lost a child during or shortly after pregnancy. Counselors also go into schools to work with students who have lost a loved one or special friend. Two upcoming holiday memorial services—one for children, the other for families— offer a chance to light a candle at the hardest time of the year.
WHERE IS IT LOCATED?
The Carter Seawell Home on Harding Place, named for a Charlotte native who died unexpectedly at age 34 while working out at the Harris Y in 1994. His daughter, Kaylyn, nine at the time, found comfort at KinderMourn. Seawell's friends raised money to buy and refurbish the current KinderMourn home. Filled with soft lighting and comfortable sofas for conversation, it includes a children's wing named for Jennifer Young, the five-year-old daughter of David and Terri Young who died in 1998. Bricks in the walkway leading to the front door are named in memory of loved ones lost.
IS THERE A COST?
There is a sliding fee scale—participants pay what they can afford, and financial help is available. The grieving, most of whom fi nd out about KinderMourn from friends, neighbors, and the medical community, are never turned away. The $600,000 annual budget is supported by United Way, individual donations, and money raised at KinderMourn's signature event, the Hope Floats duck race at the U.S. National Whitewater Center. The next duck race is May 1, 2016.
A FINAL STORY
More than 37 years after they lost their son, Billy, to bone marrow cancer at age 4½, Jim and Martha Ausman plan to attend KinderMourn's holiday memorial service. They will light a candle, think about Billy, and be reminded of what they learned in their support group, KinderMourn's first, in 1978. "We are not alone," Martha, 73, says.
---
This article appears in the November 2015 issue of Charlotte Magazine
Did you like what you read here? Subscribe to Charlotte Magazine »
---