This Is Belk
Belk is celebrating its 125th birthday by spending $600 million—revamping the brand, renovating stores, and retraining employees—in an attempt to stay relevant in today's new world for department stores. Will the iconic brand succeed?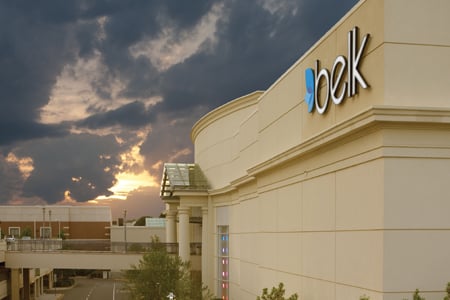 The timing was unfortunate. In September, just hours after one of his worst showings ever on a football field, Cam Newton hammed it up in front of a small crowd of people at Belk's headquarters on Tyvola Road. The handsome Panthers quarterback had traded in the jersey (and the frown) he wore playing against Seattle the day before for a sharp suit as he debuted, of all things, a clothing line.
Newton entertained the gaggle of Belk employees and media with tales of hide-and-seek games he and his older brother once played in an Atlanta Belk store. He pointed out stylish outfits, calling them "swaggeriffic." He flashed his trademark big grin, and Belk employees and executives grinned right back.
The clothing line, MADE Cam Newton, will be sold only at Belk, one in a growing list of brands exclusive to the store. It's the latest in a series of bold—and expensive—moves the Belk family has made in an attempt to keep the iconic, 125-year-old brand competitive in an increasingly tough market for department stores.
The recession, of course, made life miserable for almost all retailers. But department stores have long had it even tougher. First, mid-market stores—think Marshall's, Stein Mart, Kohl's—began cutting into their market share. Then, discount department stores—the Targets of the world—became formidable competitors. At the same time, Internet retail took off, leaving many department stores, including Belk, on the outside looking jealously in. Once, there were more than 600 department store chains. Now, there are fewer than twenty. Some are barely hanging on.
Belk is the largest privately held department store chain in the country, which is one of the reasons it was able to squirrel away enough cash—during a recession, no less—to allow it to embark upon its current $600 million investment plan, which includes new branding, store renovations, and an amped-up online presence. If the plan works, it will go a long way toward determining whether Belk will grow into a $6 billion company, like its COO Johnny Belk says he wants, or falls behind as other department store chains race ahead. As a company that was born in Charlotte and grew up as the city did, Belk's fate may have broader implications for its community, too.
Fifty miles from uptown, Monroe, North Carolina, seems a world away from Charlotte. Most Charlotteans only know the area because they pass through it on the way to the beach. In downtown Monroe, on Main Street, there are hints of the town's heyday, among them an old, abandoned two-story brick building that stretches almost an entire block. Go around to the back, and you can still make out the name "BELK" in big, black block lettering.
"I think it's cool that they left it there," says native Charlottean Sally Raker, forty-nine. That 1,500-square-foot building housed the original Belk, which was founded in 1888 by William Henry Belk, who was joined soon after by his brother, John. "When I was growing up here there were only two stores," Raker remembers, "and Belk was one of them. That was the nice store to go to." Her first job out of college was in the uptown Belk's fine jewelry department.
Bob Morgan, head of the Charlotte Chamber, has a similar story. "Most of us who have grown up in Charlotte grew up as [Belk] customers, and some of us, like myself, are former staff," he says. Morgan sold menswear at the Eastland Mall store. That store is gone. So, too, is the uptown location.
In some ways, Belk has morphed into a modern retail chain. It has more than 300 stores in sixteen states (stretching up to Maryland and out to Texas) and brought in almost $4 billion in revenue last year. Yet the company has trouble breaking free of its past. Until 2010, the logo had not changed since 1967. In part because it grew through acquisition, Belk's online presence has been woeful, and the brand has different reputations in different cities. Johnny Belk, fifty-three, now runs the company with his brother Tim Belk, fifty-seven. They are third-generation Belks, and they are fighting for the company's future.
Over an early breakfast in late August, Johnny Belk talks about what the new Belk brand means. "It's really about representing a Southern lifestyle. One that's fashion forward. It's more modern. It's more colorful." The chief operating officer is tall and trim, almost aristocratic, with kind eyes. It's 6 a.m., and we are among the first inside the Panera in Myers Park. Back from a family trip to the Olympics and an extended stay in Europe, Belk arrives armed with the morning papers and a willingness to chat over a breakfast sandwich, though he is on a tight schedule. He will have to leave for a company board meeting in an hour.
The boardroom is a long way from the back room where Belk first worked when he joined the family business as a kid. He worked the loading docks, the fine jewelry department, and even spent a summer selling men's leisure suits. He says it was a good way to learn how to deal with the family part of the family business. "My father's generation didn't get along," he says, referring to the internal squabbles that often troubled the second generation of Belks, "so we have that as an example of what to work toward and what not to."
While the family drama is diminished, it is tough to run a department store these days. Many analysts predict the nation's top ten department stores (a list that includes Belk) won't see any sales growth this year. But Johnny Belk says profits have been up for ten consecutive quarters. And he says the department store chain didn't exactly lay low during the toughest times.
"In the middle of the recession we spent $60 million changing the signs out, saying we were going to commit to the Belk Bowl, investing in e-commerce…it was all a little bit crazy, but we had the financial strength to do it." He cites the mantra of the first John Belk: "Change before you have to."
Belk says they made tough decisions, relied on longstanding relationships with banks, and were able to accumulate $600 million in cash by the end of 2009. And they forged ahead in a way markedly different from other retailers. "A lot of people said 'We're just going to hunker down,' and instead we said we have to change, because the consumer has changed. We said, 'What do we want to do differently?'"
"In the middle of the recession we spent $60 million dollars changing the signs out, saying we were going to commit to the Belk Bowl, investing in e-commerce… it was all a little bit crazy but we had the financial strength to do it."
They started with the logo. Two years ago, Belk ditched the elegant cursive B familiar to four generations of customers and abandoned the "All for you" slogan attached to it. "What does that really mean?" Belk asks by way of explanation. A team of marketing experts spent a year coming up with the new, all lowercase logo and the tagline "Modern. Southern. Style." The logo and slogan change marked the launch of a $600 million plan to revamp the chain.
"When I got here I felt like Belk was very much under the radar, and I think that's what the [Belk] brothers were comfortable with," says Arlene Goldstein, Belk's vice president of trend merchandising and fashion direction. She started at the Charlotte headquarters about five and a half years ago. "That's about when we began to look to the future," she says, "while still being proud of our heritage."
It is a heritage to which many Charlotteans feel a connection. Jennifer Pokrin, thirty-five, grew up shopping at Belk's SouthPark store. She joined the staff at age twenty-two, and worked her way up from a post-college job selling crystal in the home department of a Wilmington location to her current position as the assistant store manager at the four-story, 330,000-square-foot flagship store at SouthPark. She likes the marketing changes, but cautions that the challenge will be to retain customers like her mother, who has been shopping at Belk for decades. "We have a lot of loyal customers who are older. We have so many people that come in and want to tell you how they know the Belk family and they remember when … and you get that wherever you go. I hear stories all the time. It always starts with, 'I remember when … '" she says, trailing off.
Anne Hardy, sixty-five, grew up in Marshville and has worked at the Monroe store for more than forty years. "June 6, 1966. That was my first day," she says. She started at the original location and moved with it when it relocated to the Monroe mall. The stylish grandmother speaks with a thick Southern accent when she says she sees the same loyal customers several times a week. "I think everybody sort of resisted the changes for a while. But now I like the new logo. I think it makes us more with the times. I think you have to move with the times."
"How do you distinguish yourself when competing against a $26 billion retailer?" Belk asks, referring to Macy's. "How do you have a strong offense? We know the South better than anybody else." While most of the chain's 303 stores are in the South, he doesn't rule out expanding farther into the Northeast. He says the new brand is less about a specific geographic location and more about a mindset. Southern women wear more color than women in the Northeast, Belk says, explaining why the stores are filled with more dresses and bright hues than you would find elsewhere in the country. Goldstein says, "It's the reason people want to go to Charleston and eat crab cakes or go to New Orleans to experience the architecture and great food. People love the South, the fact that it's a little more polished, a little more feminine, and we think we're in a good position to capture that."
In 2011, Belk took the new branding strategy nationwide by advertising during December's Belk Bowl, an end-of-season college football game played in Charlotte. This was part of the company's push to increase online sales, an area where Belk is playing catchup to its competitors. The company estimates that about 25 percent of online sales come from outside Belk's sixteen-state footprint. "[The Internet]'s really a rocket ship of growth," Johnny Belk says. "It's explosive growth, growing a little less than 100 percent every year." He admits that's partly because the company had a lot of room to grow. It wasn't until 2008 that Belk's online offerings expanded beyond home goods and wedding registries to include much of the clothing and other merchandise sold in the stores.
Johnny Belk concedes the company still lags way behind most competitors when it comes to web sales. "We're not satisfied with … how well you navigate the website, the ease with which you find what you're looking for. A lot of people are ahead of us from a technological point of view." The company was also late to the social media game, waiting until 2010 to increase its exposure on Facebook, Twitter, and YouTube.
Belk says that one-third of the $600 million capital investment plan will go toward technology, including gathering data from its customers. "We'd like to know when you go to the store and what you're looking for," he says. He says the company is in a race to have the store and the website communicating, so, for example, you can purchase mascara online and pick it up in the store.
"It's a pretty fundamental shift in terms of the way department stores operate," says Clementine Martin Illanes, a retail strategist at the consulting firm Kurt Salmon Associates. She says all the major department store chains are in the process of making similar kinds of infrastructure changes. "Stores are looking at what is the overall customer experience and how to engage them across all channels—mobile, online, and in stores. There is a real focus on what unique products the store has and the experience unique to each individual customer," she adds.
Earlier this year, to help keep up with the increasing web sales, Belk opened a $4.5 million, 515,000-square-foot e-commerce fulfillment center in Jonesville, South Carolina. That's where orders are filled and shipped, and the facility will eventually create 125 new jobs.
Another $200 million is helping pay for some big-time remodels. The Monroe store celebrated a grand reopening last fall after a $5 million face-lift that added about 30,000 square feet. The Carolina Place store is getting a full-on redo over six phases. The SouthPark flagship got a mini-makeover with the consolidation of the home departments. Several stores, including Concord and Gastonia, saw their shoe departments double in size. Twenty-nine stores across the chain had renovation work done.
"It is a challenge for an older, reputable retail group to modernize, evolve, and update," says Tom Julian, a New York–based author and retail consultant. "Over the past several years, Belk has done that."
Johnny Belk says the next step in the overhaul will focus on the frontlines. He sounds disappointed when he reveals that only 75 percent of people in a recent survey said they were highly satisfied with their experience shopping at Belk. "We want more," he says. The company launched a new customer-service program to train its 23,000 staffers. "It's people intensive. People are complicated and challenging at times and thrilling at times. The challenge is how do you get people moving in the right direction that meets that modern Southern woman?"
Belk knows, for example, that the SouthPark store is often compared to Nordstrom, which is noted for its customer service. "We're even changing the tasks our employees have to complete so they can focus more on the customer. We want to greet her, interact with her. We need to interpret why you're in the store without being pushy."
Hardy says she tries to tell her employees to think of it as though they're inviting the customers into their home—a modern, Southern, stylish home. One that's undergoing a little renovation—$600 million worth.
Michelle Boudin is a reporter for NBC Charlotte and a frequent contributor to this magazine.