This is What Sustained Success Feels Like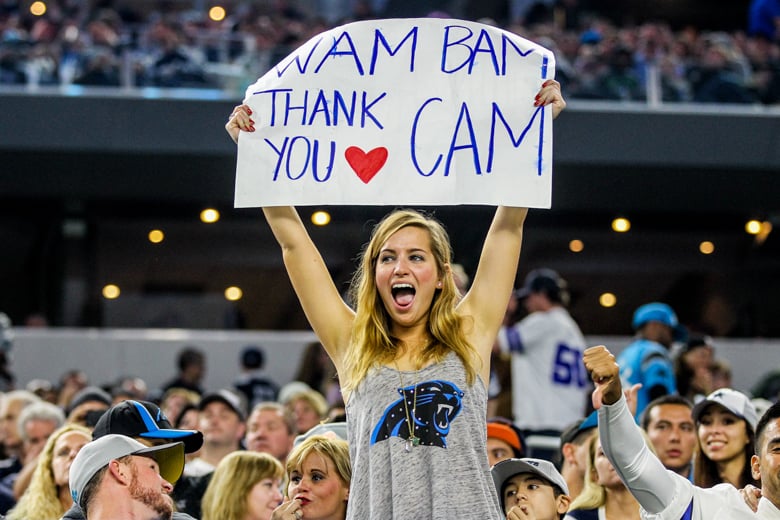 The vanity license plate on his Dodge Hellcat Charger includes Josh Norman's jersey number, so it's not hard to spot No. 24 around town. But the guy can't even fill up in peace these days.
"I go around in Charlotte, and fans are like, 'Man, I'm getting ready for the game!' I'm hearing that everywhere," the Panthers cornerback says. "It's ridiculous. I can't even go to the gas station without getting honked at.
"It's becoming a football town."
We're a football-mad country, so most cities with NFL teams are football towns just by osmosis. That the Panthers are the hottest sports topic in Charlotte isn't anything new. The degree of popularity is.
"It's tremendous to go out to dinner, take your family out and everybody recognizes (you)," says fullback Mike Tolbert. "To see the type of enthusiasm that this city has right now, the buzz that's going around, it's amazing. It's something that you can't describe."
To many who were around during the only time the Panthers have played into February, this is even better than that. These Panthers haven't yet matched the 2003 Super Bowl run, but basic math proves the present is bigger.
"The city's been growing, so with that, the fan base has grown," says receiver Brenton Bersin, a Charlotte native and fan of the franchise for its entire 21 seasons. "There's always been die-hard fans, but now it's coming from outside Charlotte.
"There's fans all over the country now, even around the world."
He's right. There's certainly no record of an English soccer team sending jerseys to Jake Delhomme and company 12 years ago.
Sure, plenty of bandwagoners have jumped on board, but the seeds for these days were planted before the Panthers rolled through this magical season. Think back to tge summer when crowds in Spartanburg and at Fan Fest shattered attendance records. The 15-1 record that followed was just fuel to a fire that started with the first back-to-back playoff trips in franchise history.
"Every kid you see around town is wearing nothing but Panthers and that wasn't always the case when we first got here," says tight end Greg Olsen, who in 2011 was traded to a team that won just two games its previous season. "But you have to create that, it doesn't just happen because you have an NFL franchise. You have to give people something to be proud of, something to embrace.
"I think this season has shown the city just how special and what it means to have a highly competitive NFL franchise. Hopefully, we've proven we're not just a flash in the pan, we're an annual threat."
It appears that way, especially since the Panthers have the league's soon-to-be MVP at the game's most important position. And Cam Newton is just 26, at least 10 years younger than the other three quarterbacks who will play in conference championship games this weekend.
No matter how many trophies Newton ends up winning, some segment of the population will always find him polarizing. Even folks in the city where he plays. But by and large, that city will enjoy the ride he takes them on.
For Charlotte, the Panthers and even Newton, the trip may be just beginning.
"I'm in a position where just as much love as you get, you get hatred. Obviously, I hear what people say, the letters that they write," Newton says. "My big thing was trying to make the biggest impact on people that would give me a chance and Charlotte has always welcomed me with open arms.
"It's something that puts a smile on my face. It puts a smile on my heart as well as my family's just to know I can always call Charlotte home and will always call Charlotte home."