This Land
As the county's greenspace gets swallowed up at an alarming rate, the Catawba Lands Conservancy is working hard to preserve what's left of our natural land. Born out of civil disobedience, the group has held off funding challenges and the occasional politician. As it celebrates its twentieth anniversary, it has big plans for the next twenty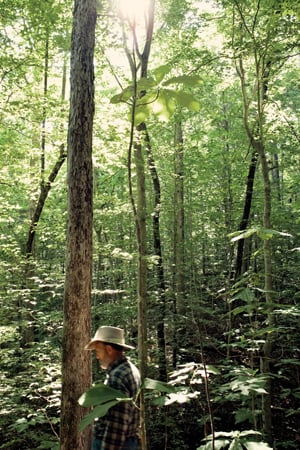 It's dusk at the end of a sweltering June day at Redlair Farm and Forest in Gaston County. The birds are chattering and chasing one another from branch to branch. Mosquitoes pester any human brave enough to visit during their prime time, buzzing until they find a juicy vein. The wind is still, and if you listen closely you'll hear a rushing river beckoning you to its banks.
The hiking trails don't look like those at government-run parks. Even though there are about ninety miles of them on the 755-acre tract of conserved land—1,200 acres if you count the adjacent properties—it's hard to tell, because no one is on them and they can be difficult to spot since they're not beaten down, paved, or covered with gravel. Fallen trees and branches mark some of them, especially at junctions, but if you're new here and on your own, you might want to stick to the old wagon trails; they will take you to the South Fork River just as they may have for more than two centuries' worth of travelers.
Look down and you'll see unusual-looking mushrooms, lichens, wildflowers with funny names like "hearts a'bustin'," and bugs scurrying around, under, and over leaves and moss-covered fallen trees, left to return to the earth. Look up and you'll only see specks of sky through the lush foliage. That's in part because of the rare big-leaf magnolias, which aren't found growing wild anywhere else on the East Coast. Other trees, which are older and larger than most others in the region, reach for the sky with the magnolias, their size revealing the land's history of settlement, agriculture, abandonment, and salvation.
The clean air feels good in your lungs, and it's cooler here, too, since there is no pavement to retain and release the day's heat and the property is crisscrossed with freshwater streams making their way to the South Fork River. Once there, you can sit on a wide wooden bench and watch the water gurgle over a stretch of rocks, or, if you're brave enough, climb down to the water, using tree roots as stairs, and rest on a large rock jutting out from the bank.
This is one of the few rivers in the South that's allowed to be a river; most are dammed and, like the Catawba, the source of Charlotte-Mecklenburg's drinking water, they are now a series of lakes. But thanks to the forward-thinking Rankin family, the property's owners, and the Catawba Lands Conservancy's promise to steward Redlair in perpetuity, your children's children—and their children, too—should be able to sit on a wooden bench in the same spot and wonder at the same sights and sounds.
While Charlotte is one of the South's oldest cities, it wasn't until the 1970s that transplants and developers succumbed to her charms and began grabbing her land. The city appears to have a lush tree canopy, but UNC-Charlotte's Renaissance Computing Institute and Urban Institute have proved otherwise. Their Urban Growth Model, which incorporates historical aerial photographs of a twenty-four-county region surrounding Mecklenburg County, helped researchers and planners alike recognize that about a million acres had been developed around Charlotte between 1976 and 2006, at a rate of about 140 acres per day. The academics estimate that development in the area will continue at about 100 acres per day through at least 2030, though the Great Recession has slowed things a bit.
Back in the 1940s, when the Rankin family began accumulating land in Gaston County, people told their patriarch he was crazy. But he saw the future and knew Charlotte was capable of swallowing neighboring farms and towns whole. Now, thanks to a deal with the Catawba Lands Conservancy and three of his children, including his son Haywood, most of their land will never be developed.
The nonprofit turned twenty this summer, and while those involved with it are happy to boast about the 10,000 acres of land it has conserved in that time, they say they're just getting started: they plan to conserve another 50,000 acres by 2030. State budget cuts and the ever-present challenge of fundraising present formidable obstacles, while the importance of the land to the area's drinking-water supply—each year, 5.4 billion gallons of the area's potable water comes from waterways near conserved land—is an issue most residents don't consider or even know about. But if they're successful, every single one of those acres will benefit every area citizen by helping to keep their drinking water and air clean and by offering everyone a way to connect with nature, sometimes on the greenways in their own backyards.
Mary McDaniel, seventy-four and the conservancy's founder, giggles when asked about her accomplishments. She doesn't like to brag, though those who know her are quick to call her the mother of Charlotte's environmental community. But before she was an environmental consultant and advocate—she's one of the founders of the local chapter of the Sierra Club and you can thank her for the county's recycling program—she taught biology in area schools. It's safe to assume she nurtured her students with the same gentleness she still uses to explain the importance of Mountain Island Lake, the smallest of the Catawba River's eleven lakes and most likely the source of your drinking water.
"If you can get people to see it, they can better understand why it needs to be protected," McDaniel says, smiling and rocking, explaining how she took government officials on tours of the lake in the early 1990s, during a contentious time in the county's—and the lake's—history. It was on this same porch that, in July 1991, she and a group of friends formed SMILE—Saving Mountain Island Lake for Everyone. The group soon expanded its vision, however, and the Catawba Lands Conservancy was born.
McDaniel set out to help people understand the importance of the lake and its watershed, which covers about 40,000 acres in Mecklenburg, Lincoln, and Gaston counties. A watershed drains the land surrounding a water system, funneling it into bodies of water like the Catawba River. When it rains, even dormant creek beds can fill and push everything in them—water, leaves, trash, everything—toward the river's edge. Anything that falls to the ground within the watershed has the potential to make its way into the river, and thus our drinking water. Then taxpayers pay to clean the water and have it delivered to their faucets on demand.
That understanding didn't come easy, though. In 1991, Charlotte's population was booming and developers had their sights on lakefront property. At the same time, both the state and the county were trying to decide how to protect drinking water. That spring and summer, developers inundated county commissioners with mail and sent unsigned propaganda to landowners, convincing some that the government wanted their land, or at least to lower their property values. Even the mayor of Huntersville at the time—whose mother owned 200 acres within the watershed—used town stationery to organize property owners against any regulation that would prevent dense development. At one point, she urged landowners to show up at a county commission meeting with signs that read "No Watersheds," which isn't physically possible.
At the same time, environmentalists were concerned Duke Energy would tire of losing money on Cowan's Ford Wildlife Refuge, which borders the lake. At that time, the N.C. Wildlife Resources Commission leased the land from the company for $400 a year—a sum that didn't cover the taxes on the 1,000-acre property. At the urging of environmentalists like McDaniel, Mecklenburg County proposed a $5.6 million bond in the summer of 1991 that would enable it to buy the property. The ensuing debate was intense. The voters approved the bond.
Within days of the county's bond proposal, McDaniel and her friends gathered on her back porch and formed SMILE, though it would be years before the organization, under its current name, would conserve its first tract of land.
Once the government decided how the watershed would be managed (by creating buffers to prevent development along the edges of waterways, limiting development within the watershed, and committing to conserving land of its own), the media's shine dimmed.
Meanwhile, the conservancy found it difficult to actually conserve anything, and, until its organizers proved themselves, it would be even more difficult to raise enough money to protect significant amounts of land, or even to operate. Organizers faced the reality that it wasn't easy to convince property owners to sell their land or grant easements (permission to steward the land in perpetuity in exchange for an agreement not to develop it), especially since they couldn't point to any examples of their work and since selling to a developer was the more lucrative choice.
By 1994, the conservancy had opened a small office on Independence Boulevard, but its enthusiasm outweighed its money, and the all-volunteer board wasn't sure what to do next.
Then they discovered a wildflower glen. Duke Energy (then Duke Power) owned the ten-acre property, which was adjacent to its Mountain Island Dam. Federally endangered Schweinitz's sunflowers grew on the land. The group wanted to conserve the land, but was having trouble getting traction. So they went to see Jim Matthews, a biology professor at UNCC and a noted conservationist. He gave them a pep talk. It worked. Within a year, the conservancy raised $30,000 to complete the purchase, conserving its first property. A year later, the conservancy hired its first full-time employee, and a year after that it acquired the easement to its crown jewel, Redlair.
At same the time, Matthews and his son Chris, now a Mecklenburg County natural resources manager, were helping the state and county with a National Heritage Survey, an inventory of plants and animals that has identified fifty sites within the county that have rare or endangered species in need of protection. Since then, the conservancy and the county have worked together to identify and preserve thousands of acres of greenspace, though, Chris says, "We still don't have all the ones we've identified," and some have been destroyed.
Haywood Rankin still watches over Redlair, so named for his family's red hair and the red clay beneath their feet. His father's belief that land was "the only real thing" led to the family owning hundreds of acres between the South Fork River and Hickory Grove Road, which is the dividing line between the South Fork River's and the Catawba River's watersheds. A retired U.S. diplomat in the Middle East and North Africa, and sometime lecturer at Davidson College, Rankin grew up traipsing through Redlair's forest. He is so passionate about every part of it that he can't keep his hands off the vegetation as he walks the property, unless it's to take a close-up photograph of bark or a flower.
Rankin is a member of the conservancy's board of directors and takes personal responsibility for stewarding his land and the adjacent conserved properties, walking and working the land most days from dawn till dusk. He is the one who convinced his parents and siblings to conserve their property (it only took fifteen years), thereby avoiding the "fantastic temptation to take the money and run, which is what tragically has happened in most cases in the Southern United States," he says.
In addition to securing funding for land acquisitions, the conservancy also bears the fiscal and physical responsibility of safeguarding and maintaining every acre it protects. It does this with the help of volunteers, and when there's a landowner involved, he or she still pays the property taxes, though sometimes at a reduced rate to make the bill more affordable. Despite the help taking care of the land and reduced taxes, Rankin says conserving land isn't about money, though. "This was a financial burden, and not a financial windfall," he says about Redlair. "The fundamental question is whether you love the land. If there are some financial incentives, that is good—and it is a shame our state does not provide more of them—but the real reason to save land is because you deeply care about it."
Now in his late sixties, Rankin worries about who will tend the land—pieced together little bit by little bit after farmers drained its nutrients and moved on—after he's gone. He hopes that one of the many academic institutions that uses it as an outdoor classroom and lab will take a more serious interest. He's also concerned that because area citizens don't place enough value on preserved property, utilities or government agencies could find a way around his agreement with the conservancy. "Eminent domain is the tool that the community uses to override individual ownership," he says, "because the community may say a sewer line, a gas line, or a highway is more important than a forest."
The Rankin family invites people to the property for the conservancy's annual meeting each May, where families from the Charlotte region have a chance to explore the ninety miles of trails. Their hope is that the public will realize how important Redlair is and become passionate about it, too. "I recognized that Redlair is, for me, the most precious resource over which I have any influence," Rankin says, "and that if my life were to stand for anything useful that this would be the most important legacy that I could leave."
The conservancy doesn't have the benefit of a tax base, as the county does. Instead, it relies on grants and private donations, some of which have dried up since the economy stalled. However, it faces a new dilemma: many landowners are ready to sell, or at least grant easements that will prevent future development and may help with their taxes. But the North Carolina General Assembly gutted the budgets of some of organization's main funders this year, like the Clean Water Management Trust Fund, which once received $100 million annually and now will only receive a tenth of that, which it will focus on sewage infrastructure. So while land is available—some of it for cheap—the funding may not be.
But even before the economy tanked, the conservancy's board members were expected to donate, volunteer, and help raise funds, says Eddie Poe, as they have been since the organization's start on McDaniel's back porch. Poe, a board member and Charlotte attorney, understands that it's difficult to convince others to focus on the environment in a time when "important human needs, such as food, clothing, shelter, and education, are easier for people to focus on." However, he added, "We are every bit as urgent a need as food, clothing, and shelter, if you will take the longer view."
When you consider that the 4,975 acres the organization has protected near area waterways filters 5.4 billion gallons of drinking water each year, you'll get his point. The flora on the conserved lands slows stormwater down so it won't overwhelm and damage the creeks and streams leading to the Catawba River, and the vast network of roots help suck pollution out of the water, making it easier and cheaper for the county to clean before sending it on its way to a faucet near you.
Since it preserved that wildflower glen, the conservancy has raised millions in funding, $1.5 million of which it has regranted to area communities for greenway projects. The organization has conserved more than 10,000 acres in the six-county region surrounding Charlotte, half along streams. And with the help of the Foundation for the Carolinas, it manages the popular Carolina Thread Trail initiative, which allows citizens to enjoy nature near their homes (see sidebar).
Within the next twenty years, the conservancy aims to protect another 50,000 acres. According to Poe, the thirteen-person organization—including summer interns—has "more projects than we can fit into our pipeline." But fulfilling this dream will require a renewed dedication to funding by private donors and government agencies and a communal recognition that land preservation is essential.
At the same time, the organization doesn't want to hamper development. On the contrary, the conservancy works with the government and developers in the race to figure out how best to accommodate the estimated 800,000 people who will move to the Charlotte area within the next decade.
"Growth is a good thing—it's healthy for the economy—but we want to be smart about how we do it and make sure that we don't find ourselves where we've depleted our natural resources," says Ann Browning, who became the organization's interim executive director in May after Davis Cable vacated the position.
Or, as Chris Matthews puts it, encourage people to "look at it as if you're borrowing land from your children. It will make you think twice about putting a building on it, or a road … and maybe they'll want to keep it the way it is."
Haywood Rankin has a more urgent view. "There is no soul without nature," he says, "and there is no nature without long-term vision. The only—the only—organization attempting to do anything about preserving even a sliver of what little is left of the natural heritage in the Southern Piedmont is the conservancy. The conservancy has accomplished miracles with little staff and little funding, but none of it is enough."
Rhiannon Fionn-Bowman is an independent journalist in Charlotte.