This little piggy went to Uptown…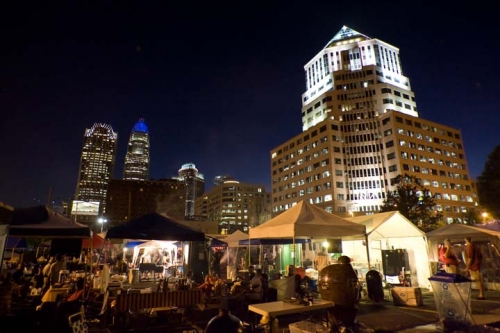 The Time Warner Cable Blues & BBQ festival (formerly known as the Blues, Brews, & BBQ festival) is what would happen if Bobby Flay sponsored Mardi Gras. It's what Fat Tuesday would look like if Fat Tuesday were actually Fat Friday and Saturday. And if it preceded a few days of gastrointestinal despair instead of 40 days of fasting. You can try to explain it any which way, but Charlotte's annual celebration of the three things Southerners do best (BBQ, beer, and blues music) is always a city-wide reason to let loose and get messy. Here's what you can't miss at this year's event:
The Food
Let's get the important stuff out of the way, shall we? There's seven BBQ vendors at this year's festival, including Stalling, NC's Rock Store, Monroe's Big Bob Gibson Bar-B-Q, and our very own Mac's Speed Shop. There's also a series of food vendors throughout uptown with festival foods like hot dogs and pretzels (we know kids aren't always hip to spare ribs). There'll be plenty of meat and slaw for the choosing, but it's a B.Y.O.M.T. event—bring your own moist towelette.
The Beer
BBQ's significant other. Regular beer traditionalists will still find Budweiser Select and Land Shark, but for those of you interested in drinking Beer, there's plenty of microbrews offered this year. Look for Big Boss Bad Penny (a brown ale out of Winston-Salem), Brooklyn Lager, and Blue Point Hoptical Illusion.
The Music
While the festival's lined up two exciting headline bands, the BoDeans and Big Bad Voodoo Daddy (see our recent entry on the irony of fusing barbecue and jitterbugging) for the 9:30-11 p.m. slots, talented local blues groups from across the state will be providing the soundtrack for your daytime noshing. Listen for Charlotte-based Michael Wolf & The Voodoo Brothers at the Main Stage (at 3rd St. & South Tryon) on Friday afternoon, while local swing group the Lucky Five takes the stage on Saturday.
The Learning Experience
We heard that smirk. But all you smartalecks will be singing a different tune (and smacking those smirking lips) when you hear the line-up of BBQ cooking demonstrations on stage at Wachovia Plaza. On Friday, chefs from Mimosa Grill and Merts' Heart & Soul will take the stage, as well as Pitmaster Troy Black from Southern Living BBQ. Let pork pros experts show you how it's done.
The Showdowns
This is what it's all about: who the meanest grill master in town is. Close to 80 teams (including national groups like the Memphis BBQ Network) are setting up tents throughout the festival to compete for the titles of Best Pork Shoulder, Best Whole Hog, and Best Ribs. Competitors this year include the Pork Whisperers, Whiskey Ribber, and Papa Pig & The Posse. There will also be head-to-head combat on Saturday at Wachovia Plaza for the Southern Cooking competition, to see which Charlottean's mac 'n cheese, apple cobbler, and sweet potato recipe is the most scrumptious.