This Small Space Has Style
The owner of Charlotte Shoe Co. uses big, bold colors in her tiny shop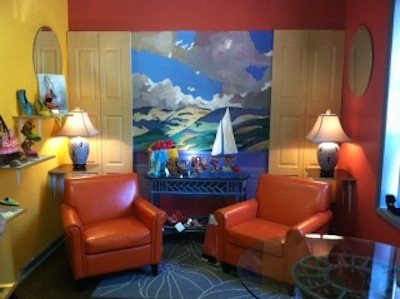 Mary Miller has 200 square feet. That's it. Her shop, Charlotte Shoe Co., occupies a storefront on South Main Street in Davidson. Inside, Miller creates a shopping oasis and a great example of how to make the best of a small space.
Miller and her husband moved from Northeast Harbor, Maine, to Charlotte in 2005, and he took a teaching job at a local school. Miller still owns a shop in Maine that's similar to Charlotte Shoe Co., and she returns there off and on throughout the year. She enjoys downtown Davidson because it reminds her of the quaint New England town.
Charlotte Shoe Co. was originally located in Huntersville's Birkdale Village, but Miller moved the boutique to Davidson in January 2013. The space she rents had been an office for about 50 years. So she had work to do to.
"It was little rabbit warrens of space," Miller says.
She began by taking down walls to give her as much room as those 200 square feet would allow. She kept another 50 square feet walled off as a back room for storage. The space is shaped like an "L" because of the bathrooms jutting in from the neighboring business. But the tight, awkward space didn't hinder Miller's design.
She painted the walls vibrant marigold and salmon. She then added two chairs that match the salmon-colored wall. Drawing inspiration from nearby Lake Norman, Miller used blue and dark gray as accent colors. She covered the floor with a thick, dark blue area rug.
"You can do big, broad, deep colors even in a small space," she says.
The room's key element is a mural her husband painted on the back wall. It depicts a sailboat on the lake with a blue sky and billowing clouds overhead. Miller set off the mural with shutters to give the impression of a window. She imagines her space as a town home or apartment with a lake view.
Miller believes that creating a feel-good space for a retail shop is important. With the increase in online shopping, many people forget the value of seeing shoes or other merchandise displayed in a thoughtful, well-designed environment.
"I really think when women shop, it's a complete departure from their regular lives," Miller says. "They can walk in a store and be surrounded by … beautiful things in a setting specifically done for them."
The store in downtown Davidson is a daily departure for Miller, too. She and her husband live in uptown Charlotte, and she rides the bus to Davidson.
"My day is spent in a different kind of atmosphere," she says. "What I love about the store is that my customers drop by with coffee, and it's not always about the sale."
Charlotte Shoe Co.
202 S. Main St. Davidson, NC 28036 704-237-3051