This Week In Carolinas Journalism
The Post and Courier's triumph, money tracking from WRAL, Observer staff cuts (again)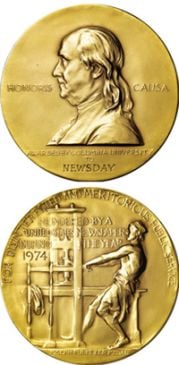 It's been a momentous couple of days for journalism in the Carolinas.
If you haven't looked at The Post and Courier's "Till Death Do Us Part" series on South Carolina's horrifying domestic violence problem—a package of stories, photos, videos, and documents that yesterday won the Pulitzer Prize for Public Service—go there as soon as you get some free time. It's remarkable journalism, the kind of work newspapers have always been uniquely equipped to do but increasingly don't, or can't.
The Charleston paper examined the gaps in the criminal justice system, shortage of resources, lack of action by state legislators, and the stories of victims—all thoroughly done, what you'd expect from a first-rate investigative series.
But to me, what really sets "Till Death Do Us Part" from the pack is its exploration of the context that makes the violence possible, and its willingness to name names:
Part of the problem is rooted in the culture of South Carolina, where men have long dominated the halls of power, setting an agenda that clings to tradition and conservative Christian tenets about the subservient role of women.
This has bred a tolerance of domestic violence that has passed through so many generations, behind so many closed doors, that today South Carolina ranks No. 1 nationwide in the rate of men killing women.
Oconee County, where six people died in domestic killings within six months in 2012, embodies many of the cultural traits that have made South Carolina the most dangerous state in the nation for women. Unlike the state as a whole, which has done next to nothing, Oconee took the killings as a call to action, galvanizing law enforcement, religious leaders and residents to confront the problem.
Yet old ways die slowly in rural corners like Oconee County, where God and traditional family values have long forged the backbones of life. Here, deep notions linger about the hallowed institution of marriage and a woman's place in the home.
"There is a belief that men are totally dominant and women are supposed to be in the bedroom and the kitchen," Black says. Like many in the Bible Belt, she considered divorce a sin and a source of shame, despite the beatings she endured.
"You can die, but you can't get divorced."
This was potentially treacherous ground for the P&C to tread. There's no way to measure the relation between cultural conservatism and domestic violence, no way to spreadsheet the effects of South Carolina's culture compared to North Carolina's or Texas' or Oregon's. But it's there. Only a fool would deny it. Add a pervasive gun culture, hostility to government action, and "the sanctity of the family" to the mix, and you have a perfect hothouse for domestic violence.
I doubt anyone would have complained if the P&C had omitted that aspect of the problem. The paper showed guts in facing it head-on.
WRAL-TV in Raleigh does a damn good job of covering North Carolina politics, and yesterday the station unveiled a new feature that, like air bags, ought to come standard:
Hover over the name of any sitting state lawmaker mentioned in our coverage, and you'll instantly see the top donors for his or her most recent campaign for office. You can also see how much they collected from contributors during the campaign overall.
Republican House Speaker Tim Moore, for example, pulled in more than $500,000 in donations in the last election cycle from donors such as Nationwide Insurance and the North Carolina Farm Bureau. Democratic House leader Larry Hall, meanwhile, received more than $600,000 from the House Democratic Caucus, his own personal coffers and other contributors. Incidentally, the North Carolina Academy of Trial Lawyers contributed $10,000 to both lawmakers.
The project was inspired by Greenhouse, a free browser plug-in developed last year by Nick Rubin—then 16 years old—to track campaign finance in the U.S. Congress.
We're calling our tool Donor Reveal, and it's intended to shed a little more light on the influence of money in North Carolina politics.
Huzzah! There's no better way to understand what a public official—Democratic, Republican, or otherwise—is all about than to examine his or her donors, especially in this post-Citizens United lucreverse of ours. I hope the station's idea spreads.
One other note from Pulitzer Day: A Charlotte Observer alumna, Carol Leonnig, won the National Reporting prize for her coverage of the Secret Service's incompetencies.
While we congratulate Carol, it's a good time to remember the Observer that was, and to shake our heads over the Observer that is. The paper is about to lose even more staff, as employees learned this morning.
A source tells me the Observer offered voluntary buyouts few have taken, and that layoffs—no word on how many—are expected after a required 30-day waiting period. It's incredible that the paper's still slashing nearly seven years after the first cuts, but I suppose, as I've read in a different context, there's always more toothpaste left in the tube if you squeeze hard enough.