This Weekend: Charlotte Wine & Food Weekend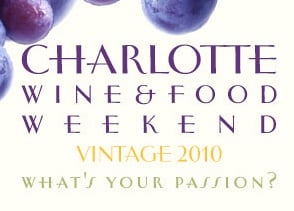 The weekend has finally arrived! The 2010 Charlotte Wine & Food weekend is here and there are tons of great events. Already, last night twenty-two restaurants around town hosted vintner dinners. Wondering how you can participate? Here are some of the top events going on this weekend. Tickets for all of them can be purchased online at charlottewineandfoodweekend.org (where you can find the full selection of the weekend's events) or by calling 704-338-WINE. Tickets are sold on a first come, first serve basis.
This afternoon features a free (yes, you read that right) Meet & Greet with the weekend vintners from 4 to 6 p.m. at wine shops across the city. You'll have the chance to enjoy wine tastings, meet the vintners, and purchase bottles of wine to have signed by the winemakers. The event will be at the following locations: Arthur's Wine Shop, Dean & Deluca Wine Room, Reid's Fine Foods, The Wine Shop in Dilworth, The Wine Shop at Foxcroft, The Wine Vault, Winestore in Blakeney, and Winestore in Southpark.
Tonight, come out for the Big Bottles & Blues at Gateway Village at 7 p.m. There you'll have the chance to sample selections from more than fifty winemakers. There will also be plenty of southern barbecue to enjoy alongside your vino. Plus, the event features an outdoor martini bar and live music from the Robert Foley Band. Tickets are $90.
Tomorrow head back to Gateway Village for the Vintner Tasting from 11 a.m. to 1 p.m. where you can sample selections at each vintner's station and learn about wine. This event is only $35.
And finally, the Grand Gala and Live Auction will be tomorrow night at 6 p.m. at uptown's Ritz Carlton hotel. Call the number above for ticket and event information.
All of the weekends fund raising efforts will go to Children's Theatre of Charlotte, Council for Children's Rights, Johnson & Wales University Scholarships and Career Development, Second Harvest Food Bank, and Workforce Initiative for Supportive Housing.