This Weekend in Charlotte: Buddy Guy, Charlotte Symphony, & Yo Gabba Gabba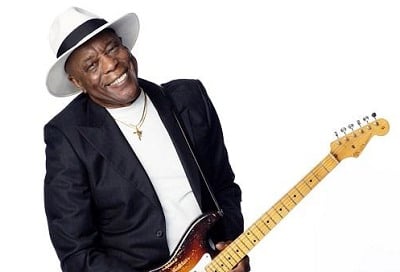 FRIDAY
JAZZ AT THE BECHTLER: LATIN JAZZ
Percussionist Jim Brock and trumpeter Jon Thornton join the Ziad Jazz Quartet for a tribute to Latin jazz. African, Cuban, and Spanish cultures are represented.
CHARLOTTE SYMPHONY POPS: A JOHN DENVER CELEBRATION
The "Country Roads" singer-songwriter is celebrated with these Pops performances. Albert-George Schram conducts, leading orchestral takes on the prolific musician's famous tunes.
THE DAN BAND
This comedy cover band has appeared in "Frat Pack" films like Old School, The Hangover, and Starsky & Hutch. Look out for covers of hip-hop songs like "Candy Shop" and the '80s favorite "Total Eclipse of the Heart."
SATURDAY
CHARLOTTE SYMPHONY LOLLIPOPS: THE EMPEROR'S NEW CLOTHES
The Lollipops series is geared toward kids, with a central narrative and audience participation maintaining the attention of tiny attendees. This performance gives new life to The Emperor's New Clothes.
STEP AFRIKA!
The group is the first that centers on stepping, the popular fraternity dance form. The rhythmic and kinetic nature of the show makes it suitable for all ages.
THE EMPEROR'S NEW CLOTHES
Another organization is taking a stab at The Emperor's New Clothes this fall. This version of the story was written by scribe Max Bush.
VANYA AND SONIA MASHA AND SPIKE
Christopher Durang wrote this Tony-winning play. A Pennsylvania family's trials are documented with humor and sincerity.
RODGERS AND HAMMERSTEIN'S CINDERELLA
These performances come as part of the 2014-2015 Broadway Lights Series, bringing the classic fairytale to life. The Tony-winning take comes with a full orchestra.
SUNDAY
BUDDY GUY
"Buddy Guy" is one of those names synonymous with blues guitar. Catch the 76-year-old legend for yourself at one of the city's flagship rock venues, where he is joined by Quinn Sullivan.
CHRISTOPHER TITUS
Titus, the comedian and sitcom star, comes to the McGlohon Theater. The stand-up's material centers around his own life, including Hollywood experiences and his family.
YO GABBA GABBA! LIVE!
This loud and colorful program has been touring for five years. This round sees the singers of tunes like "Don't Bite Your Friends" visit 30 cities.
TO KILL A MOCKINGBIRD
Since its original publication as a novel in 1960, the tale of Finch family has been used in classrooms and the stage. To Kill a Mockingbird's social and political themes remain relevant today.