This Weekend in Charlotte: Charlotte Pride, Tattermask, Carolina Book Fest, and More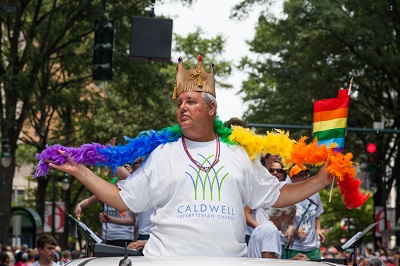 FRIDAY
TATTERMASK
The Charlotte act, inspired by both classic rock and metal, offer a hometown show at the Neighborhood Theatre. On their Facebook page, members of the band promise a longer set than they typically play. They're joined by the bands Angwish, Hooka Hey, Cylearian.
ROCK OF AGES
Relive the 1980s with this Actor's Theatre of Charlotte production. Tunes from Journey, Twisted Sister, and more are woven into the narrative.
LACA PROJECTS
This museum works to expose the city to Latin American art and culture. Latin American Masters: The Quest of Printmaking (through Aug. 21) showcases work from artists who hail from six different countries. More than 60 pieces display varying styles, methods, and expressions through the form.
SATURDAY
CHARLOTTE PRIDE
The annual pride festival returns, promising even bigger attendance numbers than previous years. Estelle and Billy Gillman are among the performers planned for the Wells Fargo Stage. Check out scenes from last year's event in uptown here.
CAROLINA BOOK FEST
Dozens of authors will meet fans and sign books at Hilton Charlotte University Place. The line-up includes Bridgette O'Hare, N.L. Greene, D. Love, Sara Celi, and more, spanning several genres. More personal time with authors is available at the after-party, which takes place at Dave & Busters.
SIX STRING SATURDAYS
This Discovery Place series, occurring every Saturday, promise music from "jazz, pop, rock, sitar, Celtic, country, bluegrass, and folk." Charlotte's School of Rock kids play three of the dates. You don't have to pay to get into the museum for this series.
RIVER JAM
On Thursday and Saturday, River Jam adds bands to the outdoorsman vibe of the U.S. National Whitewater Center. Check out the center's wide selection of food and beer to go along with the tunes, from bands like Mingo Fishtrap and Jamie McLean Band.
SUNDAY
BANK OF AMERICA CHARLOTTE PRIDE PARADE
See above for more info.
AND WHILE YOU'RE IN UPTOWN: LIBERTY WALK
Fifteen sites uptown are represented in the Liberty Walk, an interactive tour of bronze markers telling the early history of Charlotte and Mecklenburg County. Pick up a brochure at the Visitor's Information Center at 330 S. Tryon St., or just start in front of the Wells Fargo Plaza at 301 S. Tryon St., and follow the markers in the pavement for a trip through the historical adventure of the city's Revolutionary War days.