This Weekend in Charlotte: Charlotte Symphony, Marvel Universe Live, & Andrew McMahon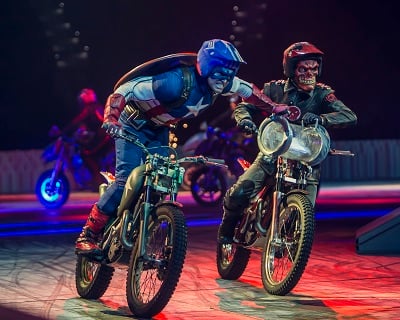 FRIDAY
CHARLOTTE SYMPHONY: BRAHMS GERMAN REQUIEM
The title says it all: The Charlotte Symphony performs (German composer Johannes) Brahms' (classic masterwork) "German Requiem."
DAVE MASON'S TRAFFIC JAM
Traffic was Dave Mason's first claim to fame, but he later played alongside names like The Rolling Stones, Hendrix, Clapton, and Michael Jackson. He was inducted into the Rock and Rock Hall of Fame in 2004.
PABLO FRANCISCO
Francisco is known for his impression-packed act, injecting the likes of Keanu Reeves, Gary Busey, and Arnold Schwarzenegger. His appearance comes as a "Celebrity Show" for the venue.
SATURDAY
MARVEL UNIVERSE LIVE
It was only in recent years that audiences could see many Marvel superheroes on the big screen. But with Marvel Universe Live, young fans can see them in person. Like Marvel's The Avengers, the storyline features an ensemble of characters coming together to defeat Loki, the God of Mischief.
THE EMPEROR'S NEW CLOTHES
Another organization is taking a stab at The Emperor's New Clothes this fall. This version of the story was written by scribe Max Bush.
THE LIGHT FACTORY ANNUAL AUCTION
The 31st auction for the Light Factory comes to Plaza Midwood. Work comes from Annie Liebovitz, Deborah Luster, Simmons Jones, Constance Thalken, and Sam Wang.
FRIENDS & FAMILY MARKET
Thirty-five artists, including Amy Bagwell, Betsy Birkner, Shaun Cassidy, Sharon Dowell, Amy Herman, Don Peeler, Barbara Schreiber, Tom Thoune, Jason Watson, sell their work in CPCC Ross Gallery II. Money made through the market goes toward education programming.
SATURDAY NIGHT CINE CLUB: VIOLETTE
This 2013 French film chronicles the life of Violette Leduc, a novelist who forms a relationship with fellow writer Simone de Beauvoir. Their relationship took place during the last days of World War II, as portrayed in this biographical film.
FUTUREBIRDS
Georgia's Futurebirds offer indie rock with a country tinge. The band is a fixture on the festival circuit, releasing their last studio record last year.
SUNDAY
ANDREW MCMAHON IN THE WILDERNESS
McMahon first gained recognition as the piano-playing frontman for Something Corporate, a pop-punk band during the genre's heyday. His new efforts feature a mature McMahon, but he's not leaving fun out of it.