This Weekend in Charlotte: Dave Matthews Band, Beauty & the Beast Jr., & Benefit Show for Joe Borruso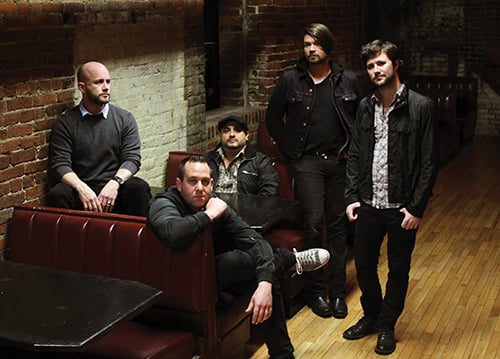 FRIDAY
DAVE MATTHEWS BAND
Few artists are as known for their live shows as Mr. Matthews is. The group's career achievements put it in the pantheon of great jam bands—and of groups with insufferable fan bases. But that's not DMB's fault.
FLOETRY: THE REUNION TOUR
The British R&B duo brings its singles that rocked the early 2000s. The band will send you back with such nostalgic force, you'll be raiding your closet for a Adidas trackpants when you get home.
LACA PROJECTS
This museum works to expose the city to Latin American art and culture. Latin American Masters: The Quest of Printmaking (through Aug. 21) showcases work from artists who hail from six different countries. More than 60 pieces display varying styles, methods, and expressions through the form.
STONECREST SUMMER CONCERT SERIES
(through Sept. 26) This Friday/Saturday program has two stages for the Saturday portion: the Fountain Stage and the Plaza Stage. Both Brubakers and Greg Lilley Band tackle multiple dates throughout the series. The latter only Free, 7 p.m. Stonecrest Shopping Center, Piper Glen Estates, 7900 Rea Rd.
SATURDAY
TIM MCGRAW
Guess what—it's another PNC Music Pavilion show. The venue is stacked for the month, with country star McGraw swooping in to capture the hearts of Southern girls once again.
DIXIE'S TUPPERWARE PARTY
For 24 performances, the off-Broadway party comes to Charlotte. The titular Dixie is a quick-talking tupperware lady and storyteller. Sit back, and just take it all in.
PAULA POUNDSTONE
Poundstone is known as both a stand-up and regular on NPR game shows. Check out a comic who was rated one of Comedy Central's 100 Best Stand-Ups of All Time.
BEAUTY & THE BEAST JR.
Central Piedmont Community College's Summer Theatre program puts on this Disney tale, with 10 performances. This "junior" version of the story makes it appropriate for all ages.
RIVER JAM
(through Sept.) On Thursday and Saturday, River Jam adds bands to the outdoorsman vibe of the U.S. National Whitewater Center. Check out the center's wide selection of food and beer to go along with the tunes, from bands like Mingo Fishtrap and Jamie McLean Band. Free, 2 p.m. U.S. National Whitewater Center, 5000 Whitewater Center Parkway.
SUNDAY
BENEFIT SHOW FOR JOE BORRUSO
Bands in Charlotte are coming together for a benefit, aiding the family of Charlotte artist Joe Borruso. He was recently struck by a drunk driver while walking down Parkwood Ave. Members of Taking Back Sunday headline the effort, with acoustic versions of the rock band's songs. Animals, Paint Fumes, Modern Primitives, and more perform.
LEVINE MUSEUM OF THE NEW SOUTH
The Levine explores historic issues, such as civil rights and immigration, by providing a modern context and viewpoints. And the Struggle Continues (through July 12) follows the Southern Christian Leadership Conference since 1968, connecting present fights with the past. Cedars in the Pines: The Lebanese in North Carolina, 130 Years of History (through Aug. 9) chronicles the history of Lebanese immigrants in North Carolina.