This Weekend in Charlotte (Dec. 6-8): George Tisdale Band, John Prine, Christmas Carol, and Tamango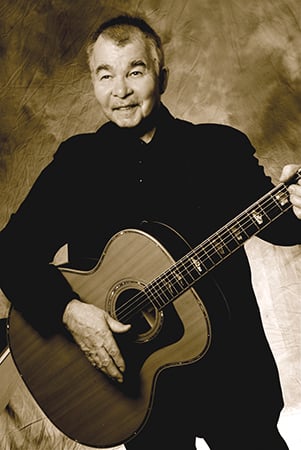 I like Christmas.
And it's a good thing I do, because Charlotte arts have come out in full, seasonal force with dance performances, theatrical productions, and even a few film screenings. You'll find a few of those events this weekend. Seasonal offerings aside, there's plenty else to check out, including performances from the likes of the George Tisdale Band and John Prine.
Friday, Dec. 6
SOUTHERN CULTURE ON THE SKIDS
Hailing from Chapel Hill, the trio typically hovers between rockabilly, surf rock, and punk. Zombified LP, their latest, pushed the band's sound further into the experimental realm. $15-$18, 9:30 p.m. Visulite Theatre, 1615 Elizabeth Ave.
GEORGE TISDALE BAND
Of all the rock bands you'll see this month, how many will feature a tuba player? The Durham rock and soul outfit melds the low-end brass instrument with Tisdale's soulful voice, guitar, drums, and keyboards. $5, 10:30 p.m. Evening Muse, 3227 N. Davidson St.
EDDIE GRIFFIN
Griffin, known for his role as the titular hero in Undercover Brother, tackles subjects ranging from politics and race relations to everyday relationships. His last stand-up special, You Can Tell 'Em I Said It, was released in 2011. $35-$65, 8 p.m. Ovens Auditorium, 2700 E. Independence Blvd.
Saturday
JOHN PRINE
Prine is a folk singer-songwriter who has penned songs used by Johnny Cash, John Denver, Bonnie Raitt, Carly Simon, and Ben Harper. He supported in this performance by special guest Justin Townes Earle. $37.50-$57.50, 8 p.m. Ovens Auditorium, 2700 E. Independence Blvd.
A CHRISTMAS CAROL
Theatre Charlotte's production of the famed Christmas story of Ebenezer Scrooge, adapted by John Jakes, puts Dickens at the forefront, reading the narrative as it occurs. $25-$27, 2:30 p.m. and 7:30 p.m. Theatre Charlotte, 501 Queens Road.
MAGIC OF CHRISTMAS
The Charlotte Symphony's rousing celebration of the Christmas holiday returns to the Belk Theater. The Oratorio Singers of Charlotte, Charlotte Children's Choir and surprise guests join the performance, with Albert-George Schram conducting. $26.50-$82.50, 2:30 p.m. and 8 p.m. Belk Theater, 130 N. Tryon St.
Sunday
TAB BENOIT
The self-described "Cajun" guitarist and singer combines several threads of the blues genre. This year, he was nominated in the category of "Contemporary Blues Male Artist" for the Blues Music Awards. $20-$120, 8 p.m. Neighborhood Theatre, 511 E. 36th St.
THE CLASSIC INTERNATIONAL BLACK CINEMA SERIES: TAMANGO
The French-Italian film from 1958, helmed by John Berry, follows a slave ship from Africa to its Cuban destination. The film is part of a broader series exploring race in films. Free (with $8 museum admission), 2 p.m. Harvey B. Gantt Center for African-American Arts + Culture, 551 South Tryon St.