This Weekend in Charlotte: The Dirty Guv'nahs, The Brian Setzer Orchestra, & Jazz at the Bechtler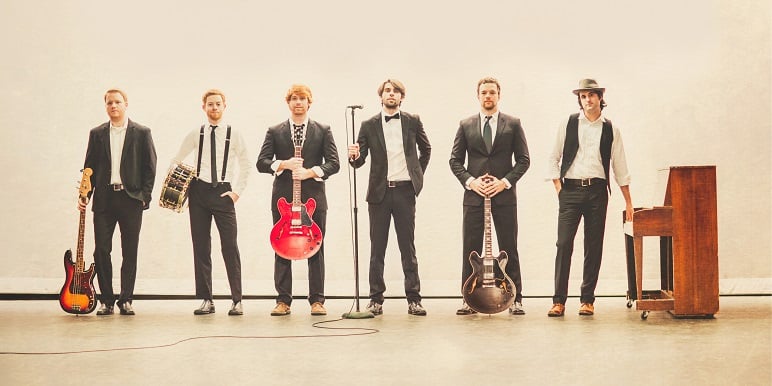 FRIDAY
JAZZ AT THE BECHTLER: HOLIDAY JAZZ
Jazz and Christmas has always been a natural pairing. Watch as the Ziad Jazz Quartet moves through takes of "Winter Wonderland" and the Herbie Hancock and Chick Correa version of "Deck the Halls." As usual, Jazz at the Bechtler gives two performances for the evening.
THE GREAT AMERICAN TRAILER PARK CHRISTMAS MUSICAL
The Great American Trailer Park Musical was the original tale of Armadillo Acres, where trailer park tenants squabble and break out in song. The Christmas sequel, you can imagine, adds a holiday flair to the setting.
THE DIRTY GUV'NAHS
The name sound's British, but these roots-rockers hail from Knoxville, Tenn. Hearts on Fire, released this year, debuted at No. 1 on Billboard's "Heatseekers" chart.
BLACK VEIL BRIDES
The Ohio-born act is a callback to the '80s' glam-metal make-up and theatrics. But the music also seems to be working, as the group just released its fourth album, the aptly named Black Veil Brides IV.
A CHRISTMAS CAROL
The production itself is the Ghost of Christmas Past. For the eighth year, Theatre Charlotte offers its refined rendition of A Christmas Carol, the classic winter narrative that follows Ebenezer Scrooge.
SCROOGE!
Ebenezer makes another appearance with this show, but expect a kid-friendly vibe with this version. The Children's Theatre of Charlotte is the group behind this production.
SATURDAY
THE JAZZY HOLIDAY GALA
The Harvey B. Gantt Center for African-American Arts + Culture continues to celebrate its 40th year with a black-tie event. Spirit of the Center Award recipients Hugh McColl, Deborah Willis, and Johnson C. Smith University are celebrated, with dancing, music, and an art auction adding to the fun.
MAGIC OF CHRISTMAS
Charlotte Symphony's annual Christmas celebration returns, with conductor Albert-George Schram once again taking the helm. This isn't your typical Symphony affair; folks are actually encouraged to sing along for certain seasonal selections.
THE BRIAN SETZER ORCHESTRA CHRISTMAS ROCKS EXTRAVAGANZA
The touring Yuletide rock show makes its way to the Queen City. The big-haired, guitar-slinging Setzer is known for amping up traditional Christmas songs. This show is no different. Expect his non-seasonal hits too, like "Rock This Town."
SUNDAY
LIBERTY WALK
Fifteen sites uptown are represented in the Liberty Walk, an interactive tour that makes use of your iPad or iPhone. Start in front of the Wells Fargo Plaza at 301 S. Tryon St., and follow the markers through the historical adventure of the city's Revolutionary War days. At each marker, use the "Charlotte Liberty Walk" app to check out re-creations, as painted by Dan Nance. charlottelibertywalk.com.