This weekend…
The best artistic and cultural going-ons around town.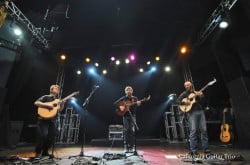 Hate to burst your sunny day bubble, but it actually looks like this weekend is going to be quite miserable and freezing. Except, of course, for the day everyone spends in front of the TV. That said, there are plenty of unique, indoor events around town this weekend that will keep you out of the cold and smother you with culture without impeding on Superbowl festivities. Enjoy!
La Traviata
This week, Opera Carolina continues their season with a performance of La Traviata, the Verdi opera whose premise inspired sultry, Bohemian tales like Camille and Moulin Rouge. A much sought after Parisian courtesan falls in love with the humble Alfredo. Soon, though, conniving relatives and a nasty case of consumption turn their affair tragic. For a little more insight into the show, check out our Q & A with Dan Boye, a Davidson College physics professor who also plays illicit Baron Douphol.
Panel on Iran
It sounds a little morose for a weekend activity, but we figure, since Charlotte's feeling a little politically on-the-spot from the big DNC announcement yesterday, it couldn't hurt to throw in a current events panel. The panel, called Iran: Addressing the Nuclear Threat, will be moderated by NBC correspondent Chris Clackum, and will consist of Jonathan Berkey, a professor of Middle East History at Davidson College; Dr. Jack Caravelli, formerly with the CIA and NSC, and David Ibsen, Director of Policy and Coalitions at United Against Nuclear Iran. At Sam Lerner Center for Cultural Arts on Thursday night at 7 p.m.
UNC Clef Hangers
You can TiVo The Sing-Off. The Clef Hangers are one of the foremost a capella groups in the country, and the oldest at UNC Chapel Hill. The tickets are reasonable, and the concert promises to be an instant feel-good show.
If You Take A Mouse To School
…you will likely get a stern letter home from the principal. The Children's Theatre of Charlotte's latest production is based on Laura Numeroff's classic children's book about a needy mouse and his snowballing demands. Just remember: if you give a kid a play, he'll likely want the book to go with it.
California Guitar Trio
This three-piece group (not from California, ironically) plays both original songs and covers in a unique, stylized way. They'll trade off their acoustic guitars for electric ones, performing innovative renditions of songs like "Bohemian Rhapsody" and "Freebird." At their Evening Muse show this weekend, however, you'll probably hear a lot from their latest album, Andromeda, which is largely made up of new age, fusion rock, a unique addition to their 20-year repertoire.