This Weekend's Agenda: 16+ Events (Jan. 6-8)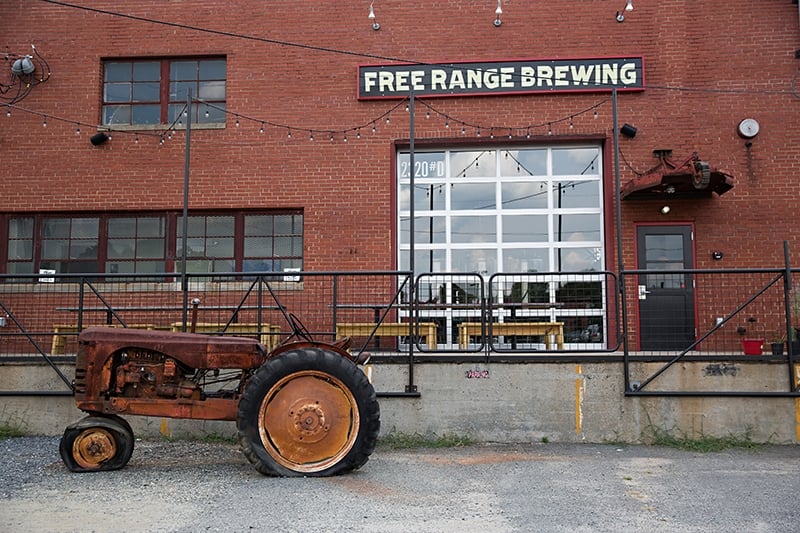 FRIDAY
​SOUS TERRAIN
On Friday, head to Free Range Brewing for Sous Terrain, a photo series by Rémy Louis Thurston celebrating the sweet potato. The photos were created via the dishes put together by Charlotte's sous chefs and apprentices over the last six months, all featuring the sweet starch. According to Thurston, "the feel of the work has a dark, shadowed appeal that emulates the life of the sweet potato spent underground, again reflecting the life of the sous chef behind the line much of their culinary life." The name of the series, Sous Terrain, is a play on the French word "souterrain" which means underground. Head to Free Range to check out the photo series on Friday night; check the event page for more details.
CHARLOTTE SYMPHONY: SCHUBERT "GREAT C MAJOR"
This Classical series show is built around Schubert's ninth symphony, but it's not all Romantic-era music. The program features a world premiere: A percussion concerto from English composer Leonard Mark Lewis makes its debut here.
JAZZ AT THE BECHTLER
Many of us have our Christmastime traditions. And for the past four seasons, the Bechtler's offered something else:a "Post-Holiday Blues" program. This rendition, subtitled "Many Shades of Blue," offers some contemplative jazz.
CHRYSALIS: A STUDY OF HUMAN LIFE
From the artist, Lara Americo: "Chrysalis is an exploration of what it means to inhabit a human body." Each photograph and 3-D mold included in the show examines a single subject and their narrative.
LACA PROJECTS
The venue reflects the ever-growing and vibrant Latino artistic community in Charlotte. Leandro Manzo: Mar de Mares, THROUGH JAN. 14, displays works from the Argentinian painter that span his 30-year career. The range of work, including landscapes, portraits, and black-and-white images, reflects Manzo's versatility.
WINTER COCKTAIL SPECTACULAR
Warm up inside Bubble tonight, 210 E. Trade St., with this party featuring cool, winter cocktails. For $36, you'll get four specially crafted winter-themed drinks. The event is from 8:30 p.m. until 10 p.m.
SOUTH END GALLERY CRAWL
The galleries of South End open their doors for a cultured crawl during the first Friday of each month. That's tonight, by the way. There's no admission to the self-guided crawl that runs from 6 p.m. until 9 p.m.
FROST WARNING RELEASE
​Olde Mecklenburg Brewery is starting off the new year with a new beer. Frost Warning is being described as a dark wheat bock beer (technically a Dunkelweizenbock). Similar to one of OMB's seasonal winter offerings, Dunkel, this bock packs a bigger punch and features five different malts. Frost Warning will officially be available at Olde Mecklenburg on tap this Friday when the brewery opens at 11 a.m.
SATURDAY
STEEP CANYON RANGERS
Steep Canyon Rangers began making bluegrass together 16 years ago, just two hours away in Brevard. Today, the group's known around the world, after well-known collaborations with actor/player Steve Martin and Grammy wins.
HECTORINA
Hectorina, the Charlotte band behind the 2013 rock-opera Collywobble and two subsequent studio records, brings its energetic and theatrical brand of indie rock to the Visulite. The group is joined by regional acts Cuzco, Secret Guest, and Patabamba.
FINESSE MITCHELL
Atlanta-born comic Finesse Mitchell, a Saturday Night Live alum, has been touring the country for decades. He's appeared on shows like Late Night with Jimmy Fallon, The Arsenio Hall Show, The Tonight Show with Jay Leno, and the Today Show.
COOKIES AND CRAFTS
If you love Girl Scout cookies and craft beer (this should include everyone), you'll want to buy your tickets to this party. The annual party celebrating both is at The Fillmore, 820 Hamilton St., this year from 6 p.m. until 9 p.m. More than 15 local breweries will be on site at the event, pairing a beer with a specially selected Girl Scout cookie.
MONSTER JAM
Depending on whom you ask, this is all that's right with America or all that's wrong. We'll let you decide how you feel. The monster truck event features six trucks, vying for the spot at the Charlotte champion. There's a Pit Party today from 10:30 a.m. until noon, which gives audiences the chance to get close to both the trucks and the drivers. There are also two shows today, one at 1 p.m. and another at 7 p.m.
FIRST PARTY OF THE YEAR
Join Label, 900 NC Music Factory Blvd., tonight as it celebrates its first party of 2017. The dance club will have three DJs on site at this party that runs from 10 p.m. until 2 a.m. There's no admission fee if you RSVP.
SUNDAY
LEVINE MUSEUM OF THE NEW SOUTH
For more than two decades, the museum has provided groundbreaking exhibits and context for some of the South's most significant events. One of the museum's core values is "using history to build community." The Life and Times of Robert Smalls, THROUGH JAN. 22, examines the story of an escaped slave, Civil War hero, and South Carolina politician. Looking at Appalachia, THROUGH MAY 28, displays pictures from a wide range of photographers in the region and provides a counterpoint to the "War on Poverty" images from the 1960s.
DISCOVERY PLACE: SCIENCE
When Discovery Place rebranded in 2016, it added the word "Science" to its uptown location. With interactive exhibits, an aquarium, an IMAX theater, and even an on-site rainforest, the distinction makes sense. Genghis Khan, THROUGH APRIL 30, explores the life of the legendary conqueror. The exhibit displays more than 200 artifacts from Khan's treasures and possessions, including jewelry, clothing, pottery, musical instruments, and weaponry.