This Weekend's Agenda: 16+ Events (Sept. 23-25)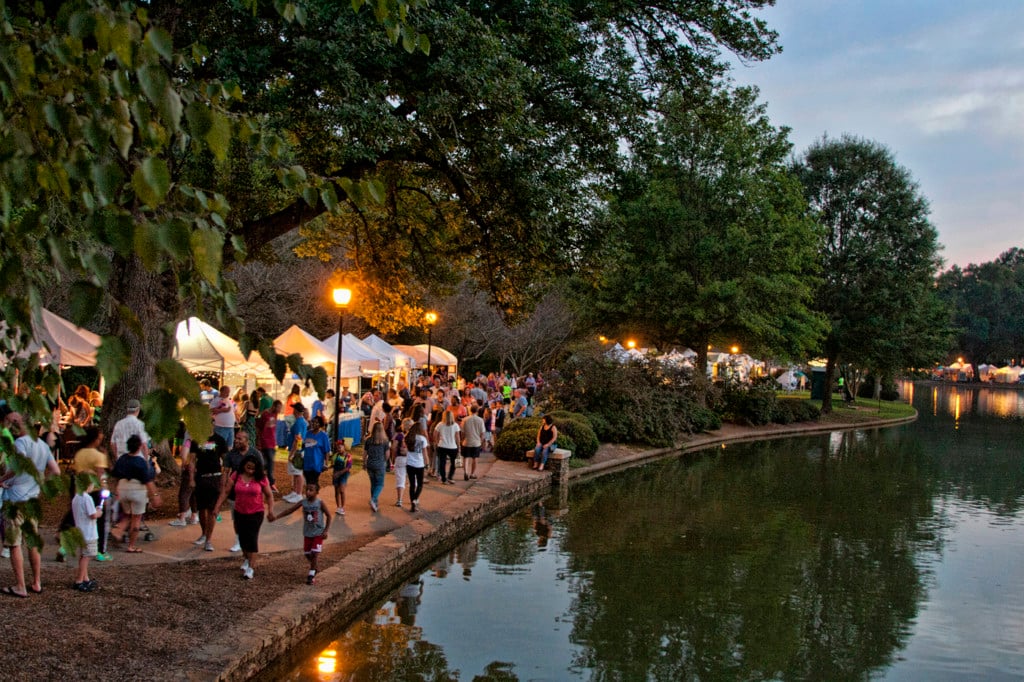 FRIDAY
FESTIVAL IN THE PARK
This Charlotte fixture is back with bands, 180 artists and craft exhibitors, and an array of food options. The event won a 2016 Best of the Best award in this magazine.
DIRTY DANCING
"Nobody puts Baby in a corner." Unless that's where Baby bought a ticket to see Dirty Dancing at Ovens Auditorium this fall. This show is personal for some regional residents, as it was filmed at Lake Lure, 1.5 hours away from Charlotte.
MECKTOBERFEST
With fall comes changing leaves, pumpkin spice and cooler air. Our favorite addition with the changing of seasons, though, might be the influx of beer fests. This annual festival is a perfect example. The eighth-annual Mecktoberfest is a three-day free festival, beginning today and running until Sunday (each day from 11 a.m. until 11 p.m.). This beer fest highlights German beer, food and culture and will also feature live German music. The Olde Mecklenburg Brewery is at 4150 Yancey Road.
SATURDAY
SATURDAY NIGHT FEVER
Some movies are no-brainers for stage adaptions. Saturday Night Fever is one of them, armed with tunes like "Stayin' Alive" and "Disco Inferno." Grab some bell-bottoms and get down to Theatre Charlotte.
FALL & PUMPKIN FEST
Fall is officially upon us, which means it's finally acceptable to drink pumpkin beers (though, that hasn't stopped many of us for weeks). Along with the release of its Gourd Have Mercy brew, Sycamore Brewing hosts live music and five food trucks from noon until 10 p.m. today. Sycamore Brewing is at 2161 Hawkins St.
WHITEWATER UNCORKED
When a race meets a wine tasting, you get Whitewater Uncorked. The day begins at 9 a.m. with the SUP Stream Catawba River Race, 9:30 a.m. with the Wild Vine half marathon or at 11 a.m. with a 5K race. Of course, you could skip all that and arrive at 1 p.m. when the wine sampling and live music starts. Either way, the wine stops pouring at 6 p.m., but the live music goes past 9 p.m. A $10 sample card buys you four two-ounce samples. Buy one here in advance or plan to buy one at the door. The U.S. National Whitewater Center is at 5000 Whitewater Center Parkway.
LAKE NORMAN BEERFEST
With unlimited beer samples, live music and barbecue, this festival has a lot to offer. General admission begins at 5 p.m., and tickets cost about $40. The festival is at Galway Hooker, 17044 Kenton Drive in Cornelius.
GET ROWDY FOR READING FUNDRAISER
This fundraiser to benefit childhood literacy features live music, food trucks, a tug-of-war tournament, silent auction, face painting, craft beer (obviously) and more. There is no admission fee to this event from noon until 7 p.m. at NoDa Brewing, 2921 N. Tryon St.
INTERNATIONAL FESTIVAL
The University of North Carolina at Charlotte hosts the 41st version of its annual International Festival today to celebrate Charlotte's diversity. More than 50 countries will be represented today, featuring arts, food and more from each culture. Live music from many of the nations will also be on site. There is no admission fee to this festival from 10 a.m. until 6 p.m. at 9201 University City Blvd.
RIVER JAM
(through Sept. 29) On Thursdays and Saturdays during the summer, River Jam offers free outdoor music at the U.S. National Whitewater Center. This month's lineup includes The Hip Abduction (Sept. 1), The Trongone Band (Sept. 3), Dangermuffin (Sept. 8), Billy Strings (Sept. 10), Sol Driven Train (Sept. 15), Dank (Sept. 17), Reverend Peyton's Big Damn Band (Sept. 22), and Seth Stainback & Roosterfoot (Sept. 29).
SUNDAY (Sept. 25)
JAMES BAY
The British singer-songwriter was nominated for Best New Artist at the 2016 Grammy Awards. Bay's sound is a little bit James Blunt, a little bit James Taylor, and a heavy dose of soul.
HARVEY B. GANTT CENTER FOR AFRICAN-AMERICAN ARTS + CULTURE
Once called the Afro-American Cultural Center, this museum opened in the 1970s and jumped around to different venues before settling in its current South Tryon Street location in 2009. Shaping the Vessel: Mascoll + Samuel (through Jan. 16) displays 20 wood works created by John Mascoll and Avelino Samuel with a lathe and other tools. Nellie Ashford: Through My Eyes (through Jan. 16) focuses on the folk art of the Charlotte native, who explores identity and community through her works. See 30 newly created mixed-media works by Ashford. The museum's permanent exhibition, the John & Vivian Hewitt Collection of African-American Art, showcases the work of 20 artists, including Charlotte native Romare Bearden.
MINT MUSEUM RANDOLPH
Located in an original branch of the U.S. Mint, the Mint Museum is the state's first art museum. Today, the galleries continue to engage visitors with the art of the ancient Americas, decorative arts, and European and African art.
PANTHERS VS. VIKINGS
Sundays during football season means no one else in Charlotte is foolish enough to try and compete with the Panthers. Carolina takes on the Minnesota Vikings today at 1 p.m. We recommend the following bars as great options if you don't have tickets to today's games.
SOUTH END STATION
This string of bars provides for both a slew of variety and a huge grouping of Panthers fans every Sunday during football season. While each of these spots hosts its own specials, All American Pub offers $12.50 Budweiser buckets and $2 mimosas and Hot Taco offers $3 Corona Light drafts. There's no admission to these day parties at 200 E. Bland St.
WHISKEY WAREHOUSE
This Plaza Midwood spot with a beautiful rooftop was made for Sunday "fundays." Specials today include $2 mimosas or $12 mimosa carafes (go with the latter). Whiskey Warehouse, which opens at 11 a.m., is at 1221 The Plaza. There is no admission fee.