This Weekend's Agenda: 18+ Events (Dec. 23-25)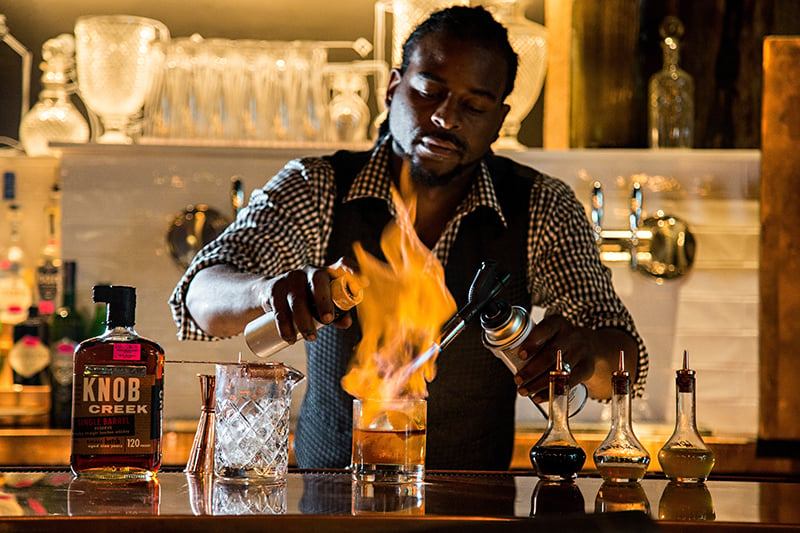 FRIDAY
BREWERY ESCAPE ROOM
Head over to Three Spirits Brewery and check out Dickens' Lost Will Escape Room. Created by Cryptex Games, this escape room uses puzzles and clues to challenge you to uncover and find the final chapters of A Christmas Carol author Charles Dickens' last unfinished novel. Come as a team to solve the mystery, as each player pays $17 for two 15-minute blocks of time. The idea is that the teams enter the room for the first 15 minutes to begin solving the mystery, then break for a pint of Three Spirits beer and discuss before going back in for the final 15 minutes (additional time can be purchased as well).
THE BEST CHRISTMAS PAGEANT EVER: THE MUSICAL
This staging at the Children's Theatre of Charlotte is a world premiere. This comedy-musical is adapted by Jahnna Beecham and Malcolm Hillgartner, from the classic book of the same name by Barbara Robinson.
GREG MORTON
Comedian Greg Morton offers holiday shows this week at the Comedy Zone. The comic has appeared on Premium Blend, Comics Unleashed, Comedy T.V., and other stand-up shows, and is a veteran of the legendary Just for Laughs Comedy Festival in Montreal.
BILL NOONAN BAND + THE LOOSE LUGNUTS
Bill Noonan is a performer who's been part of the Double Door family through its varying stages. He returns for one more show, with his band joined by The Loose Lugnuts.
CHARLOTTE BALLET: NUTCRACKER
Choreographer and ballet legend Jean-Pierre Bonnefoux re-imagines his staple production with new sets, costumes, and surprises. The Charlotte Symphony performs the score for this classic.
THE GREAT AMERICAN TRAILER PARK CHRISTMAS MUSICAL
The Great American Trailer Park Musical was the original tale of Armadillo Acres, where trailer park tenants squabble and break out in song. The Christmas sequel, you can imagine, adds a holiday flair to the setting. This Actor's Theatre of Charlotte production is held at Charlotte Ballet in uptown.
GINGERBREAD WARS
It's Christmas Eve eve, and Whisky River is throwing an all-out gingerbread war to celebrate. Seven festive competitors will compete to build the evening's best gingerbread house. The winner spends the rest of the evening in the VIP booth with his or her friends plus a gift basket with $600 in prizes. There's also a balloon drop at midnight with thousands of dollars in cash hidden inside the balloons. Tickets to compete in the gingerbread contest cost about $8, but otherwise there's no admission fee to the event that begins at 8 p.m. at 210 E. Trade St.
BLOCK AND GRINDER
If you haven't heard, Chef Ethan Moyer will be saying goodbye to the Block and Grinder team to pursue opportunities in Asheville, NC. His last day at the restaurant at the LangTree location in Mooresville will be Friday, December 23. Head out for a quick bite or a giant dinner at the spot as a send-off to this wonderful chef.
SATURDAY
'TWAS THE NITE: AN ALL-BLACK AFFAIR
Celebrate Christmas Eve at Apostrophe Lounge before heading back to celebrate the big day with your family. Don't forget to don your best black. This is an all-black affair, after all. The evening starts at 10 at 1440 S. Tryon St. There's no admission fee if you RSVP before 10 p.m.
STOKE
Christmas Eve and Christmas Day will be busy at uptown's Stoke, where Chef Chris Coleman will serve a 4-course prix fixe dinner for $50 per person. The menu includes dishes like deviled eggs, mushroom and Carolina Gold Rice bisque, frisee salad with bacon, avocado, and embered egg, Sunburst Trout with pecan gremolata, beef tenderloin, and more. Dessert is a special take on Stoke's signature one-pound doughnut topped with chocolate diplomat cream and peppermint. Seatings for Christmas Day, December 25, are available at 2:30 p.m.; 5 p.m.; and 7:30 p.m.; reservations are strongly recommended and can be made by calling 704-353-6005. The prix fixe menu will also be available on Christmas Eve, December 24, in addition to the a la carte menu.
AIX EN PROVENCE
Celebrating their one year anniversary on December 28, Aix en Provence will be hosting Christmas Eve and New Year's Eve celebrations on December 24 and December 31 respectively. Christmas Eve reservations will be accepted from 5 to 8 p.m.; New Year's Eve will host two seatings – the first from 5 to 6:30 p.m. and the second from 7 to 8:30 p.m. There will also be live music. You can book your spot for either event on the website or by calling 704-332-1886. The menus include oysters on the half shell, pan roasted tile file, beef wellington, poached pears, roasted duck breast, opera cake, and more.
STAGIONI
The Moffet brothers' Italian eatery will host a five course meal served family-style on Christmas Eve, Saturday, December 24. The meal includes spuntini (snacks), antipasto, porchetta, pasta, whole roasted fish, AND dessert. Cost is $65 per person for adults and $25 for children aged 5 to 12. Call 704-372-8110 to reserve your spot; seatings begin at 5 p.m. Chef Andrew Dodd has also curated a four course dinner for December 31, New Year's Eve, beginning with a prosecco toast. The menu includes choices for antipasto, primi, secondi, and dolce. Visit the website for the full menu; call 704-372-8110 to make your reservation.
GOOD FOOD ON MONTFORD
Finally, we have Good Food on Montford as an option for Christmas Eve dinner on December 24! The restaurant will offer seatings for the festive occasion starting at 5:30 p.m. on Saturday, December 24; the catch is that Good Food will close by 8 p.m. that evening, so eat quickly! Reservations are being accepted now, so reserve your spot at this delicious small plate mecca by calling 704-525-0881. Additionally, the restaurant will be taking reservations for New Year's Eve, December 31. Call the restaurant to reserve your spot.
SPEEDWAY CHRISTMAS
Drive on the track and check out the Speedway's Christmas village, with more than 3 million lights used in the 800 displays. The Christmas Village has wagon rides, photo opportunities with Santa Claus, and even a petting zoo.
BECHTLER MUSEUM OF MODERN ART
The Bechtler's building, designed by Swiss architect Mario Botta, is a modern work of art itself. Niki de Saint Phalle's iconic outdoor sculpture "The Firebird" welcomes visitors. Inside, you'll find fine art exhibitions, films, jazz, classical concerts, and talks. All That Sparkles: 20th Century Artists' Jewelry, THROUGH JAN. 8, pairs traditional artwork with jewelry crafted by Saint Phalle, Alberto Giacometti, Harry Bertoia, and others. Bechtler Collection: Relaunched and Rediscovered, THROUGH APRIL 23, is an exhibition put together by curator Jennifer Edwards, who pulls pieces from the museum's extensive permanent collection and presents them in a new light.
HARVEY B. GANTT CENTER FOR AFRICAN-AMERICAN ARTS + CULTURE
Named for Harvey Gantt, the first African-American mayor of Charlotte and the first African-American student at Clemson University, this 46,000-square-foot museum reflects both history and current art. It's part of the Levine Center for the Arts, a group of arts institutions in uptown. Shaping the Vessel: Mascoll + Samuel, THROUGH JAN. 16, displays 20 wood works created by John Mascoll and Avelino Samuel. Nellie Ashford: Through My Eyes, THROUGH JAN. 16, focuses on the folk art of the Charlotte native, who explores cultural identity and community. See 30 newly created mixed-media works by Ashford. The museum's permanent exhibition, the John & Vivian Hewitt Collection of African-American Art, showcases the work of 20 artists, including Charlotte native Romare Bearden.
SUNDAY
THE ASBURY
The little spot in uptown will host two seatings at $55 per person ($25/person for children 6-12 years old) on December 25, Christmas Day, for their three course special menu which includes choices of an elegant chicken pot pie; cranberry pecan trifle, and barbecue cauliflower with UAV burrata. Call 704-342-1193 to make your reservation and view all the details on the event page. The Asbury will also host a New Year's Eve tasting menu on December 31; seatings starting at 5:30 p.m. and extending until 9 p.m. Cost is $80 per person with optional wine pairings for an added cost. The prix fixe menu features butter-poached ham-crusted scallops, braised pork cheeks with whipped potatoes and apple and fennel demi, and more. Get all the details here; call for your reservation at 704-342-1193.
LIBERTY WALK
This self-guided tour is free. Stroll through uptown to the 18 points that comprise the Liberty Walk, touring the early history of the region through markers and text. Pick up a brochure at the Visitor Info Center at 501 S. College St. (in the Charlotte Convention Center) or at the Levine Museum of the New South. Or, just start in front of the Wells Fargo Plaza at 301 S. Tryon St., and follow the markers for a trip through the city's Revolutionary War days. A "Charlotte Liberty Walk" app is available at handheldhistory.com to help you along.