This Weekend's Agenda: 22+ Events (Feb. 3-5)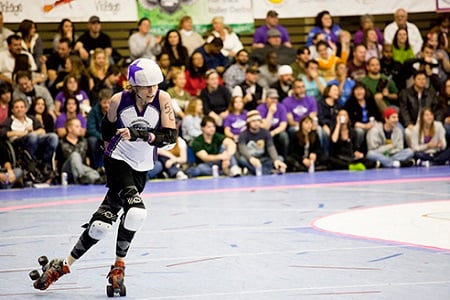 FRIDAY
JAZZ AT THE BECHTLER: JAZZ FOR LOVERS
Every February, this monthly series delivers a romantic set in "Jazz for Lovers." Toni Tupponce, who leads the R&B/jazz/pop ensemble and party band A Sign of the Times, provides the vocals again.
GROUPLOVE
The alt-rock band is appearing at the Fillmore as part of the tour to promote its album, Big Mess, which was released in September. The record's lead single, "Welcome to Your Life," is a "joyful, straightforward pop song for sure," vocalist Hannah Hooper told Rolling Stone. "But the verses really are about how messed up and difficult this world can be, and about the challenging part of life."
RIVERDANCE
The popular Irish dance program is on tour for its 20th anniversary. The ensemble is performing in more than 50 U.S. cities, and Charlotte gets eight performances over six days.
BLUE RESTAURANT & BAR
Did you miss Restaurant Week? Don't worry – Blue Restaurant & Bar has extended their offerings for the Queen's Feast through next Thursday, February 9. Kick off the weekend with three courses for $35. Menu and info is on the website.
BALLANTYNE HOTEL WINTER WEEKENDS
Every Friday and Saturday from 8:30 to 10 p.m. in February enjoy Winter Weekends at The Ballantyne Hotel & Lodge. Guests can experience a dessert bar and Champagne bar as part of couple's date night for $28 per couple plus tax and gratuity. The deal includes one beverage per person and a shared delicacy. Additional items can be purchased a la carte; hotel rooms purchased with the Winter Weekend special can be enjoyed at 15% off, as well, through February 19, 2017. Reserve your spot now by calling 704-248-4100 or visit the website for more information.
CIRQUE DU WHISKY
Celebrate the circus the right way – with booze. Whisky River, 210 E. Trade St., is hosting an aerial artist to perform from the ceiling while you enjoy $5 themed cocktails and $3 select beers. The party starts at 9 p.m., and there's no admission fee.
SOUTH END GALLERY CRAWL
The beginning of the month always offers this favorite event as an option, and if you haven't been yet, go. Many of South End's galleries stay open late to host crawlers for new exhibits with music, food and drink and an opportunity to meet the artists. The crawl is from 5 p.m. until 9 p.m., and there's no admission fee.
---
SATURDAY
CHARLOTTE SYMPHONY: SECOND CITY GUIDE TO THE SYMPHONY
In a tribute to The Second City, the revered Chicago improvisational comedy company, this program blends sketch comedy and the orchestra. Colin Mochrie, an improv legend associated with the show Whose Line Is It Anyway? will keep the laughter flowing in his appearance with the Charlotte Symphony.
DONNA THE BUFFALO
This group's name resulted from an error in communication. When the group held a meeting to figure out a name, a musician friend suggested "Dawn of the Buffalo." Band members thought he said, "Donna the Buffalo," and adopted it the name. That was nearly three decades ago. The roots band is known for blending originals and covers in its setlists.
SUPER SATURDAY AT FLYING SAUCER
Looking to pregame the big game? Head to Flying Saucer where they'll be tapping a variety of special kegs including Wicked Weed French Toast, Terrapin Tart Cherry Wake n' Bake, Weyerbacher Sunday Morning Stout, and more. Admission is free; runs all day or until the beer runs out.
OYSTER ROAST
It is, truly, oyster roasting season, and the Mint Museum wants in on the action. Head to the Mint Museum between 3:30-7:30 p.m. on Saturday, Feb. 4 for their third annual oyster roast presented by the YAMs and the Founders' Circle. Enjoy all the oysters and low-country boil you can eat and smores for the kids while they last. There will also be local and domestic beer. Tickets are limited to the first 250 people; you may purchase tickets day of for $35 (Mint members) or $45 (non-Mint members). More info is on the website.
WINEY GRAPES
Wine country comes indoors on Saturday, Feb. 4 from 2 to 5 p.m. at Slate Billiards. More than 100 different wines will be on hand for sampling; all to the tune of live local artists. Wine will be available for purchase during the event. More information and tickets here.
THE HUMANE LEAGUE GALA
Society vegans, this is the party for you. Rub elbows with the movers and shakers in the local animal welfare scene at the Humane League's annual gala tonight, starting at 7 at C3 Lab, 2525 Distribution St. The party includes drinks, vegan appetizers and desserts and a silent auction. Student tickets cost $35, general admission tickets cost $60, and VIP tickets, which include a special cocktail hour from 6 p.m. until 7 p.m., cost $110.
QUEEN CITY BREWER'S FESTIVAL
This event is always a sell-out, and at press time, the first session had sold out and less than 100 tickets were available for the second session. Moral of the story: check the website now to see if you still have a shot of scoring a ticket. This annual beer fest is ACE-ing Autism Charlotte's annual winter fundraiser, which includes unlimited beer sampling, live music, food and games. The second session is from 6 p.m. until 9 p.m. at The Fillmore, 820 Hamilton St.
SEASON KICKOFF PARTY
Join the Charlotte Roller Derby Girls at NoDa Brewing Company, 2921 N. Tryon St., tonight from 7 until 10 to kick off the upcoming season. It's billed as a "fancy night out"…at a brewery, so take that as you may. Aside from the beer for purchase, there will be desserts. There's no admission fee to this party.
MCCOLL CENTER FOR ART + INNOVATION
The McColl Center for Art + Innovation fills a vital role in the city's arts community by providing long-term and short-term residencies that help connect art and artists to the community. Works range from enormous paintings to culinary arts. Activities include open workshops and community programs. The World is a Mirror of My Freedom, THROUGH MARCH 25, combines the works of five current and past McColl artists-in-residents in response to systemic violence against African-Americans. The featured artists are Marcus Kiser, Jason Woodberry, Shaun El C. Leonardo, Dread Scott, and Charles Williams.
---
SUNDAY
SUPER BOWL JAMMY JAM
Want a choice of several parties, lots of food, and dancing to go with your football this weekend? Head to American Legion for the 13th annual SeriousFun Super Bowl Jammy Jam 2017. Tickets are $35 at the door and include buffet and open bar. More info here.
SUPER BOWL PARTY AT FLIGHT
Beer, barbecue, and a 180" projection screen are all you need to enjoy the big game. Head to Flight Beer Garden & Music Hall starting at noon on Sunday. Early bird tickets are $20 for all select drafts during the game; add $10 for a plate of tailgate barbecue. Buy tickets here.
CRIMES OF THE HEART
This Southern Gothic dark comedy, a 1981 Pulitzer Prize winner, follows the lives of three eccentric sisters after one wounds her husband with a gunshot and other developments ensue.
MINT MUSEUM UPTOWN
Mint Museum Uptown has a renowned craft and design exhibit that showcases works in a variety of materials, as well as collections of American, contemporary, and European art. Fired Up: Women in Glass, THROUGH FEB. 26, focuses on works by women in the glass medium. The museum says this is the first major exhibit of its kind in the country.
BECHTLER MUSEUM OF MODERN ART
Niki de Saint Phalle's iconic outdoor sculpture "The Firebird" welcomes visitors. Inside, you'll find fine art exhibitions, films, jazz, classical concerts, and talks. Bechtler Collection: Relaunched and Rediscovered, THROUGH APRIL 23, is an exhibition put together by curator Jennifer Edwards, who pulls pieces from the museum's extensive permanent collection and presents them in a new light.