This Weekend's Agenda: 22+ Events (Sept. 2-4)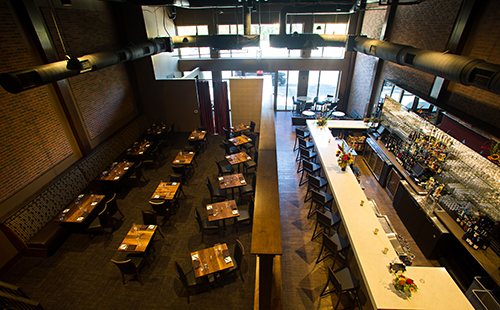 FRIDAY (Sept. 2)
LORRAINE WINE TASTING AT BOND STREET WINES
Learn about this ancient wine producing region of France called Lorraine during this special tasting. Guests will sample wines from this lesser-known area as they learn about its history, geography, and more from Queen of Wines.
JAZZ AT THE BECHTLER
The monthly jazz program featuring the Ziad Jazz Quartet returns with a tribute to trombonist Frank Rosolino. For this performance, Rick Simerly handles trombone duties.
DADA SOIREE: AN ABSURD ART SHOW
Billed as "an absurd night of art," this opening kicks off the C3 Lab show "Dada Soiree." The varied program, which began after a conversation during a Charlotte Arts Chat meeting, is described as featuring "established, mid-career, and barely emerging artists of multiple disciplines have come together to show work, side by side, to demonstrate art in conversation with itself."
SHARON DOWELL: SMASHUP
Smashup is a mini-show from Charlotte-based artist Sharon Dowell.Dowell, who won a 2012 Best of the Best award for "Best Artist," has work shown across the U.S. and is currently part of multiple public art projects in the city.
BATS AND BUDS: FRIDAY NIGHT FIREWORKS
This is your last chance to catch the fireworks at BB&T Ballpark on a Friday this season. A $10 ticket gets you a seat on the Home Run Porch, one free beer before the game at Draught, 601 S. Cedar St., and two after the game. Check-in is at Draught from 5:45 p.m. until 7 p.m., and the after party is back at Draught, starting at 10 p.m.
MATTHEWS ALIVE
The annual Labor Day festival is back! Lasting through Monday, this carnival hosts a parade, a cultural center, loads of food and drink options and so much more. (You don't want to miss this.)
BOOT BARN FASHION SHOW
Whisky River turns into a runway tonight as this fashion show takes the reins. "Big Sexy" from 103.7 FM hosts the show tonight, which also features local vendors, giveaways and drink specials. The party from 8 p.m. until 10 p.m. tonight as 210 E. Trade St. has no admission fee.
FLASHBACK FIRST FRIDAY: ALL-WHITE AFFAIR
It's Labor Day weekend, so you should expect a slew of white parties. This party at Label, 900 NC Music Factory Blvd., features three DJs for an "old-school event."
---
SATURDAY (Sept. 3)
OLIVE OIL & WINE TASTING AT DAVESTE VINEYARDS
Spend this Saturday afternoon at a local vineyard and enjoy a complimentary tasting of olive oils and vinegars from olive oil-producing countries over the globe brought to you by Isabella's Fine Olive Oils and Vinegars. Products will be available for purchase and, of course, wine will be available for tasting as well.
4X4CLT: FALL INTO THE WORDS
This mini-conference features four events to check out. Award-winning author and StoryPeople creator Brian Andreas leads a conversation with partner Wendy Save, an actress and teacher, called "Where Do We Go From Here: Stories for Who We Want to Be." Also check out the workshops "Ostranenie: Poetry as a Practice of Awareness with Nickole Brown" (Saturday, 11 a.m.) and "Writing Beyond Yourself: The Art and Craft of Persona Poems with Jessica Jacobs" (Saturday, 2:30 p.m.). Poets Jessica Jacobs and Nickole Brown reads poems at 5:30 p.m.
P.S. YOUR CAT IS DEAD!
The Queen City Theatre Company presents this staging of the raunchy play written by James Kirkwood Jr., a regional premiere. The narrative follows a downtrodden man who garners a bond with a cat burgler. (Warning: This play is for audiences 18 and up, as it contains nudity.)
RIVER JAM
(through Sept. 29) On Thursdays and Saturdays during the summer, River Jam offers free outdoor music at the U.S. National Whitewater Center. This month's lineup includes The Hip Abduction (Sept. 1), The Trongone Band (Sept. 3), Dangermuffin (Sept. 8), Billy Strings (Sept. 10), Sol Driven Train (Sept. 15), Dank (Sept. 17), Reverend Peyton's Big Damn Band (Sept. 22), and Seth Stainback & Roosterfoot (Sept. 29).
CIEL GALLERY
Ciel Gallery is a combined teaching space and mosaic gallery in South End that showcases paintings, mosaics, photography, jewelry, pottery, sculpture, and more each month. Art classes are available for all ages and levels. September brings the "Featured Member" show Rust Revival, with contributions from Renee Calder and Nancy Albert.
COCKTAILS THROUGH THE DECADES COOKING CLASS
Join the crafty folks at Passion8, 1523 Elizabeth Ave., today as they teach a class in crafting four iconic whiskey/bourbon cocktails. Each of the cocktails is paired with select food.
KING DAY PARTY: LABOR DAY WEEKEND EDITION
Head to the top of Vault, 210 E. Trade St., today to enjoy your holiday weekend. The event description labels this party as only for the "city's crème de la crème," so you should come prepared. The party also features DJ Weatherman.
LABOR DAY PARTY CRUISE
What better way to celebrate (hopefully) having the day off on Monday than a booze cruise? Join DJ Z and top-40 hits tonight on board as you cruise around Lake Norman. Boarding starts at 10:15 p.m., and the ship doesn't return to 1459 River Highway in Mooresville until 12:45 a.m. Tickets cost about $33 and include food on board.
---
SUNDAY (Sept. 4)
MARGARITA CLASS
Spend Sunday afternoon over the long weekend learning about various tequila styles. Explore how to make margaritas using fresh ingredients. The session will be held at the Veranda Bar at The Ballantyne Hotel & Lodge. On the Friday before, The Gallery restaurant will hold a tequila and mezcal comparison tasting. Reservations are recommended for both events; call to reserve.
LABOR DAY LUAU
Bid adieu to summer at Howl at the Moon, 210 E. Trade St., and its Labor Day Luau. This party features $3 Miller Lite bottles, $5 Malibu cocktails and $20 86-ounce sunshine punch buckets, which sounds like a hangover. Wear your Hawaiian shirt for free entry.
LABOR DAY PARTY BUBBLE
No work on Monday means plenty of playtime on Sunday. Join Bubble and its two DJs today at this holiday weekend day party from 4 p.m. until 8 p.m. at 210 E. Trade St.
OFF-THE-WALL ANNUAL MICHAEL JACKSON TRIBUTE
At Petra's annual Jackson tribute evening, it's all Michael, all Jackson Five all night. The dress code is "fresh," so make of that what you will. There's an admission charge of $5 before 11 p.m. or $10 after. Petra's is at 1919 Commonwealth Ave.
NASCAR HALL OF FAME
The NASCAR Hall of Fame has 40,000 square feet of exhibition space to give visitors a look at racing history in a city with its own storied history in the sport. The ongoing Champions exhibit highlights recent winners in NASCAR's three national touring series.
BECHTLER MUSEUM OF MODERN ART
The Bechtler's building, designed by Swiss architect Mario Botta, is a modern work of art itself. Niki de Saint Phalle's iconic outdoor sculpture "The Firebird" welcomes visitors. Inside, you'll find fine art exhibitions, films, jazz, classical concerts, and talks. The House That Modernism Built (through Sept. 11) explores mid-20th century art, furniture, textiles, and more, offering examples of how the principles of modernism still resonate today. All That Sparkles: 20th Century Artists' Jewelry (through Jan. 8) pairs traditional artwork with jewelry crafted by Saint Phalle, Alberto Giacometti, Harry Bertoia, and others.
---
Looking for a specific category? Check out ARTS + CULTURE, FOOD + DRINK, and SOCIAL EVENTS.