This Weekend's Agenda: 24+ Events (Aug. 19-21)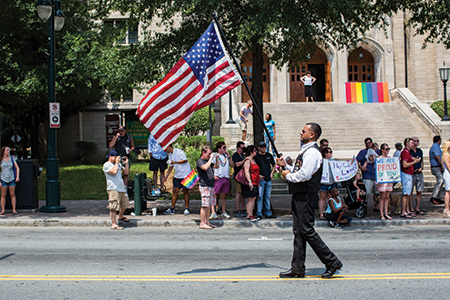 FRIDAY (Aug. 19)
THE JAZZ ROOM
The monthly series spotlights jazz legends, as emulated by current artists. For August, trumpeter Jon Thornton does Chet Baker, who was recently portrayed by Ethan Hawke in the indie biopic Born to Be Blue.
NOVACANCY: QUEENIE'S FAREWELL BLOCK PARTY
Visit the South End Motel, constructed inside C3 Lab, one more time before this projects ends. In a series of performances by TAPROOT, through Aug. 20, see what the Charlotte ensemble has been concocting over the past couple months. From the event's page: "Developed as a site specific work in collaboration with the visual artists from NoVacancy, Block Party invites you into a totally immersive, sensory performance experience that explores the changing face of Charlotte neighborhoods. Performances happen inside of an art installation developed by four different Charlotte artists."
JAGGERMOUTH
Charlotte's Jaggermouth mixes several strains of rock for a driving, catchy sound. They're joined by Elonzo Wesley and Sinners & Saints.
CHARLOTTE PRIDE KICKOFF COOKOUT PARTY
Like we said, it's Pride Week at Charlotte, so the Queen City is going all out this weekend. The Bar at 316, 316 Rensselaer Ave., hosts this Friday night cookout tonight, starting at 5:30. This free evening features hamburgers and more on the grills, games of Beer Pong, Flip Cup, Jenga and more. Happy Pride, Charlotte!
SAVED BY THE '90S BAR CRAWL
Charlotte's throwing it back to the Spice Girls, boy bands and mood rings tonight for this bar crawl to Blackfinn, Suite, Bubble, StrikeCity, Tin Roof and Vida Vida. Registration begins at 7 p.m. at Rooftop 210, 210 E. Trade St. Tickets cost about $12 and include your '90s T-shirt that gets you free admission into each participating bar.
BACK-TO-SCHOOL SEXY SCHOOLGIRL PARTY
Leave it to event organizers to find a way to consistently objectify women (back-to-school even!). This event, which encourages women to dress as a "sexy schoolgirl" (that means with a diploma, right?), features $3 Corona and Corona Light. The party starts at 9:30 p.m. at Mona's Lounge.
FREE WINE TASTING
Reid's Fine Foods of SouthPark is holding a free wine tasting of Orin Swift Cellars and Dave Phinney's "Locations" wines. They'll be providing cheese and meat to go along with the wines and will offer special pricing on wine bottles purchased during the tasting.
NATIONAL AVIATION DAY AT THE GALLERY
The Gallery Restaurant at the Ballantyne Hotel & Lodge will pay homage to National Aviation Day with a tasting of the Aviation cocktail. They'll share their classic take of this classic drink, along with a few derivatives. Light fare is included. Reservations are recommended.
SIP & SAVOR AT UPSTREAM
Visit the Upstream Lounge today or the third Friday of any month to enjoy a tasting of select wines paired with small plates from the kitchen. This month's tasting features wines from Spain. No reservations are required.
PLAZA PATIO PARTY AT HEALTHY HOME MARKET
Hang out with the folks at Healthy Home Market and enjoy live music, games, beer and food samples, and more. The store will grill food for sale and raffle off gift baskets as part of the event, which will also occur the third Friday of next month as well.
FRIDAY NIGHT FESTIVAL
The recurring festival is a collaboration between Unknown Brewing, Craft Growler Shop, The Gold District, and Historic South End. The event includes local beer, music, food trucks, and films shown outside the neighboring breweries. This week's film is Hitchcock's North by Northwest.
MUSIC AT LEGION BREWING
Two acts offer tunes at Legion this weekend: The jazz trio Clowns Eating Fish performs Friday, while The Hazelgroves play Saturday. The latter act's sound is a mix of blues, folk, rock, and jazz. Both are based in Charlotte.
---
SATURDAY (Aug. 20)
BROTHER VIGALYS COCKTAIL CLASS & DESSERT PAIRING AT HEIRLOOM
Learn to make three cocktails with the mixologists of Heirloom. During this afternoon class, you'll also get to enjoy dessert pairings from Pastry Chef Ann Marie Stefaney that involve Brother Vilgalys spirits as well. Call to reserve.
THE GREAT COOKIE CRUMBLE
The 7th Street Public Market is hosting a competition to see who can make the best confection. Last year's winners, Cloud 9 Confections, returns to defend their title against other South End and Uptown restaurants, hotels, and bakeries. Visitors get the chance to vote for the People's Choice and Kid's Choice prize.
PATRICK DAVIS
One of Charlotte's most intimate venues hosts the singer-songwriter, a native of Camden, South Carolina. Last year, Davis garnered praise for a tribute song following the tragic shootings of nine at a Charleston church.
CHARLOTTE PRIDE AFTER PARTY
The two-day street festival for Charlotte Pride starts today, but it's this after party that will really steal the show. Jujubee from Rupaul's Drag Race is the guest of honor tonight at Chaser's. The party starts at 10 p.m.
THE RAINBOW PARTY
Cathode Azure, another of Charlotte's gay bars, is throwing this Pride after party tonight. The bar is going all out with eight bartending stations (eight!) to accommodate for the large crowds at Charlotte Pride.
ELIZARDI CASTRO SOLO!
The New York City-raised comic's Solo is self-billed as "a show about fears, tears and the laughter needed to overcome it all." The show is presented by the Puerto Rican Cultural Society.
RIVER JAM
(through Sept. 29) On Thursdays and Saturdays during the summer, River Jam offers free outdoor music at the U.S. National Whitewater Center. Check out the center's selection of food and beer and kick back. This month's lineup includes The Show Ponies (Aug. 4), Parsonsfield (Aug. 6), Davy Knowles (Aug. 11), Jarekus Singleton (Aug. 18), Amigo (Aug. 20), The Accomplices (Aug. 25), and The Mike Strauss Band (Aug. 27).
SYCAMORE AUGUST BREAKFAST
Saturday, August 20, 9 a.m.-noon Lamb hash and eggs, made with beer-braised lamb breast; a bagel all the way, and a "Greek Meets West" Omelet, with eggs, cheese, bacon, peppers and scallions—it all pairs well with a beer or a beer-mosa on a Saturday morning.
---
SUNDAY(Aug. 21)
CHARLOTTE PRIDE FESTIVAL & PARADE
The parade is this festival's annual draw, and it begins today at 1 p.m. from Ninth Street and North Tryon Street. (The street festival itself starts Saturday afternoon.) Experts estimate crowds to number in the hundreds of thousands, so come early if you want a good view. There is no admission fee to watch the parade.
SOUTH END SOCIAL AND CRAFT MARKET
This monthly market features live music, breweries, about a half dozen local vendors, bar games and more. The event is free and runs from 2 p.m. until 6 p.m. at Craft Tasting Room and Growler Shop, 1320 S. Church St.
HARVEY B. GANTT CENTER FOR AFRICAN-AMERICAN ARTS + CULTURE
Once called the Afro-American Cultural Center, this museum opened in the 1970s and jumped around to different venues before settling in its current South Tryon Street location in 2009. Shaping the Vessel: Mascoll + Samuel (through Jan. 16) displays 20 wood works created by John Mascoll and Avelino Samuel with a lathe and other tools. Nellie Ashford: Through My Eyes (through Jan. 16) focuses on the folk art of the titular artist, a Charlotte native who explores identity and community through her works.
LIBERTY WALK
This self-guided tour for history buffs is free. Stroll through uptown to the 18 points that comprise the Liberty Walk, touring the early history of the region through markers and text. Pick up a brochure at the Visitor Info Center at 501 S. College St. (in the Charlotte Convention Center), or just start in front of the Wells Fargo Plaza at 301 S. Tryon St., and follow the markers for a trip through the historical adventure of the city's Revolutionary War days. A "Charlotte Liberty Walk" app is available at handheldhistory.com to help you along.
---
Looking for a specific category? Check out ARTS + CULTURE, FOOD + DRINK, BEER, and SOCIAL EVENTS.