This Weekend's Agenda: 24+ Events (August 26-28)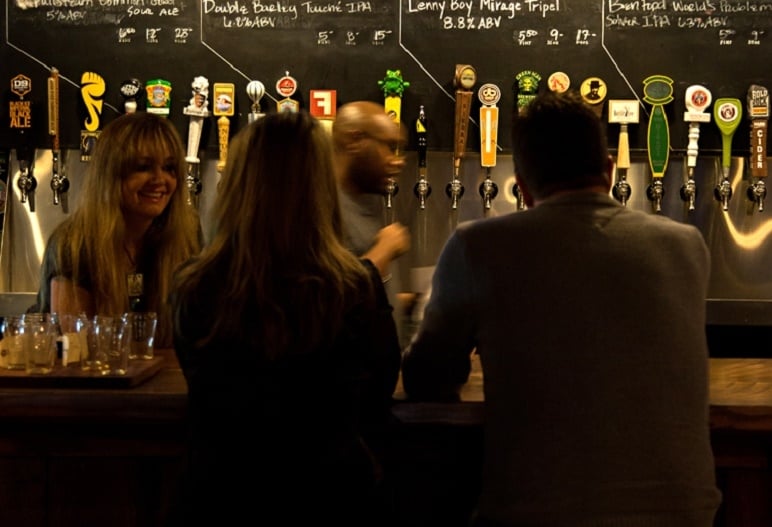 FRIDAY (Aug. 26)
RICK SPRINGFIELD
Mr. Jessie's Girl himself comes to the Charlotte Metro Credit Union Amphitheatre for a late August concert. Springfield recently returned to acting with a role in HBO's True Detective as psychiatrist Dr. Irving Pitlor.
GOODYEAR ARTS
Friday brings the first official showcase for the program's tenure at 516 N College St. The work of current residents Micah Cash, Ramya, and Chris Thomas includes sculpture, painting, drawing, installation, photography, virtual stories, and film.
BIG JAY OAKERSON
Oakerson has appeared on The Tonight Show with Jimmy Fallon and Inside Amy Schumer. And like several comedians, Oakerson's also in the podcasting game, with the high-profile show Legion of Skanks.
DISCO PARTY
Ice Martini Bar is turning back the clock tonight for its second-annual '70s Disco Party. Break out the Saturday Night Fever look and get ready to boogie tonight. Get down at this party, starting at 9 p.m. at 9525 Birkdale Crossing Drive in Huntersville. There is no admission fee.
NORTH CAROLINA TANGO FESTIVAL
Last week, we welcomed the Salsa and Bachata Festival back. This week, we have the North Carolina Tango Festival. The weekend-long festival features workshops, tango experts and more. The dance-filled weekend is at the Sheraton Charlotte Airport Hotel.
PRESEASON POST-GAME PARTY
The Panthers take the field tonight for the preseason opener against the New England Patriots, and the after party is at Whisky River. The EpiCentre spot features free mechanical bull rides, giveaways and more.
LAURA RABELL AT NODA BREWING COMPANY
Country singer and songwriter who also performs as a member of the worship team at Waypoint Community Church in Charlotte.
HARVEY B. GANTT CENTER FOR AFRICAN-AMERICAN ARTS + CULTURE
Once called the Afro-American Cultural Center, this museum opened in the 1970s and jumped around to different venues before settling in its current South Tryon Street location in 2009. Shaping the Vessel: Mascoll + Samuel (through Jan. 16) displays 20 wood works created by John Mascoll and Avelino Samuel with a lathe and other tools. Nellie Ashford: Through My Eyes (through Jan. 16) focuses on the folk art of the titular artist, a Charlotte native who explores identity and community through her works. The museum's permanent exhibition, the John & Vivian Hewitt Collection of African-American Art, showcases the work of 20 artists, including Charlotte native Romare Bearden.
---
SATURDAY (Aug. 27)
BACK TO SCHOOL BBQ WITH SIR PURR
It's back to school at Reid's Fine Foods in South Park. Bring the kids and visit with Sir Purr, who will be at the store from 12:30 p.m. – 1:30 p.m. Reid's will be serving $5 barbecue sandwiches with chips from Noon until 5 p.m., along with $3 craft beers on draft. Free samples and tastings of Reid's and local vendor products will also be available.
FRENCH RIVIERA COOKING CLASS
Spots are still available to learn about food and wine from the famed French Riviera during this class at Lumiere. Watch a live demonstration on preparation of a three-course meal, plus enjoy a cheese and wine tasting featuring wines from Southern France. Purchase your seat online.
CELEBRATE CHOCOLATE – TASTING & PAINTING
Learn a little about how chocolate is made from special guests from The Secret Chocolatier. Then paint your favorite "chocolate quote," getting step-by-step instructions along the way. Registration and pre-payment are required.
SOUTHERN BBQ COOKING CLASS
Learn the ins and outs of making Southern BBQ with Harper's Restaurant in Pineville. Call to reserve.
SOUTHEASTERN CONFERENCE ALUMNI BASH
In the rare moment when North Carolina State University, Duke University and the University of North Carolina at Chapel Hill don't get all the spotlight, alumni of the SEC schools take over Oak Room, Slate Billiards and All American Pub today. Wear your alma mater's colors, mend the rift between the University of Georgia and the University of Florida and enter to win one of many raffle prizes.
THE GREAT GATSBY GALA
Turn back the clock even more tonight, past the disco '70s. It's a Roaring '20s speakeasy gala tonight! From 7 p.m. until 11 p.m., the Wells Fargo Atrium, 301 S. Tryon St., enjoy heavy appetizers and desserts, a live band, dancing, unlimited beer and wine, and a silent auction. This black-tie event benefits The National Multiple Sclerosis Society's Greater Carolinas chapter.
PET BLOCK PARTY
You heard right. A pet block party. Each of the participating venues (The Broken Spoke, Sugar Creek Brewery, and Olde Mecklenburg Brewery) will all feature animals up for adoption along with vendors like King of Pops and the Urban Feed Store. The block party spots will also feature raffle prizes throughout the day. There's no admission fee to this party from noon until 5 p.m. Bring the pups along!
STOLEN HEARTS
Musicians Pam Taylor and Robert Johnson Jr. comprise this duo. Their sound is self-described as "dirty Southern soul."
DARIUS RUCKER
Last year's Southern Style quickly hit No. 1 on the Top Country Albums chart. With that full-length, Rucker found yet another hit in "Homegrown Honey." He already had several under his belt from his days with Hootie & The Blowfish.
GOD SAVE THE QUEEN CITY
This year's God Save the Queen City festival, produced by Ink Floyd, hits two venues: Fillmore and Snug Harbor. The main event arrives on Saturday, with performances by Black Pistol Fire and Nikki Lane.
QUEEN CITY BATTLE OF THE BANDS
The top marching bands across the Carolinas come to Memorial Stadium, 310 N. Kings Drive, tonight to compete in this battle of the bands. Event organizers estimate the crowds will be "well over 10,000 fans" for this event, so come early if you want a seat.
CORNHOLE TOURNAMENT AND BLOCK PARTY
Along with a cornhole tournament, Tyber Creek Pub is also bringing a bounce house and live bands to this block party. Registration for the tournament starts at 12:30 p.m. and costs $5 per team of two. The block party lasts until 10 p.m. at 1933 South Blvd. There is no admission fee.
RIVER JAM
(through Sept. 29) On Thursdays and Saturdays during the summer, River Jam offers free outdoor music at the U.S. National Whitewater Center. Check out the center's selection of food and beer and kick back. This month's lineup includes The Show Ponies (Aug. 4), Parsonsfield (Aug. 6), Davy Knowles (Aug. 11), Jarekus Singleton (Aug. 18), Amigo (Aug. 20), The Accomplices (Aug. 25), and The Mike Strauss Band (Aug. 27).
---
SUNDAY (Aug. 28)
SOUTHERN WOMEN'S SHOW
Truly, there's so much happening here that we don't even know where to start. From a teacher-appreciation day, to a kitchen stage, and vendors upon vendors purveying everything from beauty products to food items to fashion and more, there's a lot happening. The trade show actually starts Friday and runs through today at the Charlotte Convention Center.
GOO GOO DOLLS
The Goo Goo Dolls had their greatest success with the tune "Iris," but the band's had 13 other top-10 singles. Hear several of those with this PNC Music Pavilion show.
BECHTLER MUSEUM OF MODERN ART
The Bechtler's building, designed by Swiss architect Mario Botta, is a modern work of art itself. Niki de Saint Phalle's iconic outdoor sculpture, "The Firebird," welcomes visitors. Inside, you'll find fine art exhibitions, films, jazz, classical concerts, and talks. The House That Modernism Built (through Sept. 11) explores mid-20th century art, furniture, textiles, and more, offering examples of how the principles of modernism still resonate today. All That Sparkles: 20th Century Artists' Jewelry (through Jan. 8) pairs traditional works with jewelry, crafted by the hands of Alberto Giacometti, Niki de Saint Phalle, Harry Bertoia, and others.
---
Looking for a specific category? Check out ARTS + CULTURE, FOOD + DRINK, and SOCIAL EVENTS.