This Weekend's Agenda: 25+ Events (Dec. 16-18)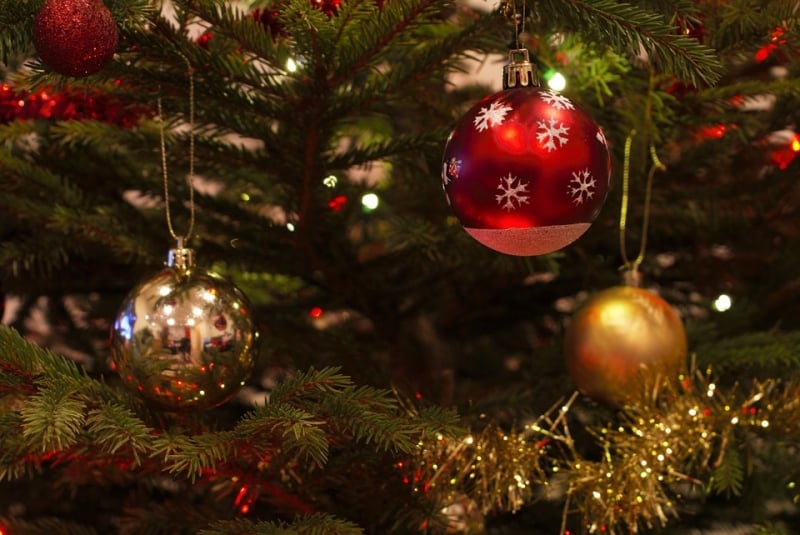 FRIDAY
GOODYEAR ARTS NOV/DEC RESIDENCY SHOWCASE
The last major showcase for this run of residencies at Goodyear Arts' 516 N College St. location has arrived. This month's artists are Grace Stott, Dylan Gilbert, Grace Stott, and Andrea Vail, offering. Work includes ceramics, sculpture, textile pieces, the new musical All the Dogs and Horses, and more. (On Saturday, an encore performance of the musical takes place at 6 p.m.)
CHARLOTTE SYMPHONY: MESSIAH
Kenney Potter returns to conduct this annual affair, once again tapping our city's premier symphony and chorus to handle this Handel masterwork.
THE BEST CHRISTMAS PAGEANT EVER: THE MUSICAL
This staging at the Children's Theatre of Charlotte is a world premiere. This comedy-musical is adapted by Jahnna Beecham and Malcolm Hillgartner, from the classic book of the same name by Barbara Robinson.
CHATHAM COUNTY LINE
Raleigh-bred bluegrass group Chatham County Line take the Neighborhood Theatre stage. The boys are festival regulars, performing at events like Winnipeg Folk Festival, Hardly Strickly Bluegrass Festival, and the Lowlands Rock Festival.
MAC MILLER
The Divine Feminine, released in September, is the fourth LP from the Pittsburgh-born rapper. The record hit the No. 1 spot on the U.S. Top R&B/Hip-Hop Albums Billboard chart.
HOLIDAY COCKTAIL CLASS
Level Co-working in Uptown is hosting a cocktail class on Friday, December 16 from 7 to 9:30 p.m. and will teach attendees how to shake foam-topped cocktails, make pretty garnishes, and offer take-home recipes and simple syrups.
RIVER'S EDGE CRAFT DINNER
The Whitewater Center is hosting a series of River's Edge Craft Dinners. The next dinner takes place on Friday, December 16 and features Mother Earth Brewing along with Executive Chef Michael Rayfield's dishes.
WEIHNACHTSMARKET​
Olde Mecklenburg Brewery is hosting its 7th annual Weihnachtsmarket – the brewery's version of a traditional German-inspired Christmas market. The market runs from 4 to 9 p.m. on Friday, December 16 and from 2 to 9 p.m. on Saturday, December 17.
TRIPLE C RELEASE
It's time for the release of one of Charlotte's top winter beers (at least in this writer's opinion): Triple C Brewing's barrel-aged Up All Night. One of the brewery's flagships, Up All Night is brewed with coffee and honey (both locally sourced), and this version has aged in Heaven Hills bourbon barrels for six months. The release begins Friday when the brewery opens at 4 p.m. Bottles will be $14 each, with a limit of four per person.
BRAWLEY'S BEVERAGE
Brawley's Beverage recently installed a new 24-tap system, and is celebrating the expansion with some great beers on tap Friday beginning at 4 p.m. Among the special beers that will be offered include the Evil Twin/Westbrook Imperial Mexican Biscotti Cake Break collaboration, Heist's popular Citraquench'l NE IPA, NoDa's Hoppy Holidays, Wicked Weed's Milk and Cookies, Ballast Point's Coconut Victory at Sea and Anchor Brewing's Christmas Ale 2011, among others.
HORRIBLE. AWFUL. UGLY SWEATER PARTY
You get the idea. Wear your ugly Christmas sweater that you've undoubtedly worn to a dozen other ugly Christmas sweater parties this season, drink beer, have fun, repeat. The event has no admission charge, but there's a raffle at the end of the evening for a pair of Panthers tickets. Earn a raffle ticket for arriving between 8 p.m. and 10 p.m., another for wearing your sweater and a third for donating a new, unwrapped toy. The party is at Flight.
BECHTLER BY NIGHT
The third Friday of each month brings Charlotteans to the Bechtler Museum of Modern Art for its free gallery admission. Tonight's focus is "Paint 'n Sip," featuring gallery games and scavenger hunts, Bechtler BINGO, appetizers and a winter solstice cocktail.
COCKTAILS WITH SANTA
To celebrate the season, Santa's elves will be stationed at six bars around Blackfinn tonight to serve six different Christmas cocktails and treats. A $12 ticket buys you entrance to the bar, tastings at each of the six stations, pictures with – and we're quoting here – the bar's "dirty Santa" and a holiday swag bag when you leave. Of course, the evening also features an ugly Christmas sweater contest.
SATURDAY
THE GREAT AMERICAN TRAILER PARK CHRISTMAS MUSICAL
The Great American Trailer Park Musical was the original tale of Armadillo Acres, where trailer park tenants squabble and break out in song. The Christmas sequel, you can imagine, adds a holiday flair to the setting. This Actor's Theatre of Charlotte production is held at Charlotte Ballet in uptown.
CHARLOTTE BALLET: NUTCRACKER
Choreographer and ballet legend Jean-Pierre Bonnefoux re-imagines his staple production with new sets, costumes, and surprises. The Charlotte Symphony performs the score for this classic.
GINGERBREAD HOUSE DECORATING
A Gingerbread House Decorating Class is being offered at The Ballantyne Hotel on Saturday, December 17 from 2 to 3:30 p.m.Cost is $50 per group (pricing is for up to four people and does not include tax or 23% service charge). Space is limited.
LARK & KEY GALLERY AND BOUTIQUE
This South End gallery displays paintings and functional art, highlighting the works of national artists as well as local and regional creators. Holiday Showcase, THROUGH DEC. 31, brings seasonal works to gallery visitors. The exhibit includes traditional artwork, decorative and functional pottery, jewelry, and glass.
LEGION BREWING BASH
It's been an outstanding first year for Legion Brewing, as the Plaza Midwood brewery has established a solid following in the neighborhood and beyond. Now, Legion is ready to say thanks to its patrons with its "Friends and Beerfest" birthday bash. It all begins at noon, as the brewery will be hosting a toy drive to benefit Toys for Tots. Everyone who brings in an unwrapped toy will be entered into a raffle. The Legion staff will draw names on the hour from noon to 8 p.m.
UNKNOWN BREWING CHILI COOK-OFF
It's going to be cold this weekend, so Unknown Brewing's annual chili cook-off couldn't come at a better time. The cook-off runs from 2 p.m. to 6 p.m. and for just $10 (proceeds benefit Purple Heart Homes), you'll get unlimited samples from a number of amateur chili cooking teams that entered the competition. At the end of the event, the brewer will crown a champion. The brewery will have live music throughout the event, along with all of its beers available, including the recently release barrel-aged Tele-Porter.
DUAL TASTING AT THE CELLAR
Finally, The Cellar at Duckworth's is bringing together two of the state's top breweries for sour beers in a dual tasting from 1 p.m. to 4 p.m. Saturday. Wooden Robot Brewing here in Charlotte and Wicked Weed Brewing in Asheville will have three beers each on tap for you to enjoy. Featured beers are Wicked Weed's Dalliance, 2015 Dark Arts and Oh My Quad and Wooden Robot's Galactic Nexus, The Crowd Agreed and Tropicalized Brett IPA.
WALKER STALKER CON
The Walking Dead fans, this is your weekend. The convention focusing on the acclaimed television show hits Charlotte this weekend, and four actors from the show will be there. Prices and times vary depending on the type of pass you purchase (photo opp, anyone?). The convention is at the Park Expo and Conference Center.
UGLY SWEATER HOLIDAY PARTY
Don't bother washing that sweater from last night's party. Throw it on again for Rooftop 210's bash tonight from 7 until midnight. The party tonight features pictures with Santa, Christmas carol karaoke and a contest for the ugliest sweater. There's no admission fee for this party at 210 E. Trade St.
ZOMBIE BAR CRAWL
If the Walker Stalker Con just wasn't enough undead for you, you're in luck. This killer bar crawl starts at Prohibition, 200 N. Tryon St., at 6 p.m. and travels to Fitzgerald's, SIP, Flight, Lucky's and Whisky River from there. There will be professional makeup artists on site to apply zombie makeup to those who want it, so don't worry about watching a Youtube tutorial.
SOUTH END SANTA PUB CRAWL
This bar crawl starts at 3 p.m., and lasts until midnight, so pace accordingly. The first 100 crawlers to check in at The Brass Tap, 1440 S. Tryon St.,win a free Santa hat, and that's a prize you really just can't pass up. Come dressed in your best Santa costume, ugly Christmas sweater, reindeer costume or anything remotely Christmas-themed. From The Brass Tap, the crawl travels to Tavern on the Tracks, Helles & Dunkel, Stache House, All American Pub, Oak Room and Slate. There's a raffle drawing at each stop along the way.
SUNDAY
DISCOVERY PLACE
Kids will be kids—and adults will feel like kids—at this uptown science museum. From live animals to grand experiments of physics, the museum offers a multi-disciplinary adventure. . Genghis Khan, THROUGH APRIL 30, explores the life of the legendary conqueror. The exhibit displays more than 200 artifacts from Khan's treasures and possessions, including jewelry, clothing, pottery, musical instruments, and weaponry.
HARVEY B. GANTT CENTER FOR AFRICAN-AMERICAN ARTS + CULTURE
Named for Harvey Gantt, the first African-American mayor of Charlotte and the first African-American student at Clemson University, this 46,000-square-foot museum reflects both history and current art. It's part of the Levine Center for the Arts, a group of arts institutions in uptown. Shaping the Vessel: Mascoll + Samuel, THROUGH JAN. 16, displays 20 wood works created by John Mascoll and Avelino Samuel. Nellie Ashford: Through My Eyes, THROUGH JAN. 16, focuses on the folk art of the Charlotte native, who explores cultural identity and community. See 30 newly created mixed-media works by Ashford. The museum's permanent exhibition, the John & Vivian Hewitt Collection of African-American Art, showcases the work of 20 artists, including Charlotte native Romare Bearden.