This Weekend's Agenda: 25+ Events (July 29-31)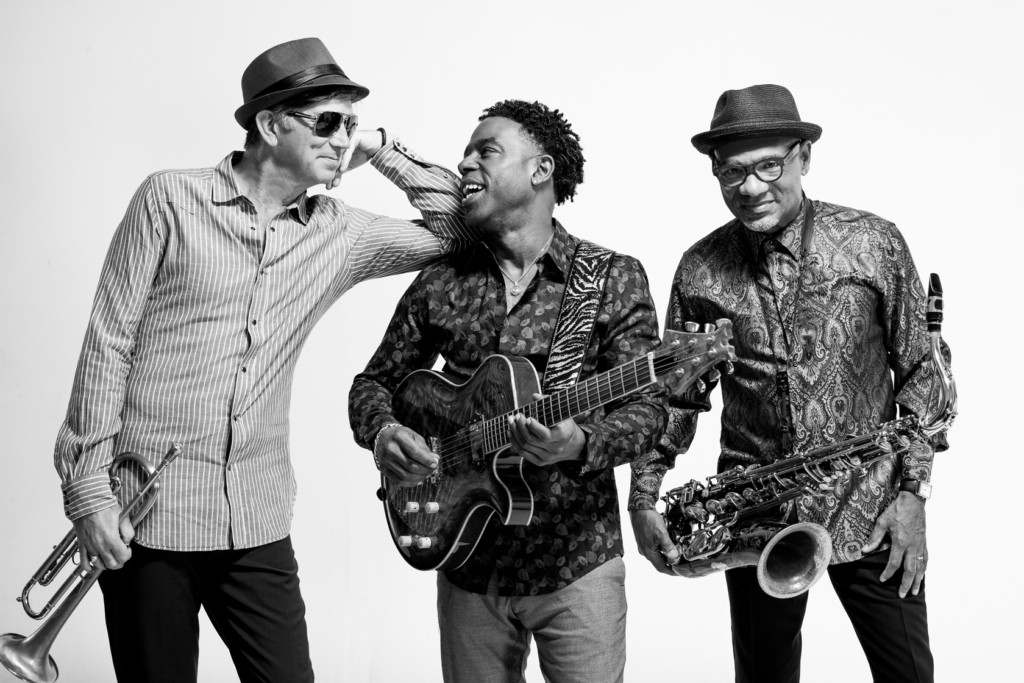 LET'S END JULY in style. Below, we have 25-plus events, from big jazz acts and a National Dance Day to grand bar crawls and a donut ice cream sundae event. So take a look below, and curate your Charlotte weekend.
---
FRIDAY (July 29)
FRIENDSHIP PICNIC
Join C3 Lab and Friendship Trays for their monthly fundraising picnic, held at C3 Lab in South End. Purchase Grab-n-Go lunch boxes and enjoy a community lunch with others as you help support the work done at Friendship Trays. You'll also get the chance to meet some of the artists who have studios at C3 Labs, and to view their artwork.
QC SUMMERFEST
The jazz festival is back for its second year with three days of legendary artists at Belk Theater. Musicians include Boney James (July 29), BWB (July 30), and Jonathan Butler (July 31).
PHILLIP PHILLIPS & MATT NATHANSON
Phillips, an "American Idol" alum, and Nathanson are a likely pairing of folk singer-songwriters. The tunes make for a laid-back evening outside at the Charlotte Metro Credit Union Amphitheatre.
THREE-YEAR ANNIVERSARY BLOWOUT
Ice Martini Bar has exited its terrible twos, and you're invited to welcome it into its third year. The bar is offering $3 Corona, Corona Light and Modelo throughout the evening. There's no admission fee to this party at 9525 Birkdale Crossing Drive in Huntersville.
NO VACANCY
This mock-motel at C3 Lab in South End continues its residency. This week, Behailu Academy students present new work created at the space.
JON LINDSAY
Singer-songwriter and one-time-Charlottean Jon Lindsay brings his "Cities and Schools Tour" to Charlotte. The tour, which comes to the Evening Muse this weekend, marks the release of his new record by File 13 Records in Chicago.
HOWL'S SUMMER FEST
Didn't get to wear your flower crown at Coachella? Couldn't make it to Bonnaroo? Howl at the Moon likes to think this will be a good alternative to your music fest woes. The bar's Summer Fest at 210 E. Trade St. features live music, $3 summer shandy cans, $5 lemonade cocktails and $20 86-ounce buckets. The male and female winners of the dance contest win $50, and you'll get in for free if you wear a summer music fest T-shirt.
THE 21 TO PARTY BAR CRAWL
To celebrate Blue Moon turning 21, Charlotte gets its own free bar crawl. Crawlers should check in and register for prizes from 7 p.m. until 8:30 p.m. at Fitzgerald's, 201 E. Fifth St., before heading on to Connolly's, TILT, and BlackFinn and Rooftop 210. Get there early because the first 100 people will receive two free beers. Event organizers are also giving away a Kegerator, Yeti Cooler, front-row tickets to a Knights game, gift cards and more at each stop along the way.
MAD HATTER'S BALL
Things get curiouser and curiouser tonight at BlackFinn, 210 E. Trade St. From 10 p.m. until 2 a.m. tonight, sample the Mad Hatter-inspired cocktail list, Alice in Wonderland-themed decor, a DJ and a costume contest with prizes for first through third places. General admission is free, but a VIP pass costs about $12 and includes early admission and a free drink.
SATURDAY (July 30)
JOE'S DOUGHS & HART'S SODA SHOP ICE CREAM SUNDAE EVENT
Joe's Doughs holds its first event at their new store this weekend. They'll partner with their friends at Hart's Soda Shop, who will soon open their own shop, to make guests donut ice cream sundaes from 11 a.m. to 3 p.m. For $6, you can enjoy sundaes made with the following donut flavors: maple bacon, white chocolate cinnamon roll, s'mores, and strawberry honey lavender.
GREAT AMERICAN BAR CRAWL
When you're America, you can celebrate Independence Day whenever you want. That, or these event organizers have never heard of a calendar. Nonetheless, wear your red, white and blue to this bar crawl celebrating America's birth. Tickets to this bar crawl cost about $24 and include a "patriotic chalace" (sic – these event organizers also don't have dictionaries) as well as free admission to all participating Uptown bars. The crawl starts at 3 p.m. somewhere in the EpiCentre (be sure to tell the event organizers to be more specific next time as well as getting a dictionary and a calendar).
'80S LAKE CRUISE
Come dressed in your best workout gear, side ponytails and neon clothes tonight, as the Lady of the Lake turns back the clock. The boat's DJ will play '80s hits as you take a two-hour cruise around Lake Norman. Tickets cost about $33 and include appetizers and access to a cash bar. Boarding starts at 10:15 p.m., the boat leaves shore at 10:45 p.m. before making it's return just before 1 a.m.
INTERNATIONAL CHAMPIONS CUP — FC INTERNAZIONALE VS. FC BAYERN MUNICH
For another day, Americans get to pretend they care significantly about soccer outside the World Cup and the Olympics, but this game of international importance is coming to Charlotte, which is a big deal. The match is at Bank of America Stadium, starting at 5 p.m., and tickets start at $42 before ticket fees.
RIVER JAM
On Thursdays and Saturdays (through Sept. 29), River Jam offers free outdoor music at the U.S. National Whitewater Center. Check out the center's selection of food and beer, and kick back. This week's lineup includes Head for the Hills (July 28) and Koa (July 30).
NATIONAL DANCE DAY
"So You Think You Can Dance" executive producer Nigel Lythgoe created this national event, which encourages children and adults to dance. The aim is two-prong: promoting dance to benefit both health and self-esteem. Join others in Wells Fargo Plaza to celebrate.
STORYTELLER NIGHT AT THE SECRET CHOCOLATIER
The Secret Chocolatier brings back special guest Faye Fulton for a night they've dubbed "Indulge in the Richness of Life: Rich Stories and Rich Chocolate." Enjoy a decadent dessert from Chef Bill Dietz—plus coffee or tea—along with a side of storytelling at their Ballantyne location this Saturday. Spaces are still available for their truffle-making class, to be held this Saturday afternoon from 2 to 4 p.m. Reservations required in person at the store or online for these events.
WINE CLASS: AN IN-DEPTH GUIDE TO NAPA AND SONOMA
Join Corkbuzz Wine Studio this Saturday for a class that delves deep into these two cherished wine regions. This one-hour class will cover history, appellations, climate, and geography. Call or go online to reserve your seat.
BEER & BBQ AT JP CHARLOTTE
Enjoy Southern barbecue with samples of craft beer from NoDa Brewing and cocktail tastings courtesy of Jack Daniels on the terrace at JP Charlotte. Sinners and Saints and Elonzo Wesley will both perform at this Uptown event.
REED GOLD MINE
The country's first documented gold find was at Reed Gold Mine, 45 minutes east of Charlotte. Nearly 220 years after it was built, the mine is a North Carolina Historic Site. Gold panning is available for $3 from April through October.
DURHAM DISTILLERY COCKTAIL CLASS AT HEIRLOOM
Visit this locavore restaurant to learn how to make three cocktails using spirits made by Durham Distillery. Enjoy small plates made by Chef Clark Barlowe during the afternoon class. Discounted rate offered for couples. Go online to purchase tickets.
SUNDAY (July 31)
UNDERGROUND KITCHEN POP-UP DINNER
Tickets are still on sale for UGK's return to the Queen City. Join this supper club for their Cocina Toscana night, where Tuscan cuisine will be fused with Southern flair. The remaining tickets are likely to disappear quickly once the full menu and the location for this one-time dinner are announced. Purchase tickets online.
BOWLING EXTRAVAGANZA
If you can get past how terrifying and dangerous this is, it sounds like fun. Throw down $22, and you'll get your bowling shoes rental and three games of bowling that encourage bowlers to bowl with their least-dominant hand, behind their backs, holding someone else's hand, no hands (how is that even possible?), with a bucket on your head (actually horrifying) and more. The proceeds go to 24 Hours of Booty, which is actually a reputable charity despite the name. Make sure you have insurance before going, please.
PINTS AND PUPPIES
Bring your dogs to Sycamore Brewing today from 2:30 p.m. until 5 p.m. to socialize with other dog owners and beer lovers as you enjoy beer and food and support local no-kill animal shelters. The afternoon also features a dog costume contest (!!) and a charity raffle. Tickets cost $17 and include two free beers and two sliders or tacos from Tin Kitchen.
NASCAR HALL OF FAME
The NASCAR Hall of Fame has 40,000 square feet of exhibition space to give visitors a look at racing history. The ongoing Champions exhibit highlights recent winners in NASCAR's three national touring series.
LIBERTY WALK
This self-guided tour for history buffs is free. Stroll through uptown to the 18 points that tell the early history of the region through markers and text. Pick up a brochure at the Visitor Info Center at 501 S. College St. (in the Charlotte Convention Center), or just start in front of the Wells Fargo Plaza at 301 S. Tryon St. and follow the markers for a trip through the city's Revolutionary War days. The "Charlotte Liberty Walk" app is available at handheldhistory.com.
---
Looking for a specific category? Check out ARTS + CULTURE, FOOD + DRINK, and SOCIAL EVENTS.