This Weekend's Agenda: 25+ Events (Nov. 18-20)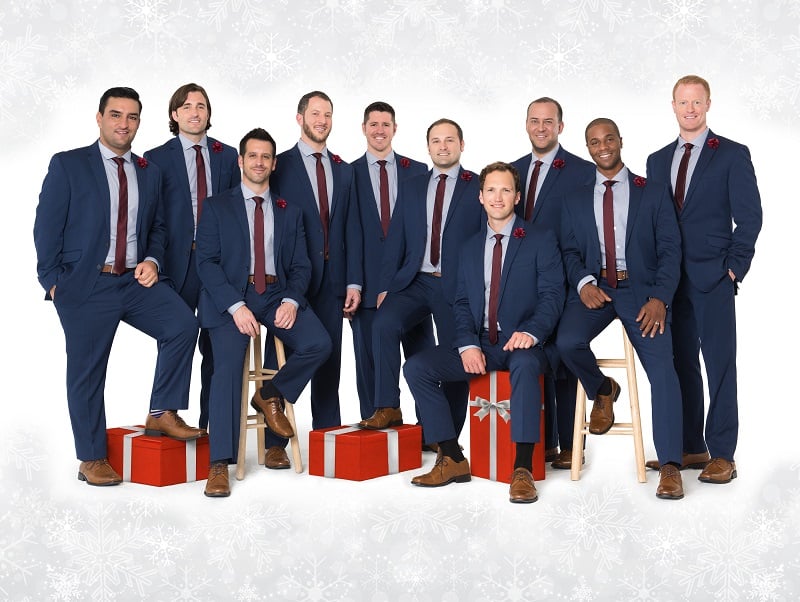 FRIDAY (Nov. 18)
WAGNER, STRAUSS & BRUCKNER
This dramatic program has German greats Wagner and Strauss paired with Romantic Austrian composer Anton Bruckner. The Charlotte Symphony Chorus joins the symphony for this one.
STRAIGHT NO CHASER
The second 20th anniversary tour to come to Charlotte this month is Straight No Chaser's "I'll Have Another Tour." The acapella group harmonizes its way to the Ovens Auditorium the week before Thanksgiving.
ISAAC PAYNE & BARBARA SCHREIBER AT NEW GALLERY
Two exhibitions debut at a reception on Friday night: Payne's Somewhere and Barbara Schreiber's Last Summer on Earth. Also on Saturday: HappeningsCLT conducts live artists interviews on Saturday at 11 a.m.
BOBBY LEE
This Celebrity Show features Bobby Lee, a MADTV alum known for his unhinged stage show. Lee's nervous energy keeps his appearances fresh.
NEW FREQUENCIES: DANCE: CHANCE ENCOUNTERS
With Chance Encounters, viewers find differing artforms in conversation. Each of these dance pieces are influenced by a different work out art. "Dwellings like a Mirage in the Heat" is a world premiere, and it reacts to methods originally crafted by John Cage and Merce Cunningham at Black Mountain College. This piece comes from dancers Eric Mullis (of Charlotte), Brian McGinnis, and Jennifer Sydor. The latter two hail from Chicago and New York, respectively. Music for the piece is composed by Charlotte's Brent Bagwell, adding to sprawling collaborative nature of the work.
GLENFIDDICH 14-YEAR BOURBON BARREL RESERVE RELEASE DINNER
National Glenfiddich Ambassador Mitch Brechard will lead this special Whiskey Club event, which revolves around Glenfiddich's 14-year old Bourbon Barrel Reserve Scotch. This newly released spirit combines the best of Scotland and Kentucky. Dinner courses will be paired with the reserve scotch, along with Glenfiddich's 12-year, 15-year, 18-year and 21-year offerings. Reservations are required; space is limited.
SUPERPHO BOWL CHALLENGE
Today is the last day of iPho's two-week challenge: eat four pounds of noodles, four pounds of meat, and four liters of broth within 90 minutes, and you win $100. The downside if you don't win is that your food will cost $50. The upside: it's tasty pho.
COOKIES AND COCKTAILS
Two of the world's greatest gifts in one evening. Do we need to say more? A $37 ticket buys you four cocktail samples and specialty cookies. The sweet evening is at Bubble, 210 E. Trade St., from 8:30 p.m. until 11:30 p.
BOURBON BARREL RESERVE RELEASE DINNER
A 14-year-old bourbon has just been tapped, and you're invited to dinner to go along with it. This dinner pairs Glenfiddich 12-year, 15-year, 18-year and 21-year, in addition to the 14-year-old Bourbon Barrel Reserve, and features food pairings created by The Ballantyne Hotel and Lodge's, 10000 Ballantyne Commons Parkway, culinary team. Dinner costs $95 per person (plus tax and gratuity), and reservations are required. Call 704-248-4100 to reserve your spot.
CHARLOTTE MOONSHINE FESTIVAL
May the odds be ever in your favor tonight. A $37 VIP ticket, which is all that's left, buys you 15 samples of the potent liquor and entrance to the party from 6 p.m. until 11 p.m. The event is at Rooftop 210, 210 E. Trade St.
SCIENCE ON THE ROCKS
The adults-only monthly gathering at Discovery Place, 301 N. Tryon St., is all about Genghis Khan. The evening features an "Ultimate Warrior" obstacle course, a sumo wrestling contest and more. Come dressed as your favorite movie warrior from the and you could win the night's costume contest. The party is from 5 p.m. until 9 p.m. Tickets cost $10 in advance or $12 at the door.
---
SATURDAY (Nov. 19)
BRUNCH & BREWS FOOD TRUCK RALLY
Grab a casual brunch or breakfast from one of seven food trucks gathering in South End this weekend, including Street Spice, Yummi Banh Mi, and Roaming Fork. Urbean, a coffee and tea truck, will also make its debut. Enjoy live music, craft beer, and mimosas (or beermosas, if you're feeling adventurous) along with your fare.
HOLIDAY OPEN HOUSE AT SHELTON VINEYARDS
Visit Shelton Vineyards this weekend for an early taste of the holiday season during their Holiday Open House. Sip on spiked cider, take advantage of case specials for holiday party planning, enjoy a meal at the Harvest Grill, and get gift ideas for those on your shopping list. Attendance is free.
ASSORTED TABLE'S WINE & YOGA EVENT
Assorted Table Wine Shoppe and NoDa Yoga have joined together to create a fun community gathering to help you prepare for the holidays. Get the benefit of a 45 minute yoga class before enjoying unique wines selected by The Assorted Table. This wine tasting focuses on organic, biodynamic, sustainable, vegan, and eco-friendly wines, and includes snacks and local truffles from barCHOCOLATE. Wines will be available for order or purchase. Space is limited. Sign up online.
CIDER & TAPAS PAIRING
Just a handful of tickets remain for Red Clay's cider and tapas pairing, put on in partnership with the Gourmand Chef. Enjoy savory tapas, such as seared scallops with cider beurre blanc and a bacon wrapped tenderloin with braised cabbage, which will be paired with locally made seasonal ciders. Below is our menu: 7-10 pm Red CLay 245 Clanton Rd 28217. The ciderworks also be hosting a brunch on Sunday. Purchase tickets online.
SAMANTHA FISH
The blues-rocker hails from Kansas City, where she honed her guitar chops at the famed Knuckleheads Saloon. She released her third album, Wild Heart, last year. It charted No. 1 as a Top Blues Album.
THE FAB FOUR
This internationally touring ensemble covers the best of The Beatles, from "Yesterday" to "Hey Jude." The costume changes and visuals find a worthy home at the Knight Theater.
GRAND CONCOURSE, BY HEIDI SCHRECK
Charlotte's Three Bone Theatre presents this exploration of faith and forgiveness, by playwright and Obie Award-winning actress Heidi Schreck. The play, set against the backdrop of a Bronx soup kitchen, is rated "R."
RELEASE THE FUNK SOUR BEER FEST
Every year, Salud gets sour. Today is that day. Nearly four dozen sour brews will be on tap today, and a (remarkably expensive) $74 ticket gets you unlimited samplings. The annual party is at the Neighborhood Theatre, 511 E. 36th St., from noon until 4 p.m.
B4 CARE RING
The tagline for this party is: beer, bands, brats and bourbon, so you pretty much know what to expect here. Tickets to this party cost $35 and include three drinks, dinner, access to live music and both the live and silent auction, validated parking at the Hearst Tower garage and a donation to Care Ring. The fun is at Flight, 314 N. College St., from 4 p.m. until 10:30 p.m.
BEER QUEST
Thirty-five breweries descend upon BB&T Ballpark, 324 S. Mint St., today for this huge beer fest. These breweries will have 75 beers on hand for sampling, so perhaps pace yourself. A ticket costs $50, and the event runs from 1 p.m. until 5 p.m.
RURAL HILL OYSTER ROAST
This annual party is back tonight, and it's a much-awaited mid-autumn outing. A $12 ticket buys you a bucket of about nine steamed oysters with lemons, crackers and cocktail sauce. Say goodbye to being outdoors for a while with this party at 4431 Neck Road in Huntersville. The roast is from 1 p.m. until 4 p.m.
---
SUNDAY (Nov. 20)
FINAL HUZZAH
The Renaissance Festival says goodbye today after its annual run, so you have one final chance to see jousting in 2016 (we assume). The fair is open from 10 a.m. until 5:30 p.m., and tickets cost $24. The fun happens at 16445 Poplar Tent Road in Huntersville. Buy your ticket here.
VTGCLT WINTER MARKET
Start your holiday shopping at this annual market at The Fillmore, 820 Hamilton St. Along with 60 vendors, King of Pops, Hart's Soda Shop, Bleu Barn Bistro and New Wrap Order will all be on site. The market is open from 11 a.m. until 5 p.m., and tickets cost $2 at the door.
THE WONDER YEARS AND REAL FRIENDS
Pop-punk darlings The Wonder Years hit the road with Real Friends this fall. Last year's No Closer to Heaven was a high point for the group; it hit No. 1 on the US Billboard Vinyl Albums list.
FELA! THE CONCERT
Fela! The Concert, featuring the sounds and words of the Afrobeat godfather Fela Kuti, includes members of the Broadway show Fela!, a Tony-winning show about Kuti's life. A 10-piece band and nine singers and dancers hit the stage.
FIRST DATE
This Broadway musical is sure to be a hit in a city full of singles. Tackling the awkwardness of blind dates, the show could bring some self-awareness to your own outings. If you're married, you can revisit the days that are—thankfully—behind you.
WOODEN ROBOT RELEASE
Wooden Robot Brewery has quickly become a go-to spot for the Charlotte sour crowd, as they were the first local brewery to employ foeders onsite. From Hop Rocks to Positronic Mind to Daddy Needs His Juice, Wooden Robot is creating some tantalizing tart sensations. Continuing that trend is the brewery's first bottle release, Galactic Nexus, which wil go on sale this Sunday at noon.