This Weekend's Agenda: 25+ Events (Oct. 14-16)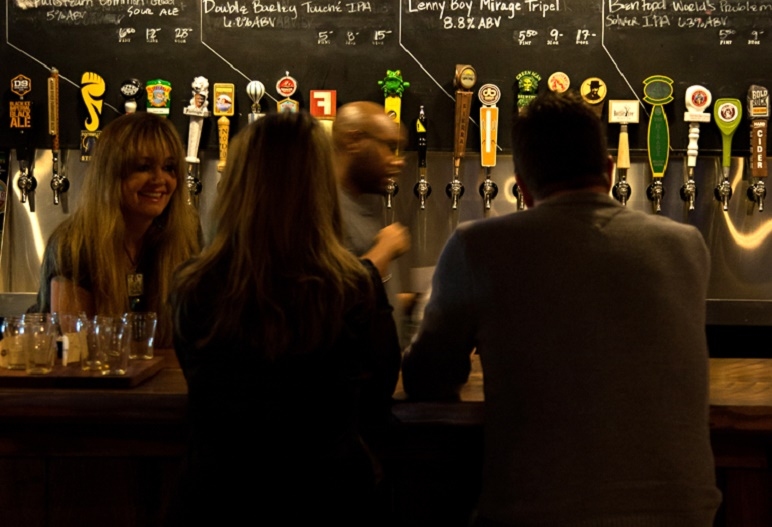 FRIDAY
CHARLOTTE SYMPHONY CLASSICAL: BEETHOVEN SYMPHONY NO. 2
The Beethoven masterwork shares a roster with works from two Hungarian composers: Franz Liszt's "Piano Concerto No. 1" and "Totentanz" and György Ligeti's "Concert Romanesc."
THE NIGHTHAWKS
The blues rock band returns to the Double Door, but they never actually left. A signed photo of the ensemble adorns the walls of the 43-year-old venue, along with several other revered blues, folk, and rock acts that have graced its humble stage.
NEW FREQUENCIES: LEWIS KLAHR'S SIXTY SIX
After premiering at the prestigious Museum of Modern Art, Lewis Klahr's new film, Sixty Six, is screened at the McColl Center. The Pop Art-influenced, collage-style work is a 12-part anthology. Components are influenced by pulp tales of the 1960s and '70s and classic Greek narratives, with the animation using found images like cut-out comic strip characters, magazine layouts, advertisements, and more.
SCOWL BROW VINYL LISTENING PARTY
Twenty-Two is back this weekend, with a listening party for Charlotte's own Scowl Brow. Check out their debut LP, which has now been remixed and remastered on Refresh Records, due out Oct. 28.
NIGHT OF ¡NUEVOLUTION!
Levine Museum of the New South hosts this evening of music and dancing to celebrate its ¡NUEVOlution! exhibit. A ticket buys you admission to explore the exhibit and enjoy live music by Ultima Nota and dancing with a team of salsa dancers. Tickets cost $8 in advance or $10 at the door. The evening runs from 8 until midnight at 200 E. Seventh St.
HALLOWEEN COSTUME FASHION SHOW
If you need help with your Halloween costume this year, this event's for you. Featuring $5 "Vampire's Kisses" and $6 "Hocus Pocus Punch," this fashion show will showcase some of this year's most popular Halloween costumes. There is no admission fee to this party from 9 p.m. until 2 a.m. at Whisky River, 210 E. Trade St.
WIGGIN' OUT BAR CRAWL
Rained out by Hurricane Matthew last weekend, this bar crawl is back on tonight. For about $12, you'll get a ticket to the crawl, a free wig in the color of your choice, a Koozie and access to the bars' exclusive drink specials. Registration is at Flight.
CHARLOTTE MUSEUM OF HISTORY
A colonial home and its grounds are the backdrop for this museum. Built in 1774, the 5,000-square-foot Hezekiah Alexander House is the oldest surviving structure of its kind in Mecklenburg County. Guided tours are available. In September, the Teas of the British Isles series Sept. 25, 4-5:30 p.m. focuses on the historic English city of Canterbury. The series offers European teas and snacks, along with monthly history lectures.
BALLANTYNE GIN FOUNDRY
Learn more about this storied spirit during one of The Gallery restaurant's Friday Tastings. Enjoy light bites and gin-based cocktails as your knowledgeable bartenders explain more about how to work with gin. Reservations are recommended.
HARVEST FESTIVAL FIRESIDE KICKOFF AT SHELTON VINEYARDS
This local vineyard's Harvest Festival kicks off Friday evening with a dinner buffet. Enjoy the fall weather as you dine, relax and enjoy wines from Shelton Vineyards, which will be sold by the glass and the bottle.
SATURDAY
TOM SEGURA
Netflix's original programming hasn't just been good for dramatic television, but also comics. Take Segura, whose Mostly Stories was a hit comedy special when it hit the service this year.
FIRST DATE
This Broadway musical is sure to be a hit in a city full of singles. Tackling the awkwardness of blind dates, the show could bring some self-awareness to your own outings. If you're married, you can revisit the days that are—thankfully—behind you.
SORDID LIVES
The HIV-support nonprofit Different Roads Home and Theatre Charlotte team for this theatrical affair, in which a Texas family deals with the death of its elderly matriarch. The comedic tale runs through three nights.
FULL MOON FEST
To celebrate the spooky October full moon, Flight is throwing this party. The fest features 10 local breweries sampling their brews, live music, games and more. The fun starts at 4 p.m. and lasts until 8 p.m. at 314 N. College St.
BREWER'S BALL
This is billed as the sophisticated version of a beer fest, so put on your cocktail dresses and suits, ladies and gents. Ball attendees get to sample brews from a host of local breweries along with food from a mix of restaurants. Aside from the sampling, this party features an auction, live entertainment and more. The ball starts at 7 p.m. at Discovery Place.
SOUTH END WINE FEST
We've come to know and love both the South End Hops Fest in the summer and the South End Wine Fest in the fall. Wine takes center stage today as 25 different vineyards offer unlimited samplings. The vineyards come in addition to a mix of food trucks and live music. The fest is from 2 p.m. until 6 p.m. at 308 W. Carson Blvd. Tickets cost $35 and benefit Classroom Central.
APPLE HARVEST FESTIVAL
Head south of the border for this festival at Windy Hill Orchard to celebrate the end of apple-picking season. Aside from the orchard's hard cider and apple cider doughnuts, the festival features live music, blacksmith demonstrations, bounce houses, hayrides and more. The fest runs from 10 a.m. until 6 p.m. at 1860 Black Highway in York, South Carolina.
ZOMBIE BAR-OCALYPSE
This isn't your regular bar crawl, but we assume you got that from the title. Crawlers start the evening as humans, attempting to "survive" the evening without contracting a zombie infection. (The crawl also offers you the chance to start the evening out as a zombie with full zombie makeup, but that costs extra.) Each bar along the crawl will be marked as a safe zone. The event organizers would like you to think of this as a large-scale version of Humans versus Zombies meets tag meets hide-and-seek. If you make it to the end of the evening, you'll get a prize at the end of the crawl. Registration is at Tilt on Trade from 6 p.m. until 7:30 p.m. Participating bars are still to be determined, but the evening will end back at Tilt on Trade, 127 W. Trade St., at midnight.
'80S BAR CRAWL
Good luck deciding who's on the '80s bar crawl and who's on the zombie bar crawl. Registration for this '80s crawl begins at 7 p.m. at Rooftop 210, 210 E. Trade St. From there, crawlers stop at Blackfinn, Bubble, Suite, Whisky River, Vida Vida and StrikeCity. A ticket costs $12 and includes admission into all participating bars.
SUNDAY
LOST HOLLOW MUSIC FEST
Head out to the Daniel Stowe Botanical Garden today for a full day of live music, cornhole tournaments and food and drinks. The music starts at noon and lasts until 6 p.m. A cornhole team registration costs $50 for a team of two and includes admission to the fest (top three teams win a prize). Admission to the fest costs about $13 for adults. The fest and tournament also runs Saturday afternoon.
BREWFEST WEEKEND
The Renaissance Festival becomes a bit of beer fest this weekend. Sample the festival's selection of brews and take your chance at the fest's beer games. There's also a "saucy wench" costume contest, and we'll not comment on that. The BrewFest runs from noon until 4 p.m. both today and Saturday at the festival, which is at 16445 Poplar Tent Road in Huntersville. Admission to BrewFest is included in a general admission ticket.
NASCAR HALL OF FAME
The NASCAR Hall of Fame has 40,000 square feet of exhibition space to give visitors a look at racing history in a city with its own storied history in the sport. The ongoing Champions exhibit highlights recent winners in NASCAR's three national touring series.
LIBERTY WALK
This self-guided tour is free. Stroll through uptown to the 18 points that comprise the Liberty Walk, touring the early history of the region through markers and text. Pick up a brochure at the Visitor Info Center at 501 S. College St. (in the Charlotte Convention Center) or at the Levine Museum of the New South. Or, just start in front of the Wells Fargo Plaza at 301 S. Tryon St., and follow the markers for a trip through the city's Revolutionary War days. A "Charlotte Liberty Walk" app is available at handheldhistory.com to help you along. 800-231-4636.