This Weekend's Agenda: 25+ Events (Oct. 7-9)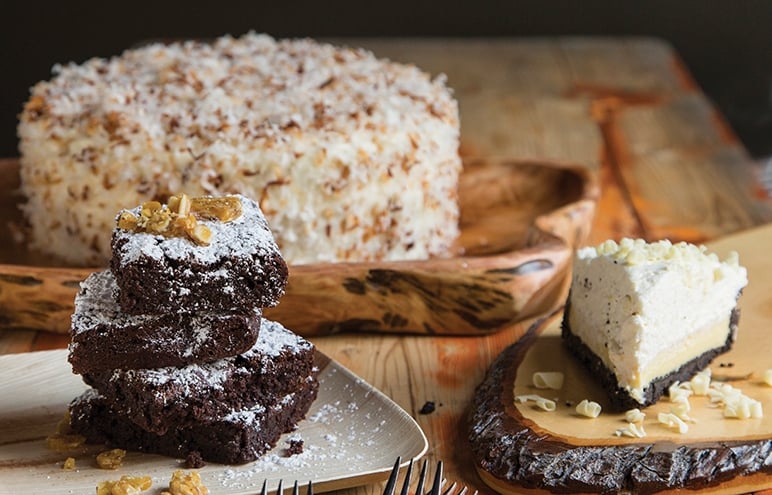 FRIDAY (Oct. 7)
JAZZ AT THE BECHTLER: SINATRA AT THE BECHTLER FEATURING JOE GRANSDEN
The Bechtler's tribute to Ol' Blue Eyes has Joe Grandsen taking the microphone for two performances. Expect the standards you love, with the instrumental backdrop from the Ziad Jazz Quartet.
MOUNTAIN HEART
Mountain Heart is an act that combines jam music, country, straight-ahead rock, jazz, folk, and more. The band is joined by opener Packway Handle Band, a bluegrass act out of Georgia.
A YEAR WITH FROG AND TOAD
This fall, Children's Theatre of Charlotte's 2016-2017 season opens with A Year With Frog and Toad at McColl Family Theatre. The musical, penned by siblings Robert and Willie Reale, follows a worrywart toad and a perky frog in their vibrant woodland backdrop.
JERALD MELBERG GALLERY
This Cotswold gallery has served the community for more than 30 years. Before that, owner Jerald Melberg was a curator for the Mint Museum at its original Randolph Road location. Check out work from gallery artist and abstract painter Lee Hall THROUGH NOV. 5. The artist explores color and nature through her landscapes.
WIGGIN' OUT BAR CRAWL
Need help with your Halloween costume? You'll at least get an accessory at this bar crawl that comes with a free wig (Gross or fun, we're undecided). For about $12, you'll get a ticket to the crawl, a free wig in the color of your choice, a Koozie and access to the bars' exclusive drink specials. Registration is at Flight, 314 N. College St., from 7 p.m. until 8:30 p.m. From there, it's to Fitzgerald's, Connolly's, The Local on Fifth, SIP and Prohibition.
CIDER FEST
Summer is certainly gone when a cider festival comes to town. At this festival celebrating all things cider, you'll get eight samples of cider and VIP attendees get that plus a mixology class that includes two additional cider cocktails. The party is from 6 p.m. until 8 p.m. at Rooftop 210, 210 E. Trade St. General admission costs about $17 and VIP admission costs about $28.
RACE FAN APPRECIATION NIGHT
Ahead of Saturday's Bank of America 500, Whiskey River hosts this party for all NASCAR fans. There's no admission to the party, but a $6 ticket gains you access to an appetizer buffet from 9 until 10 p.m. The party also features giveaways and $3 beer and $5 wells drink specials.
8TH ANNUAL OYSTER BASH AT UPSTREAM
Slurp raw oysters from all across North America and enjoy them with wines, sparklers, and beer at Upstream's annual, all-inclusive event for lovers of the half shell. The restaurant will also offer fire-roasted oysters prepared New Orleans style, fried oysters, oyster chowder shots and a special seafood tapas. Guests will also have a chance to purchase raffle tickets to win a case of wine; 100% of the proceeds will go to the No Kid Hungry campaign to end childhood hunger.
SATURDAY (Oct. 8)
BANK OF AMERICA 500
The band 3 Doors Down is leading a pre-race concert for the 57th Bank of America 500 NASCAR race. Ticket prices vary, but you just go for the tailgating, right?
PANTHER NATION BAR CRAWL
It wouldn't be a normal weekend in Charlotte without more than one bar crawl, right? This crawl starts at TILT on Trade, 127 W. Trade St., at 5 p.m. and goes to Roxbury, Blackfinn, Fitzgerald's, SIP, Tin Roof, 204 North and Whisky River until 2 a.m. Ticket prices vary depending on how many you buy, but they start at $11.
FALL FINALE
It's an odd name for a festival at the beginning of fall, but this party features cider tasting, live music, a build-your-own-boat competition and an obstacle course. Times vary depending on whether or not you're entering the boat contest (which requires Friday registration).
PUMPKIN BASH
Celebrate not a fall finale but, rather, the start of fall at this party. Along with beer and cider sampling, this fall fest includes apple bobbing, pumpkin bowling, live music and a food truck. Tickets cost $30 at the door. The party is at Whiskey Warehouse, 1221 The Plaza, from 2 p.m. until 5 p.m.
CHARLOTTE SYMPHONY POPS: CHRIS BOTTI
The Grammy-winning and Billboard-charting trumpeter brings his pop-jazz sound to the Belk Theater. This is the first concert of the Pops season, the series that pairs our city's symphony with contemporary music figures.
UNIBROW
This show, featuring both regional and national artists, is curated by Rebecca Henderson and Grace Stott. From the official description: "Selected works are meant to serve as a cultural survey of contemporary perspectives on nudity, popular culture, humor, and skill. By bringing these polarizing concepts into curated conversation, we ask of our audience to discover for themselves the relationship between absurdity and austerity." The show runs through Oct. 15.
EARL'S GROCERY MIXOLOGY LAB
Bob Peters returns for his monthly mixology class at Earl's, this time with a new series that is reflective of the cooler months. The first session in this series will feature spirits from Fair Game Beverage Company out of Pittsboro, NC. Join Bob and his special guest, Kevin Bobal of Fair Game Beverage as they build fall cocktails for you to make at home and also sample Fair Game's new hooch product.
CAROLINA RENAISSANCE FESTIVAL
The 23rd Annual Carolina Renaissance Festival & Artisan Marketplace takes place on Saturdays and Sundays, Oct. 1-Nov. 20. Each year, the Carolina Renaissance Festival transforms a Huntersville property into a 16th century utopia for fantasy fans. Read an interview with one of the many characters to return here in the 2016 Fall Arts Preview.
FIRST DATE
This Broadway musical is sure to be a hit in a city full of singles. Tackling the awkwardness and fun of blind dates, this show could be the best way to bring some self-awareness to your own outings. Or if you're married, revisit the days that are—thankfully—long behind you.
SUNDAY (Oct.9)
POP-UP OKTOBERFEST BEER GARDEN
The Ballantyne Hotel and Lodge is celebrating Oktoberfest today with a pop-up beer garden, live music, German food and prizes. There's no admission fee to this Oktoberfest party from noon until 6 p.m. at 10000 Ballantyne Commons Parkway.
FIVE-COURSE WHISKEY DINNER
Our Panthers aren't doing so well, and our beloved Cam suffered a concussion last weekend. Maybe this whiskey-soaked dinner will help ease our spirits. This five-course meal costs $60 and includes a different whiskey with each course.
YG
YG first garnered attention via the Internet, his following spreading with singles like "She a Model" and "Aim Me." He garnered attention this year for the record Still Brazy, with its anti-Trump tune "FDT."
ORDER/FIRE
Free Range Brewing again plays host to this locally produced video series about Charlotte's food scene. The second episode of the latest season focuses on Jamie Swofford, also known as The Chef's Farmer. Swofford was a chef before deciding to become a farmer in his hometown of Shelby, Nort Carolina. During the premiere, he'll be serving up some of his Old North shrubs. October 9th at 2pm. You know the place. Free Range Brewing. 2320 N. Davidson St 28205
OYSTER ROAST AT PEARLZ
​Pearlz celebrates their one year anniversary in Charlotte this weekend with an oyster roast this Sunday afternoon. Twenty dollars gets you all-you-can-eat oysters, plus enjoy $3 mimosas, $4 OMB drafts, $5 Bloody Marys and live music.
BECHTLER MUSEUM OF MODERN ART
The Bechtler's building, designed by Swiss architect Mario Botta, is a modern work of art itself. Niki de Saint Phalle's iconic outdoor sculpture "The Firebird" welcomes visitors. Inside, you'll find fine art exhibitions, films, jazz, classical concerts, and talks. All That Sparkles: 20th Century Artists' Jewelry, THROUGH JAN. 8, pairs traditional artwork with jewelry crafted by Saint Phalle, Alberto Giacometti, Harry Bertoia, and others. Bechtler Collection: Relaunched and Rediscovered, THROUGH APRIL 23, has curator Jen Edwards pulling from the extensive museum collection. The Bechtler family itself is part of this show, along with their close creative associates, like Adolf Luther and Italo Valenti.
LEVINE MUSEUM OF THE NEW SOUTH
History is complex, and there are countless perspectives on the South's most significant events. The Levine not only puts those events in context, but it offers multimedia exhibits, forums, and artistic expressions that are tethered to our past. This is the last month for ¡NUEVOlution! Latinos and the New South, which examines the rise of Latino populations in Charlotte and other Southern cities, and how the Latino population will help shape the future of the South.
26TH ANNUAL LATIN AMERICAN FESTIVAL
Grammy-winner Luis Enrique, Venezuelan ska act Desorden Publico, and La Santa Cecilia headline the festival this year at Symphony Park at South Park Mall. As usual, the event also features food, crafts, visual art, and more.
NASCAR HALL OF FAME
The NASCAR Hall of Fame has 40,000 square feet of exhibition space to give visitors a look at racing history in a city with its own storied history in the sport. The ongoing Champions exhibit highlights recent winners in NASCAR's three national touring series.
---
For the latest in beer releases, head here.
---
Looking for a specific category? Check out ARTS + CULTURE, FOOD + DRINK, and SOCIAL EVENTS.