This Weekend's Agenda: 25+ Events (Sept. 30-Oct. 2)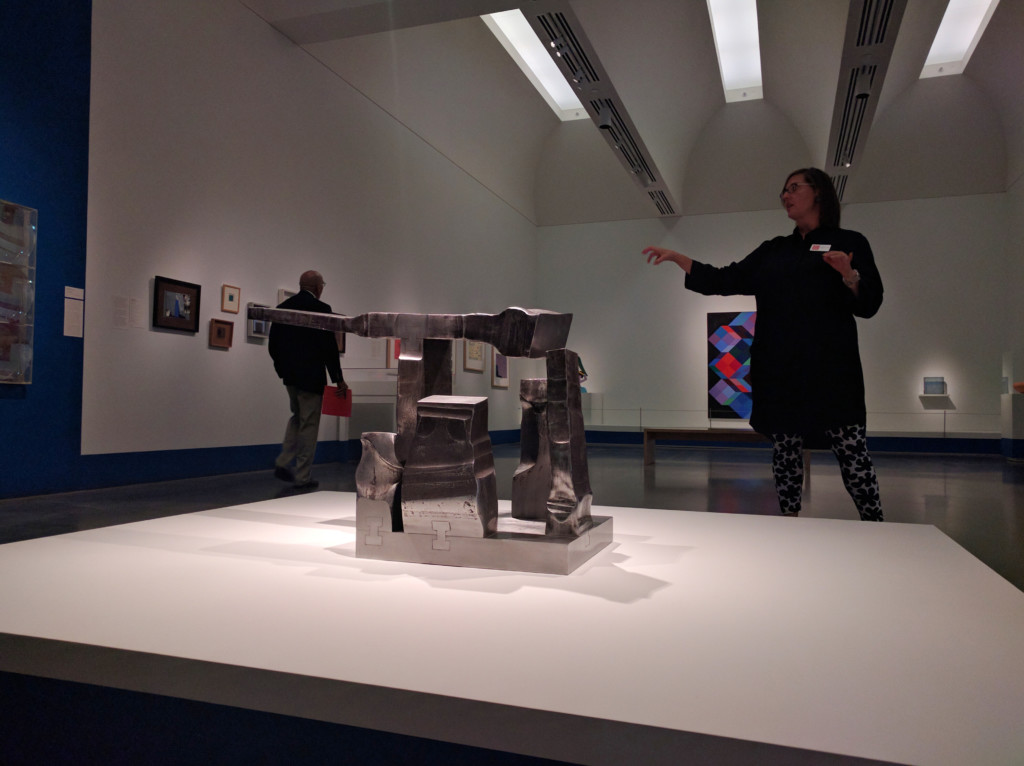 FRIDAY (Sept. 30)
CAROLINA RENAISSANCE FESTIVAL
The 23rd Annual Carolina Renaissance Festival & Artisan Marketplace takes place on Saturdays and Sundays, Oct. 1-Nov. 20. Each year, the Carolina Renaissance Festival transforms a Huntersville property into a 16th century utopia for fantasy fans. Read an interview with one of the many characters to return here in the 2016 Fall Arts Preview.
UNIBROW
This show, featuring both regional and national artists, is curated by Rebecca Henderson and Grace Stott. From the official description: "Selected works are meant to serve as a cultural survey of contemporary perspectives on nudity, popular culture, humor, and skill. By bringing these polarizing concepts into curated conversation, we ask of our audience to discover for themselves the relationship between absurdity and austerity." The show runs through Oct. 15.
FIRST DATE
This Broadway musical is sure to be a hit in a city full of singles. Tackling the awkwardness and fun of blind dates, this show could be the best way to bring some self-awareness to your own outings. Or if you're married, revisit the days that are—thankfully—long behind you.
CHARLOTTE SYMPHONY CLASSICAL: ALL TCHAIKOVSKY
This program explores the career of Pyotr Ilyich Tchaikovsky, the beloved Russian composer of the late Romantic period. Violinist Esther Yoo and the Charlotte Symphony will perform "Hamlet Fantasy Overture," "Violin Concerto," and "Symphony No. 4."
CAROLINA JUBILEE
The Carolina Farm Trust presents a music and farm-to-table food festival celebrating and benefiting Carolina farmers. One hundred percent of the proceeds from this event will go toward helping the trust save Mary L Farm, which is at risk of losing its property. Bring your camping gear if you stay overnight and help celebrate local food. For those who can't attend, donations are being accepted online. Event is open to all ages; children 12 and under may enter for free.
BACON FEST
Sycamore Brewing is throwing a party that celebrates bacon tonight, and you're invited. The party features live music and at least a dozen food trucks that will all feature bacon on the menu. There's no admission fee to this fest from 5 p.m. until 10 p.m. at 2162 Hawkins St.
ROCKTOBERFEST
Here's the most interesting spin we've found on Oktoberfest. Charlotte Curling hosts this learn-to-curl event with free German snacks afterward. Your last chance at this curling party is tonight from 5 until 7 at 6525 Old Statesville Road. A ticket costs about $36 and includes two hours of curling instructions (plus those German snacks).
OKTOBERFEST
Mortimer's Oktoberfest party, which starts at 11 a.m. and lasts all day, features a full day of drinking games, live music, German food and drinks and more. There's no admission fee to this event at 210 E. Trade St.
---
SATURDAY (Oct. 1)
GREAT GRAPES! WINE AND FOOD FESTIVAL
The 13th annual Great Grapes! festival continues its tradition of offering a casual wine tasting event featuring Carolina wines. This year, the selection of wines to try is over 200 wines from over 20 vineyards. Guests will also get to enjoy live music, food, arts and crafts, and more. Kids and parking are free. VIP tickets are available.
FOOD TRUCK SATURDAYS AT STEELE CREEK
The neighborhood's monthly food truck rally returns with Charlotte food trucks like Mae's Creole Kitchen and Gourmet Goombahs. Come hungry and bring the kids and some folding chairs so you can relax and enjoy the evening.
TATE WINERY BRUNCH AT VIVACE
Suzanne Tate of Tate Winery in Napa will be on hand for brunch this Sunday afternoon at Vivace. Enjoy an autumn bruschetta with lemon thyme ricotta and shaved squash salad to start, followed by spaghetti carbonara, then braised short ribs with creamer potatoes and poached eggs. Courses will be paired with wines from this super small winery, including a special tasting of Tate's Cabernet Sauvignon, Jack's Vineyard. Call to reserve.
CHOCOLATE TRUFFLE MAKING CLASS
The Secret Chocolatier's Cotswold location will hosts a truffle making class led by Chef Bill Dietz this Saturday. During this afternoon session, participants will make their own truffle ganache, learn how to infuse it with flavor, and more about ganache. This class is geared for ages 14 and up.
BREAKIN' CONVENTION
The international hip-hop dance festival returns to Charlotte, with a slew of events throughout the day and a main show on Friday evening and Saturday evening. Click the link above to see a full schedule of the program.
GOV'T MULE
This Southern rock act is led by Warren Haynes, the legendary guitarist best known for his stint with The Allman Brothers Band. The band's latest record was 2015's Sco-Mule, a live record that was actually recorded at two shows in 1999.
JERALD MELBERG GALLERY
This Cotswold gallery has served the community for more than 30 years. Before that, owner Jerald Melberg was a curator for the Mint Museum at its original Randolph Road location. Check out work from gallery artist and abstract painter Lee Hall THROUGH NOV. 5. The artist explores color and nature through her landscapes.
CHARLOTTE FILM FESTIVAL
Last year's nine-day festival divided 60 films between two theaters in Charlotte. The event is quickly becoming a hub for both emerging and trusted filmmakers across the U.S. to unite and screen their latest creations. The coolest part? Seeing Charlotte's own festival stamp on movie posters. The 2016 festival has expanded to 11 days and will be anchored at one venue this year (Ayrsley Grand). Check out the full schedule here.
CAN-I-VAL BEER FESTIVAL
With unlimited sampling of 75 types of canned beers, we hope the first "can-i-val" becomes an annual event. What's more,100 percent of the proceeds go to benefit Project Halo, an animal rescue organization. The pet-friendly party is from 1 p.m. until 5 p.m. in the parking lot between The Unknown Brewery and Craft Growler Shop and Tasting Room. Tickets cost $35 at the door.
GREAT GRAPES! WINE & FOOD FESTIVAL
Are you ready for seven hours of wine tasting? With hundreds of wines available for unlimited sampling, you'll need about that long. The festival is at Symphony Park, 4400 Sharon Road, from noon until 7 p.m.
CHOCOLATE FOR A CURE
Now in its sixth year, this charity gala seeks to raise money to help uninsured women fight breast cancer. The evening features guest speakers, chocolatiers, live band, multiple vendors, complimentary cocktails and appetizers, gift bags, giveaways and, of course, chocolate and wine pairings. The sweet evening is at Le Meridien, 555 S. McDowell St., from 7 until 11.
---
SUNDAY (Oct. 2)
PEPPA PIG LIVE!
Who's Peppa Pig? If you don't know, you probably don't have any preschoolers in your home. The British animated show named for the character is a favorite in households across the world, and this live show brings its characters to the Belk Theater.
BECHTLER MUSEUM OF MODERN ART
The Bechtler's building, designed by Swiss architect Mario Botta, is a modern work of art itself. Niki de Saint Phalle's iconic outdoor sculpture "The Firebird" welcomes visitors. Inside, you'll find fine art exhibitions, films, jazz, classical concerts, and talks. All That Sparkles: 20th Century Artists' Jewelry, THROUGH JAN. 8, pairs traditional artwork with jewelry crafted by Saint Phalle, Alberto Giacometti, Harry Bertoia, and others. Bechtler Collection: Relaunched and Rediscovered, THROUGH APRIL 23, has curator Jen Edwards pulling from the extensive museum collection. The Bechtler family itself is part of this show, along with their close creative associates, like Adolf Luther and Italo Valenti.
NASCAR HALL OF FAME
The NASCAR Hall of Fame has 40,000 square feet of exhibition space to give visitors a look at racing history in a city with its own storied history in the sport. The ongoing Champions exhibit highlights recent winners in NASCAR's three national touring series.
PANTHERS AT FALCONS
Our Panthers aren't starting out too hot, but maybe today's game will put a second win under their belts. If you're not driving to Atlanta for the game, here are two especially good bars at which to watch the game. Kickoff is at 1 p.m.
* Solstice Tavern
This ray of sunshine in NoDa has both a beautiful patio with plenty of TVs and a large amount of seating indoors, again, with plenty of TVs. Sit down, relax and hope for a Panthers victory. Solstice is at 3221 N. Davidson St.
* Angry Ale's
Like Solstice, Angry Ale's has both a beautiful patio and spacious indoor area for seating, and both areas have plenty of TVs. Sunday drink specials include $3 mimosas and $2.50 Miller Lites. Angry Ale's is at 1518 Montford Drive.
---
Looking for a specific category? Check out ARTS + CULTURE, FOOD + DRINK, BEER, and SOCIAL EVENTS.