This Weekend's Agenda: 27+ Events (Jan. 27-29)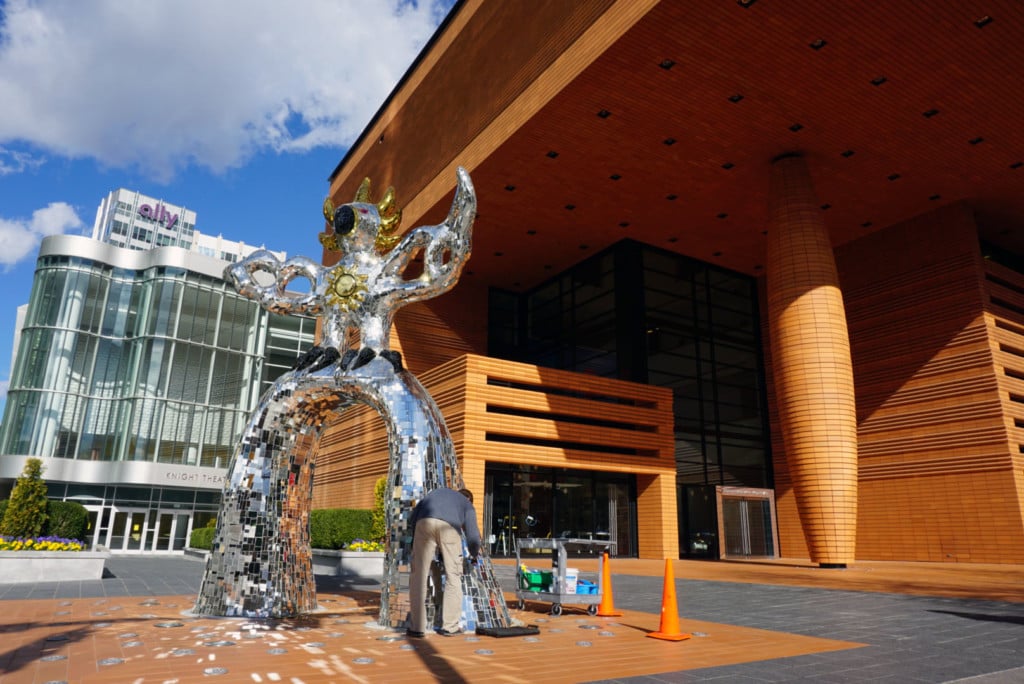 FRIDAY
CHARLOTTE SYMPHONY ALTSOUNDS: BRAHMS VS. RADIOHEAD
You've probably heard mash-ups blasted from the DJ booth, but have you heard a symphony perform them live? The Charlotte Symphony blends Brahms's "First Symphony" from 1876 with the classic Radiohead record OK Computer (from 1997) in this program.
CRIMES OF THE HEART
This Southern Gothic dark comedy, a 1981 Pulitzer Prize winner, follows three sisters after one kills her husband and other drama ensues. Theatre Charlotte has entertained the city for the past 89 years.
MCCOLL CENTER OPEN HOUSE
The World is a Mirror of My Freedom explores African-American masculinity and other social issues and serves as a "response to increasingly visible, lawful violence against Black bodies." Artists include Shaun Leonardo, Marcus Kiser, Jason Woodberry, Dread Scott, and Charles Williams.
QUEENS FEAST
Restaurant week is almost over so, if you haven't yet, be sure to visit some of the 130 restaurants around the Charlotte area for fabulous deals on meals. Check out the website and plan your lunch, dinner, or brunch.
LATIN JAZZ NIGHT
After a long work week, head to Blue Restaurant & Bar in uptown to unwind. The Trevor Cook Quartet will serenade diners beginning at 9 p.m. Come listen and enjoy the stellar menu to some upbeat music.
POPCORN FEST
Liquor and popcorn merge into one evening tonight as Whisky River teams up with Tastebuds Popcorn. A $12.50 ticket buys you samples of 10 different popcorns and two drinks. The party is from 8 p.m. until 10 p.m. at Whisky River, 210 E. Trade St.
BREWER'S DINNER
If you're still asking for more after Leroy Fox's paired dinner, this is for you. Join Rock Bottom Brewery, 401 N. Tryon St., for a special four-course meal, each paired with a different beer. A ticket costs about $59 and includes all food and beer courses. This party is from 7 p.m. until 9 p.m.
QUEEN CITY COMEDY FESTIVAL
This three-day festival of all things funny starts today and runs through the weekend. The festival includes stand-up shows, improv and workshops. The fest is at Acting Out Studios, 8145 Ardrey Kell Road, but times vary throughout the weekend. Ticket prices range from $16 to $67.
SATURDAY
WONDERFEST
This three-weekend festival features world premieres, with new renditions of Goldilocks and the Three Bears and Commedia Snow White and the Seven Dwarfs. Also on the slate: New Kid, about an immigrant who finds unexpected prejudice in the "Land of Opportunity."
BASSH
Jimmy Brown and CJ Hardee, members of the Charlotte-bred act Matrimony, brings their alt-rock act to the Underground stage. The band is joined by The Grand Shell Game and Bruce Hazel.
CHARLOTTE DOES ARETHA
The "Charlotte Does" series brings regional artists to the stage to tackle tunes made famous by music legends. This rendition pays tribute to Aretha Franklin. Past artists honor include Bill Withers, Al Green, and Marvin Gaye.
LA TRAVIATA
The 2016-2017 Opera Carolina season continues with this Giuseppe Verdi work. One of the most famous aspects of this show is a vital death scene, but that's all we'll see about that.
OYSTER ROAST AT REID'S
Craving oysters? Head to Reid's Fine Foods in Myers Park for the 6th annual oyster roast on Saturday starting at 4 p.m. The event is free and ends when the oysters are gone. There will be plenty of beer specials to wash all the seafood down, too.
THE LOST CELLAR
Sounds scary but isn't; head to Assorted Table Wine Shoppe at the 7th Street Public Market for a taste and compare wine and food pairing for some "lost" wines. The event was created when Chef Taylor Kastl of Tayste Catering moved into a new home and discovered a stocked wine cellar in the basement. Talk about lucky. Event starts at 6 p.m.; cost is $50 per person; prepaid reservations only. Snag your spot by calling 704-277-3234.
CASINO NIGHT
Test your luck tonight at Flight, 314 N. College St. The party helps benefit The Make-A-Wish Foundation, so know your gambling and drinking is at least doing some good. A $17 ticket buys you two drinks, food and casino chips. The gambling is from 7 p.m. until 10 p.m., and a live band begins following that.
CHARLOTTE MINICON
Calling all comic book fans! Though, if you're a true comic book fan, we're sure you already know about this big event. The convention is from 11 a.m. until 5 p.m. at the Grady Cole Center, 310 N. Kings Drive, and admission costs $6 plus the donation of a nonperishable good.
PUPPY BOWL
The Super Bowl might be the next weekend, but this is the real Bowl, people. The event features adoptable dogs, pet vendors, a dog kissing booth (!) and more. The pawty (we couldn't help ourselves), is from 11 a.m. until 3 p.m. at 7510 Pineville-Matthews Road. There's no admission fee.
TRIPLE C'S CAJUN STOUT RELEASE
this is a smooth stout with some bite on it thanks to the cayenne peppers added to the brew. To celebrate the release Triple C will have live music from Flyin' Shoes from 4 p.m. to 7 p.m., but you can get Cajun Stout on draft when the taproom opens Saturday at noon.
BBA FAT BOY RELEASE, BOTTLE SHARE AND BREAKFAST AT OLDE MECKLENBURG
A top event of the year, Olde Mecklenburg's bourbon barrel-aged Fat Boy release is an outstanding morning. It all starts at 8 a.m inside the Brahaus with a bottle share. Bring one or two of your favorite bottles and be ready to enjoy some favorites from others. At 9 a.m., it's time for some great breakfast at OMB, with a buffet featuring pancakes and French toast (with BBA maple syrup if you so choose – and you should), bacon, eggs, fruit and other items. Coffee and juice is also available but let's be real – you came here for the beer. Now, this would be the part where I talk about tickets for the event but alas, literally in the midst of writing this piece tickets sold out. However, you will be able to get both bourbon barrel-aged Fat Boy and Mecktoberfest (surprise!) on tap if you don't have a ticket. If you already have a ticket, congratulations, you're in for a treat.
MAPLE CANYON BEER BREAKFAST AT LEGION
Two beer breakfasts in one day! That sounds like a worthy challenge. Legion will be releasing its Maple Canyon brown ale to go along with a breakfast buffet from Roots from 9 a.m. to 11 a.m. (the beer will obviously be around all morning and day). The buffet will be $15 per plate and includes such items as sweet potato biscuits with roasted mushroom gravy, maple sugar candied bacon, bourbon maple cinnamon buns and stone ground cheddar grits, among others.
SUNDAY
STEEP CANYON RANGERS
Rescheduled from a canceled performance earlier this month.
Steep Canyon Rangers began making bluegrass together 16 years ago, just two hours away in Brevard. Today, the group's known around the world, after well-known collaborations with actor/player Steve Martin and Grammy wins.
BRUNCH & BRUSH
Recovering from Saturday night? Temper the hangover demons with brunch and painting at City Art Room from 11:30 a.m. to 1 p.m.. Guests are welcome to bring mimosas, beer, water, Gatorade, etc. to sip on (no liquor) and are encouraged to have food delivered to the studio. Guests can choose from painting on canvas, coloring in adult coloring books, finger painting, and more. Cost is $17 per person; tickets are refundable 24 hours or more before event.
OYSTER ROAST AT THE GARDENS
Need more oysters? We hear you. Head to Daniel Stowe Botanical Gardens on Sunday from 1 to 4 p.m. Oysters will be provided by Saltwater Markets in Clover, SC, and a selection of beer, wine, and cider will be on hand from Red Clay Ciderworks. Reservations are required by noon on Friday; cost varies.
DISCOVERY PLACE: SCIENCE
When Discovery Place rebranded in 2016, it added the word "Science" to its uptown location. With interactive exhibits, an aquarium, an IMAX theater, and even an on-site rainforest, the distinction makes sense. Genghis Khan, THROUGH APRIL 30, explores the life of the legendary conqueror. The exhibit displays more than 200 artifacts from Khan's treasures and possessions, including jewelry, clothing, pottery, musical instruments, and weaponry.
LIBERTY WALK
This self-guided tour is free. Stroll through uptown to the 18 points that comprise the Liberty Walk, touring the early history of the region through markers and text. Pick up a brochure at the Visitor Info Center at 501 S. College St. (in the Charlotte Convention Center) or at the Levine Museum of the New South. A "Charlotte Liberty Walk" app is available at handheldhistory.com to help you along.
FINAL DAY OF QUEEN'S FEAST
If you haven't reserved your table yet at one of the more than 130 participating restaurants, you'd better do it now. Here's the deal, for $30 or $35 per person, you get three courses (and maybe a glass of wine!). Call the restaurant of your choice to make reservations.
AQUARIUS BIRTHDAY BASH
This isn't just for the aquarius in your friend group; everyone gets in free tonight. Celebrate tonight at Label by dancing from 10 p.m. until 2 a.m. Label is at 900 NC Music Factory Blvd. RSVP required