This Weekend's Agenda: 30+ Events (Feb. 10-12)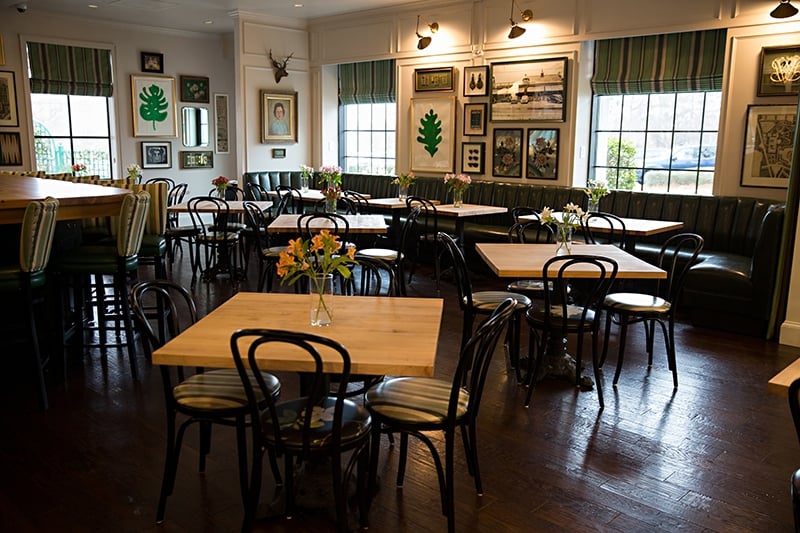 FRIDAY
LUCY KAPLANSKY
The singer-songwriter has a habit of coming to Charlotte around Valentine's Day. On February 12, 2016, she came to the Evening Muse to offer her soulful voice. In her setlist that night, she included covers of beloved songs from Gram Parsons and Leonard Cohen.
ANDY MCKEE
A guitar virtuoso, McKee does more than dazzle with his stringwork—he uses the entire instrument as a percussive tool. Who needs a full band when you can create a multifaceted, bewildering sound with just two hands?
JOSH RITTER
This is a rescheduled show after Ritter called off his December appearance due to illness. The singer-songwriter, who works within the folk and alt-country genres, was first inspired to take up music after hearing the duet version of "Girl from the North Country" by Bob Dylan and Johnny Cash.
JERALD MELBERG GALLERY
This Cotswold gallery has served the community for more than 30 years. Argentinian painter Raul Diaz's exhibition, THROUGH MARCH 18, presents his mixed-media works, which have dreamlike environments.
BALLANTYNE HOTEL WINTER WEEKENDS
Every Friday and Saturday from 8:30 to 10 p.m. in February enjoy Winter Weekends at The Ballantyne Hotel & Lodge. Guests can experience a dessert bar and Champagne bar as part of couple's date night for $28 per couple plus tax and gratuity. The deal includes one beverage per person and a shared delicacy. Additional items can be purchased a la carte; hotel rooms purchased with the Winter Weekend special can be enjoyed at 15% off, as well, through February 19, 2017. Reserve your spot now by calling 704-248-4100 or visit the website for more information.
SWEETHEARTS WEEKEND AT REID'S
February 10-14 bring your sweetheart to Reid's Fine Foods for a special three-course dinner at either Reid's location. Cost is $55 per person plus tax and gratuity. The menu boasts seared sea scallops with fingerling potatoes, succotash, and cornbread cream; grilled filet of beef and a butter poached lobster tail with scalloped potatoes, haricot vert, and baby carrots; and a doughnut bread pudding.
FOOD TRUCK FRIDAY
If the weather cooperates, head out to Sycamore Brewing for the weekly installation of Food Truck Friday. There will be special prosecco, wine, and a beer release along with special Valentine's Day menus, courtesy of the mobile kitchens. Check out the full event page here; event is free.
LOVE STINKS; LET'S DRINK
This isn't your normal Valentine's Day party. In fact, this is an "anti-Valentine's Day party." Admission costs $3 and includes themed cocktail specials, a DJ, games and more. If you hate this annual festival of love, plan to park it at Blackfinn, 210 E. Trade St., from 9 p.m. until 2 a.m.
ROMANTIC IN RED
Red's the color of roses, hearts and your outfit tonight at this Valentine's Day party. Kandy Bar, 210 E. Trade St., invites you to don your best red and enjoy a romantic evening out with your sweetheart. Women pay no admission fee, while men, assumedly, pay something. You all know how gender-based pricing pleases us so. The party is from 10 p.m. until 2 a.m.
LOCK AND KEY SINGLES PARTY
Valentine's Day is still three days away, which means there's plenty of time to find a date by then. Lock-and-key parties work this way: single men get keys and single women get locks. No word yet on what to do if you're a key who wants to match with keys or a lock with a lock. Each key unlocks two to three locks. The party is from 8 p.m. until 10 p.m. at Fitzgerald's, 201 E. Fifth St. Tickets cost $22.
SATURDAY
CHARLOTTE SYMPHONY: BRAHMS SYMPHONY NO. 1
It took Johannes Brahms 21 years to craft "Symphony No. 1," which debuted in 1876. Charlotte Symphony's take includes Calin Lupanu on violin and Benjamin Geller on viola.
COCOA LAB CLASSES
With Valentine's Day on the way, what better time than now to head to the Ritz's Cocoa Lab for a class on the art of chocolate? On February 11 and 12, the Lab will offer a class on the cooking techniques and preparation of molten chocolate cake, chocolate covered strawberries, chocolate truffles, and chocolate macarons from 8:30 a.m. to 12:30 p.m. Students will, of course, be allowed to eat the fruits of their labor after the session, will receive complimentary hotel parking, a recipe collection, and a keepsake apron as part of the $150 class fee.
SECRET CHOCOLATIER
The Secret Chocolatier is celebrating the month of love with a special class – "Intimacy with wine and chocolate." The class will take place on February 11 and February 18, each at 7 p.m. Located at The Secret Chocolatier's Ballantyne spot, attendees are invited to enjoy a pairing of specialty wines and plated chocolate desserts. A portion of proceeds will benefit Crisis Assistance Ministries. Space is limited; reservations required. Call 704-323-8178 or visit the website.
ANTI-VALENTINE'S MIXOLOGY CLASS
Hate Valentine's Day? Earl's Grocery understands, and they're hosting a mixology lab class on Saturday, February 11 at 2:30 p.m. to combine a discussion about exes, hilariously bad dating stories, and mixology for a fun Saturday afternoon. Getting there early is recommended; more info can be found here.
VALENTINE'S TASTING MENU AT BAKU
Baku in SouthPark will offer a five-course Valentine's tasting menu starting Saturday, February 11, and running through Tuesday, February 14, for $100 per person (two person minimum; tax and gratuity not included). All items will be served in the traditional shared plate style and Baku will alos offer several sparkling wine features. Reservations are highly recommended; call the restaurant at 704-817-7173 or visit the website. The menu features dishes like robata grilled sea bass with sweet soy glaze; pan-roasted tiger prawns; and fresh sashimi.
MEN ARE FROM MARS WOMEN ARE FROM VENUS
John Gray's book comes to life in this off-Broadway comedy. The one-man show mixes theater and stand-up comedy, leaning on vignettes about dating and marriage. The show is for adult audiences.
CIEL GALLERY
​Ciel Gallery is a combined teaching space and mosaic gallery in South End that showcases paintings, mosaics, photography, jewelry, pottery, sculpture, and more. Art classes are available for all ages and levels. The gallery will display 62 pieces of art created by 17 artists, FEB. 3-25, to complement Hyong Yi's 100 Love Notes project. Yi, an assistant city manager in Charlotte, made international headlines in 2015 with his 100 love notes, which paid tribute to his late wife and their relationship. The artwork is also displayed in Yi's 100 Love Notes book.
STUPID CUPID BAR CRAWL
In a slam to most other bar crawls, the organizers of this event are bashful to talk about why this crawl is superior to the rest. "Don't waste your money going to another basic bar crawl! Instead come actually have fun and…forget the lame t-shirts and Koozies." Well, then. A crawl ticket costs about $18 and includes a pair of Cupid wings, "freebies," drinks and food. The bar crawl starts at 5 p.m. at Helles and Dunkel, 200 E. Bland St., and continues at Hot Taco, All American Pub, Slate and Oak Room.
BUBBLYFEST ALL-ROSE EDITION
Valentine's Day is for roses, but, in this case, it's also for the rosé. Start your Valentine's Day early with this special edition of Bubblyfest with samplings of four different rosés. The party is at Bubble, 210 E. Trade St., from 8:30 p.m. until 10 p.m. Tickets cost $41.
ART WITH HEART
Buying a ticket to this annual fundraiser gives you access to multiple art auctions while also helping to support survivors of domestic violence. The event is from 7 p.m. until 11 p.m. at Founders Hall, 100 N. Tryon St. Tickets cost $125 and include an open bar and heavy appetizers.
REPURPOSED: AN UPCYCLE FASHION SHOW AND AUCTION
Charlotteans, apparently, generate 640,000 tons of garbage each year, which is, um, disgusting. This fashion show features looks from designers who "upcycle," reusing thrown-away objects to create finished products better than the original. Tickets cost $22 to the fashion show, which is hosted by E! NewsStyle contributor Stacee Michelle. The runway show is from 5 p.m. until 7 p.m. at LACA Projects, 1429 Bryant St.
I WOULD CUDDLE YOU SO HARD VALENTINE'S BAR CRAWL
Grab a date (or not) and plan for this annual Valentine's Day bar crawl. A $15 ticket to the crawl buys you free admission to the participating bars (Flight, Lucky's, Fitzgerald's, Blackfinn, TILT, Prohibition, Roxbury and The Local), a bar crawl cup, a T-shirt and Koozie. The crawl starts at 3 p.m., and if you check in before 4 p.m., you'll score a slew of special offers. Flight is at 314 N. College St.
BALLANTYNE BALL
The Ballantyne Hotel and Lodge's annual masquerade Valentine's Day ball is tonight from 6 until midnight, and you're invited. The attire is black-tie optional with a mask; it's a masquerade ball, after all. Tickets cost $250 and support the fight against human trafficking by donating funds to Lily Pad Haven. The Ballantyne Hotel and Lodge is at 10000 Ballantyne Commons Parkway.
SUGAR CREEK RELEASE
Sugar Creek's Tart Farmhouse ale is being described by the brewery as having aromas "of fresh hay, orange peel and white grape," as this beer was aged in french oak red wine barrels. Coming in at 6.7 percent ABV, the brewery will tap Tart Farmhouse at 2:25 p.m. sharp on Saturday.
THIRSTY NOMAD BOTTLE RELEASE
Thirsty Nomad is doing its first bottle release, with a bit of a twist. Codger, a whisky barrel-aged old ale, has been bottled in 22-ounce bombers but this batch has been limited to just 39 total bottles. Those who are interested in purchasing the bottles ($15 each) can head to the brewery at 1 p.m. and/or 4 p.m. Saturday and Sunday to enter your name. Then, an hour later (2 p.m. and 5 p.m.), names will be drawn to announce the winners. Those who don't get a bottle shouldn't fret, as a much larger batch of Codger will be released at the end of 2017 once it's done aging.
LEGAL REMEDY
Finally on Saturday, down the road a bit in Rock Hill, Legal Remedy is set to release its third bottle and this one sounds spectacular: Malice, the brewery's maple bacon Russian Imperial Stout, and for this bottle, Legal Remedy aged it in bourbon barrels for a little more than a year. Bottles will be $20 each and go on sale Saturday at the brewery at 11 a.m.
SUNDAY
HISS GOLDEN MESSENGER
The Durham-based alt-country band's latest record, Heart Like a Levee, made several "best of" lists for 2016. Pitchfork.com offered this take on M.C. Taylor, the alt-country band's singer-songwriter: "Love as salvation is Old Testament songwriting, but few artists make you feel it like Taylor does."
INTO THE WOODS
The Fiasco Theater production of Into the Woods is a reinvention of the 1987 Broadway musical. This version includes only 10 actors, many of whom play multiple roles, and a pianist to retell the classic story.
SMALL BATCH SUNDAY
Need a low-key event before the Valentine's Day events this week? Head to Unknown Brewing for their weekly Small Batch Sunday event. Many of the brewery's most popular beers like Ginger Wheat and Hospitali-Tea were small batches that became so popular they now brew on a larger scale.
GOING STAG
STAG, in this instance, stands for "Singles Talkin' And Groovin'." With only two days until Valentine's Day, this cocktail party hopes to connect singles with each other. The party is at The Broken Spoke, 227 Southside Drive, from 4 p.m. until 8 p.m. Admission is free with an RSVP. Otherwise, a ticket costs $5.
HOP CAKES RELEASE
One of NoDa Brewing's top seasonals, Hop Cakes, will be released at the brewery Sunday at noon. This Imperial IPA is brewed with a copious amount of maple syrup from Vermont to provide a hint of sweetness to go along with a solid hop flavor. Cans (4-packs) will be available for purchase to go, and NoDa will also have Hop Cakes on draft as well. Tin Kitchen, the brewery's onsite food truck partner, will be serving banana pancakes with "hoppy honey butter" and maple syrup as part of the release. Expect cans to roll out to local bottle shops and stores next week as well.