This Weekend's Agenda: 30+ Events (July 1-4)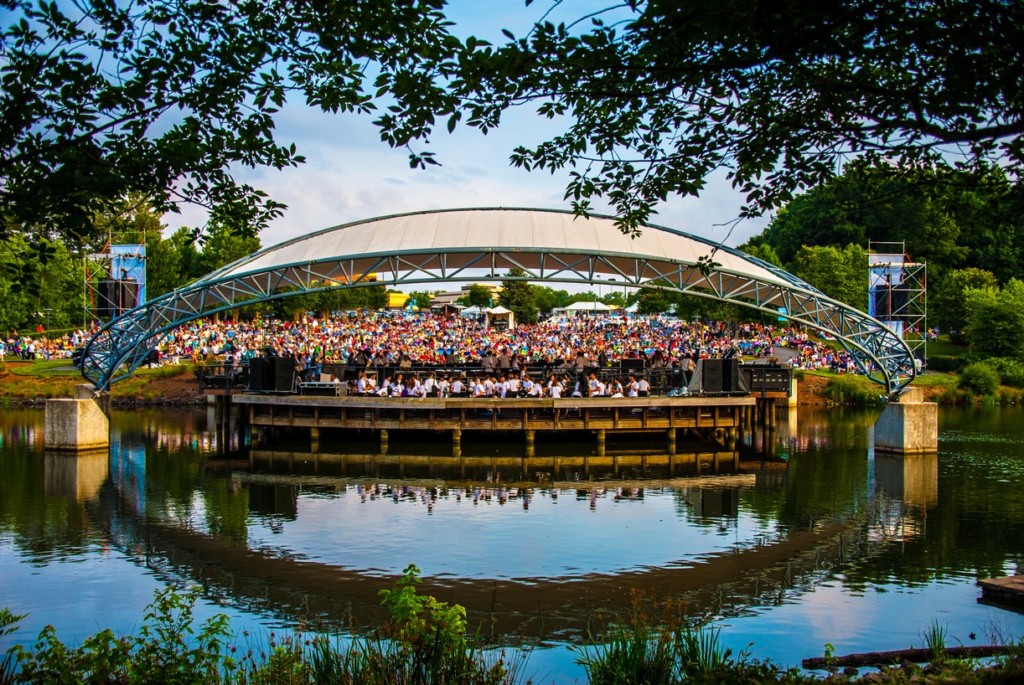 HERE, WE HAVE 24 events to make this Fourth of July weekend something special. Not all of these events have a patriotic slant, but each offers a different aspect of Charlotte, whether in a rock club, out on a lawn, or a sprawling jaunt through several nightlife spots. Also, if you want to inject some style into your attire for the festivities, check out a guide here.
---
FRIDAY (JULY 1)
RED, WHITE, & BRUT WINE TASTING
The Gallery Restaurant of the Ballantyne Hotel & Lodge will offer a wine tastings with light bites to kick off the holiday weekend. Also look ahead to July 15, when they'll host a night of cocktails inspired by Carolina's summertime produce. Reservations are recommended.
AESOP ROCK
Aesop Rock emerged as a hip-hop wizkid during the late 1990s, garnering a reputation for complex lyricism and rhyme patterns. With 2016's The Impossible Kid, his seventh record, the artist returns with more personal content, yet still containing that trademark wit and dark humor.
REED GOLD MINE
The first documented gold find in the U.S. come from this mine. Nearly 220 years after it was built, the site hosts visitors who want to revisit the past and find a treasure themselves. Admission and tours of the mine are free. Gold panning is available for $3 between April and October.
NATURALIZATION CEREMONY AT LEVINE MUSEUM OF THE NEW SOUTH
Twenty-five residents of the area become naturalized at the Levine Museum Friday. The ceremony, which kicks off at 9:15 a.m., is the sixth hosted by the museum. The proceedings include the presentation of certificates, a video message from President Barack Obama, a call of countries, and a special tour for the new citizens and their loved ones through the exhibit Cotton Fields to Skyscrapers.
CHARLOTTE SYMPHONY SUMMER POPS: CELEBRATE AMERICA
Bring a blanket to Symphony Park in SouthPark for a night with the orchestra on Friday. From "God Bless America" and "America the Beautiful" to selections from Guys and Dolls, the classics are all here. And don't forget the fireworks, a bombastic end to a patriotic night.
RED, WHITE, AND BLUE BASH
The Founding Fathers would truly be proud of this celebration Whisky River's throwing. For just $6, you can get your own red, white and blue shot. Plus, all active military members get in free with the proper identification. The celebration of all things America starts at 9 p.m. at 210 E. Trade St.
SILENT DISCO INDEPENDENCE RAVE
Celebrate America the way the signers of the Constitution intended: with a silent disco. Throw on your best red, white and blue and get ready to dance. Admission is free, but a VIP pass costs $20 and includes a T-shirt, glow sticks and two drink tickets. The Independence Rave starts at 9 p.m. at Rooftop 210, 210 E. Trade St. Buy your VIP passes here.
---
SATURDAY (JULY 2)
DAVIDSON FARMER'S MARKET KIDS FESTIVAL
Visit one of the area's most popular markets for a morning filled with fun activities that help teach kids about healthy eating and where their food comes from. Visit the ice cream sundae bar, try a kid's yoga class, see an aquaponics garden, and a whole lot more.
DAN THE PIG MAN BARBECUE AT ATHERTON MARKET
Dan the Pig Man's food truck will be at Atherton Market this Saturday, a day Dan is calling the "busiest BBQ day of 2016." Choose from pulled pork barbecue, ribs, and beef brisket, which you can enjoy at the market or take to-go.
STEELY DAN
Steely Dan emerged at a time when jazz and funk weren't often injected into mainstream rock. It's the reason Rolling Stone labeled them "the perfect musical antiheroes for the Seventies." And that contrary, yet radio-friendly sound endures today.
THE TEMPEST
As a "Teen Summer Production," this show sees Charlotte youths taking on Shakespeare with this magical narrative. The program runs for two evenings.
RIVER JAM
On Thursdays and Saturdays, River Jam offers free music against the outdoor backdrop of the U.S. National Whitewater Center. Check out the center's selection of food and beer and kick back. This month's lineup includes The Packway Handle Band (July 2), Scythian (July 7), Urban Soil (July 9), The Way Down Wanderers (July 14), The Ragbirds (July 16), Big Daddy Love (July 21), Temperance League (July 23), Head for the Hills (July 28), and Koa (July 30).
CIEL GALLERY
​Ciel Gallery is a combined teaching space and mosaic gallery in South End that showcases paintings, mosaics, photography, jewelry, pottery, sculpture, and more each month. The July show—Swelter—highlights works by Ciel artists. Art classes are available for all ages and levels.
MIMOSA BRUNCH CRUISE
If the words "mimosa brunch cruise" don't sound patriotic, we don't know what words do. Hop aboard the Lady of the Lake yacht and celebrate America today. A ticket on board with a mimosa bar and brunch costs about $80. The boat starts boarding at 12:30 p.m., departs at 1 p.m. and returns at 3 p.m. Buy your tickets here.
RED, WHITE, AND BREW BAR CRAWL
Celebrate America's birthday by enjoying craft brews, free admission and discounts at participating EpiCentre bars, including Blackfinn, Whisky River, Strike City, Rooftop 210, Vida, Vida Vida, Suite, Bubble, Howl at the Moon, Tin Roof, Wild Wing Cafe and Mortimer's. Registration runs from 7 p.m. until 9 p.m. at Rooftop 210. 210 E. Trade St. Tickets cost $15 and include a T-shirt. Buy your ticket here.
WAXHAW INDEPENDENCE DAY CELEBRATION
The Waxhaw Independence Day Celebration comes complete with a parade, beach party and, of course, fireworks. The parade on Main Street begins at 10 a.m. The Beach Party runs from 4:30 p.m. until 8:30 p.m., and the fireworks begin at 9:30 p.m. The event is free, but for more information, go here.
---
SUNDAY (JULY 3)
PLAZA-MIDWOOD PIG PICKIN'
A number of Plaza-Midwood bars will participate in the 16th Annual Plaza-Midwood Pig Pickin' this Sunday. Enjoy drink specials, live music, and of course, barbecue during the event. Moo & Brew will be accepting donated canned goods for Kids First. Visit the event's Facebook page to view a full list of participating locations and activities.
SUNDAE FUNDAE COOKOUT
Join Hart's Soda Shop for handcrafted sodas, floats, and sundaes to help celebrate America a day early. Boss Dog will be there serving hotdogs and the shop's grill will be fired up as well. Cornhole, music, and sparklers at dusk for kids attending (with parental supervision).
LOU FORD'S 20TH ANNIVERSARY
The Edwards brothers have been making music for two decades, under monikers like Lou Ford and The Loudermilks. Enjoy this retrospective, hosted by The Double Door Inn, with longtime collaborators joining in the fun.
LEVINE MUSEUM OF THE NEW SOUTH
History is complex, and there are countless perspectives on the South's most significant events. The Levine not only puts those events in context, but it offers multimedia exhibits, forums, and artistic expressions that are tethered to our past. ¡NUEVOlution! Latinos and the New South (through Oct. 30) examines the rise of Latino populations in Charlotte and other Southern cities, and how the Hispanic population will help shape the future of the South.
DISCOVERY PLACE
Kids will be kids—and adults will feel like kids—at this uptown science museum. From live animals to grand experiments of physics, the museum offers a multi-disciplinary adventure. Beyond Rubik's Cube (June 11-Sept. 5) is the first exhibition to focus on the popular puzzle, which has been around for 40 years. Find out what inspired its creation and become an expert with games and activities.
BALLANTYNE BEER GARDEN
The Ballantyne Hotel and Lodge, 10000 Ballantyne Commons Parkway, hosts a pop-up beer garden today from noon until 7 p.m. The beer garden on the resort's south lawn features live music, craft beer, a cookout and raffles. There is no admission fee.
FOURTH OF JULY FESTIVAL
The U.S. National Whitewater Center hosts its annual Independence Day festival today and Monday with live music and fireworks. The celebration begins today at 3 with a cornhole tournament and live music beginning at 4 and fireworks starting at 9:30. The schedule is the same tomorrow. Cornhole tournament registration costs $30 per team.
RED, WHITE, AND BREW BASH
Howl at the Moon, 210 E. Trade St., is celebrating America's birthday with non-stop live music, dancing, drinks, fun games and prizes. Wear red, white and blue for free admission to this party featuring $3 Sam Adams, $6 1800 Margarita cocktails and $20 86-ounce firework buckets.
---
MONDAY (JULY 4)
FOURTH OF JULY CELEBRATION AT CHARLOTTE MUSEUM OF HISTORY
Warren Bingham, author of the the book George Washington's 1791 Southern Tour, lectures at this event, which also includes tours, a naturalization ceremony, and ringing of the American Freedom Bell.
WBT SKYSHOW
Is there anything more American than baseball and fireworks on the Fourth of July? This patriotic festival features a street party, games, food a baseball game pitting the Charlotte Knights against the Pawtucket Red Sox and a fireworks show following the game billed as the Southeast's largest. The party is at BB&T Ballpark, 324 S. Mint St. Tickets start at $11, and you can buy them here.
FOURTH OF JULY SPLASH BASH
With a poolside barbecue, "Red, White and Blue Sparkle and Pop" prosecco Popsicles, craft cocktails and more, this is the grown-ups go-to spot for Independence Day. Tickets to the day party from noon until 6 at Craft City Social Club, 555 S. McDowell St., cost $20. Buy them here.
LAKE WYLIE FIREWORKS
Hop aboard a boat on the lake or gather round with a blanket and picnic basket at this annual fireworks show. Fireworks begin after 9 p.m., and the spectacular in the sky is free to watch.
INDIAN TRAIL JULY 4TH PARADE
While the Independence Day parade, which starts at 11:30 a.m., will be wonderful, it's the watermelon-eating contest that's the big draw here. The day's events are free. For more information, go here.
GASTONIA JULY 4TH FESTIVAL
Eight city blocks of Gastonia await you at this annual Independence Day festival. Also at this birthday celebration for America will be: live music, food, crafts, jewelry, games, art, music, entertainment, eating contests, carnival rides and, of course, fireworks that start at about 9:15 p.m. There is no admission fee.
---
Looking for a specific category? Check out ARTS + CULTURE, FOOD + DRINK, and SOCIAL EVENTS.