This Weekend's Agenda: 30+ Events (Sept. 14-20)
Featuring a Panthers home-opener pregame, Afrofunk CLT, and Jeff Foxworthy and Larry the Cable Guy, to name a few.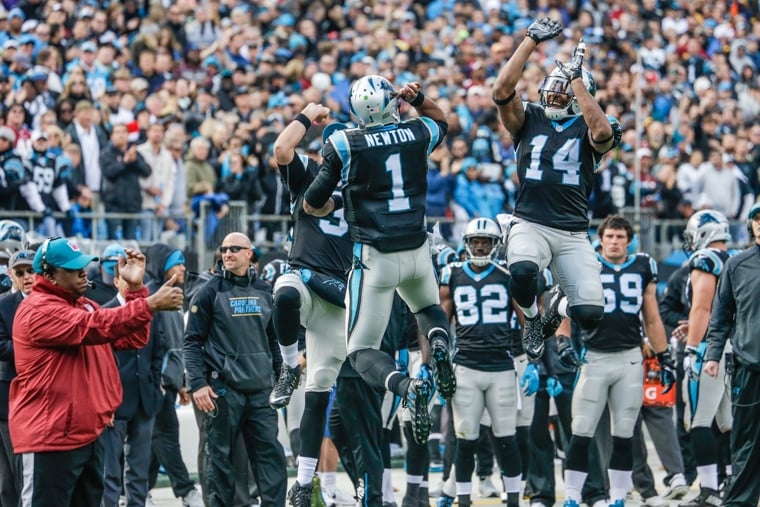 WEDNESDAY (SEPT. 13)
Champagne Tea with Jane Austen
Ballantyne, 1 to 4 p.m., $25 (children) – $45 (adults)

Continuing through Saturday, September 16, Champagne Tea with Jane Austen will be presented in Regency era elegance at The Ballantyne. Enjoy watching films of Jane Austen's most beloved romantic fiction works while dining on authentic dishes. Period costumes are encouraged. Reservations are required at 704-248-4100. More details.
---
THURSDAY (SEPT. 14)
Beer and Bites at Village Tavern
SouthPark, 5:30 to 8:30 p.m., $27
Village Tavern hosts this fundraiser for Advocacy & Awareness for Immune Disorders Association. A $27 ticket buys you two beers and unlimited appetizers. The party is at 4201 Congress St. More details.
Bruno Mars at Spectrum Center

Uptown, 8 p.m., $129

The multi-instrumentalist's "Uptown Funk" is among the many tunes that have dominated radio, and it finds particular relevance in Charlotte's central business sector. He brings that energy to Charlotte's biggest stage this month. More details.
Garrison Keillor's Prairie Home's "Love & Comedy" Tour

Uptown, 7:30 p.m., $29.50-$89.50

Keilor, Heather Masse, Fred Newman, and several other Prairie Home fixtures are on the road for "Love & Comedy." Expect songs, stories, and more. More events.
Wine Dinner at Babalu
Dilworth, 7 p.m., $55
Babalu is celebrating North Carolina's wine month by hosting a Shelton Vineyards dinner. Guests will experience a four-course meal with wine pairings that is sure to highlight the best of the state's local ingredients and wine. Tickets. More Details.
Dave Attell at Comedy Zone

AvidxChange Music Factory, times vary, $25

Attell is beloved as a classic "club comic," touring the country relentlessly and often hailed as countless comedians' favorite comedian. Since his Comedy Central show Insomniac, he's been known for a quick (and sometimes crude) sense of humor that kills in any city. More details.
Wine Dinner at Reid's
SouthPark, 6 p.m., $65
Reid's Fine Foods SouthPark will host a wine dinner featuring a tour of Alto Piemonte, an Italian wine growing region on the rise. Guests will enjoy a three-course dinner paired with four wines led by Henri Gabriel, a winemaker, and wine educator. For reservations, call Reid's SouthPark at a 704-377-7686 and ask for the wine department. More details.
Thursday Supper Club at Bonterra Dining & Wine Room
South End, 6:30 p.m., $60
The first dinner of the Thursday Supper Club series will feature wines from Gramercy Cellars in Washington State with Food & Wine Magazine's 2016 Sommelier of the Year, Jeff Kellogg, and a menu created by Chef Blake Hartwick. More details.
---
FRIDAY (SEPT. 15)
Atlantic Coast Conference Bar Crawl
Uptown, 7 p.m. $10
Join fellow ACC football fans at this Uptown bar crawl tonight. The party starts at 7 p.m. at BlackFinn and then moves to Rooftop 210, Fitzgerald's, Lucky's and Flight. More details.
The Jazz Room Does Sinatra

Uptown, 6 p.m. and 8:15 p.m., $15

Singer/trumpet player Jeremy Davenport takes on Frank Sinatra is this set of performances. The performer pulls from the artist's 70 albums and 60-year career. More details.
Afrofunk CLT
Uptown, 6:30 to 10 p.m., $12
Old- and new-school jams combine tonight at the Harvey B. Gantt Center for African-American Arts + Culture. More details.
Jeff Foxworthy & Larry The Cable Guy at PNC Music Pavilion

University City, 6 p.m., $18-$117

The "Blue Collar Comedy" pair co-headlines a show at PNC Music Pavilion. Both have Southern senses of humor that have produced oft-quoted lines like "You might be a redneck if …" and "git-r-done." More details.
UB40 Legends Ali, Astro & Mickey

Uptown, 8 p.m., $25-$65

UB40's reggae sound fueled a huge single in its covers of Neil Diamond's "Red Red Wine" and the Elvis tune "(I Can't Help) Falling In Love With You." Here, they reunite for a night of memories at Knight Theater. More details.
Cheese and Cider Pairing at Red Clay Ciderworks
South End, 7 to 9 p.m., $18
Red Clay Ciderworks and Orrman's Cheese Shop are joining forces to bring together four pairings of cheese and cider. Cider maker Jay Bradish and cheese expert Rachel Klebaur will be on hand to walk guests through each plate. Seating is limited to 14; ticket holders should check into the bar upon arrival. More details.
Soul Junction at Johnson C. Smith University
Biddleville, 5 p.m., Free
This annual concert series features national and local musicians and celebrates the culture, music and soul of Charlotte's west side. The two-day festival runs from 5 p.m. until 10 p.m. Friday and from 3 p.m. until 10 p.m. Saturday. More details.
---
SATURDAY (SEPT. 16)
Woofstock
North End, 11 a.m., $5
This annual dog and music groove fest returns to NoDa Brewing Company. A $5 donation gets you in the door and your first beer. Aside from the dogs and beers, there will be music, a silent auction, and other vendors. More details.
PumpkinFest 2017 at Sycamore Brewing
South End, Noon, Free

If you like pumpkin and fall beers, Sycamore is the place to be this weekend. Enjoy a full lineup of the brewery's seasonal beer, including Gourd Have Mercy. Eight bands are also scheduled to play during the daylong event on two outdoor stages. More details.
John Prine at Belk Theater

Uptown, 8 p.m., $59.50-$125

Prine, a favorite of Bob Dylan and Johnny Cash, is one of country's most influential songwriters. The 2016 record For Better, or Worse featured duets with Alison Krauss, Holly Williams, Miranda Lambert, Kacey Musgraves, Amanda Shires, and others. More details.
The Indoor Cookout at Apostrophe Lounge
South End, 4 p.m., Free
This indoor cookout blends summer and fall. Along with the typical barbecue fixings, there will be outdoor games (brought inside) along with a DJ. There's no admission fee with an RSVP to this party at 1440 S. Tryon St. More details.
Charlotte's Big Block Party
North End, 5 to 10 p.m., $6
Camp North End is throwing this neighborhood block party featuring food trucks, DJs, local breweries, games and more. More details.
Drunken Pumpkin Fall Beer Bash at Lucky Dog
FreeMore West, 3 to 6 p.m., $30
This is one beer event where dogs are more than welcome. Twelve local and area breweries will be pouring unlimited samples at Lucky Dog's fall beer festival, with live music throughout the day as well. More details.
Maggiano's Murder Mystery Dinner
SouthPark Mall, 7 to 10 p.m., $65
For a fun and slightly out-of-the-ordinary night, head to Maggiano's for a murder mystery dinner. Enjoy the wacky theater show which puts guests right in the middle of the action while enjoying Maggiano's classic Italian fare family-style. Tickets available here. More details.
Guac-Fest at Vida Vida
Uptown, 2 to 6 p.m., $15-$20
To celebrate National Guacamole Day, Guac-Fest will have samples, appetizers, tacos, and more on-hand as well as a special guacamole margarita. Tickets. A portion of proceeds will benefit the American Heart Association. More details.
The Carolina Kickoff
Uptown, 2 to 7 p.m., Free-$17
Prepare for the Panthers' home-opener against the Buffalo Bills tomorrow at Rooftop 210's party today from 2 p.m. until 7 p.m. This party at 210 E. Trade St. features DJs, drink specials, and more. If you RSVP and arrive before 3 p.m., admission is free. Otherwise, a ticket costs $17. More details.
Blackfinn Ballantyne One-Year Anniversary Party
Ballantyne, 10:30 a.m. to 11:30 p.m., Free-$12
Blackfinn Ballantyne turns one-year-old today, and you're invited to celebrate. The event at has no admission fee, but if you want to partake in the oyster roast, a ticket costs $12. The party goes until 11:30 p.m. with live music, giveaways, and more. More details.
Premature Oktoberfest at Heist
NoDa, 7 p.m. to 11 p.m., $75
Heist Brewery hosts this fundraiser benefitting Pierce's Projects. A $75 ticket buys you entry to this party at 2909 N. Davidson St. that features live music, unlimited beer and wine, and a commemorative glass. More details.
Block Party Cornhole Tournament at Angry Ale's
Montford, 1:30 p.m., $5.50
Grab a team of two to compete in this neighborhood cornhole tournament. An $11 ticket buys your team an entry, and SportsLink is providing the beer and hot dogs. The competition begins at 2 p.m., and first place walks away with $100. More details.
Aida at Theatre Charlotte

Myers Park, times vary, $27

A dynamic season from Theatre Charlotte features this Elton John/Tim Rice musical. The production rethinks the classic Verdi opera of the same name with a pop-rock style. More details.
River Jam Continues
U.S. National Whitewater Center, 7 p.m., Free
Through September, River Jam offers free outdoor music on Thursday and Saturday nights at the U.S. National Whitewater Center. Check out the center's selection of food and beer and kick back. August's performing acts include Sumilan, Bombadil, Ancient Cities, Lindsay Lou & The Flatbellys, Jaden Carlson Band, Grand Shell Game, Front Country, Ryan Culwell, and Joseph Huber. More details.
---
SUNDAY (SEPT. 17)
Panthers Tailgate Party
Uptown, 10 a.m., $28
Cheer on our Carolina Panthers today at this tailgate party at Blackfinn's Uptown location. A $28 ticket buys you access to the party's DJ, beer tubs, giveaways, food, cornhole, and free parking. More details.
Foraged Mushroom Menu at Heirloom Restaurant
Mountain Island Lake, 6:30 to 9:30 p.m., $60-$85
Chef Clark Barlowe and the team at Heirloom Restaurant celebrate a five-course mushroom tasting menu showcasing Barlowe's favorite foraged mushrooms and area mushroom farmers. Tickets. More details.
Grunge Fest at The Fillmore
AvidxChange Music Factory, 2 p.m., $5
Five grunge tribute bands get together for a full day of grunge music. More details.
Bloody Mary Fest at Whisky River
Uptown, 10 a.m., $24
Before you walk to the Bank of America Stadium to root for the Panthers, Whisky River is hoping you stop by for a few Bloody Marys. This spot at 210 E. Trade St. is offering five different Bloody Mary samples and free parking for a $24 ticket. More details.
---
MONDAY (SEPT. 18)
Southern Beer + Southern Food at The Asbury
Uptown, 6:30 to 9:30 p.m., $65
The Asbury at The Dunhill Hotel will host Sean Lilly Wilson, owner of Fullsteam Brewery in Durham, and Kyle McKnight, chef at Fullsteam, for a dinner highlighting southern beer and southern food. More details here and here.