This Weekend's Agenda: Arts, Food, Beer, & Social Events (11/20-22)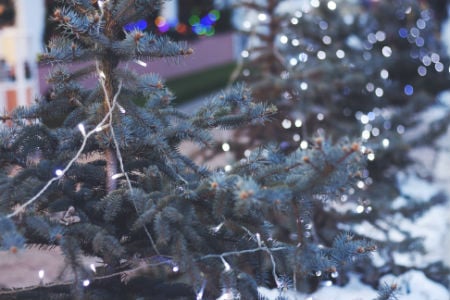 FOR SOME OF US, the holiday season isn't ushered in by Christmas products at department stores. It's not when certain spiced flavors become available at coffee shops or restaurants. For me, It's choosing to go to a certain event, one that signifies that it's time to start shopping for trees and hot cocoa.
Take the South End Tree-Lighting Festival, returning this Saturday. They're lighting a huge tree, offering some live holiday music, and best yet, the official listing on the Historic South End website says "surprises." Now, that sounds like some Christmas magic to me, at least.—Andy Smith
---
8TH ANNUAL PALATE TO PALETTE
This Friday (Nov. 20) at McColl Center for Art + Innovation, head to Palate to Palette, which combines wine with painting. The event brings artists and wineos together for food, drink, live music, and more.
DEFIANT WHISKEY
Last month, the makers of Defiant Whiskey began hosting "Destination Dining," a series of festive evenings overlooking North Carolina's South Mountains. Bring friends and loved ones to enjoy the last installment on Friday. The four-course gourmet meals feature some of the region's top catering chefs at Camp Golden Valley in the Golden Valley region of Bostic, NC. The dinners include passed hors d'oeuvres, a starter course, main entrée, and a dessert, as well as complimentary Defiant Whiskey tastings.
VIVACE
Executive Chef Mike Suppa has created five dishes to showcase truffles at Vivace, which you can only taste until this Saturday. Options include carpaccio of veal with grilled scallion polenta, brown butter, burgundy truffle, and vincotto; parmesan gnocchi with black truffle, madeira demi; and pancetta wrapped rabbit loin with white truffle, rosemary stracciatella, and cannellini bean ragu.
---
SUGAR CREEK BREWING ANNIVERSARY
It's been one year since Sugar Creek has opened its doors and a lot has happened for the brewery in that time, including a silver medal at the U.S. Open Beer Championship for its Belgian Dubbel, several bottle releases and the brewing of one of the biggest beers Charlotte has ever seen, XV, coming in at 15 percent ABV. All that and more will be celebrated this Saturday at the brewery's one-year anniversary party.
RELEASE THE FUNK 3: FUNKONIA
Don't forget about Salud Beer Shop's sour beer festival, Release the Funk 3: Funkonia, on Saturday. Salud has also posted the taplist for its Pre-Release the Funk party, which begins at the bottle shop on Friday at 7 p.m. featuring beers from Burial, Fonta Flora and Wicked Weed.
OYSTER & BEER FESTIVAL
Sycamore Brewing is hosting its first-ever Oyster & Beer festival this Saturday. This will be fresh seafood from Southeast Crab Feast with oysters, snow crab and shrimp as the choices. Those who purchase tickets will get a guaranteed plate of food (cost not included with ticket) and one beer. (Also, if you just want to come to drink beer, no tickets are needed). The festival will also feature live music from Late Nite Special.
---
FRIDAY ON FIFTH
You get a whole lot on Friday (Nov. 20) for just $5. A ticket gets you free entrance into Fitzgerald's, The Local, Connolly's, Prohibition, SIP, RiRa, Roxbury, Dandelion Market, Tequila House and 5 Church, drink specials at all these bars and restaurants and a ticket to a raffle for a free happy hour.
A NIGHT IN THE GARDEN
Come and enjoy a preview of MiikelleDeFo's 2015 collection while giving back to the Leukemia and Lymphoma Society. The evening, which starts at 6, will feature wine tastings, live music, a silent auction and a fashion show. The party takes place at the VanLandingham Estate.
SOUTH END TREE-LIGHTING FESTIVAL
Get a jump on your holiday game with this neighborhood tree-lighting party on Saturday. Along with the tree lighting, the evening features treats from the Sugar food truck, hot chocolate and cider and holiday performances. The tree lights at 6 p.m. with the festivities continuing after. This free Christmas party is at Atherton Mill.
---
THE STAMPEDE – UNITED TO STAMP THE $ OUT OF POLITICS FEATURING DONNA THE BUFFALO & PETER ROWAN
I know what you're thinking: This sounds like a political show. Well, yes, the whole point of this tour, led by Ben Cohen of Ben & Jerry's, is to advocate for less corporate money in politics. However, you also get some expert roots tunes from Donna the Buffalo and Peter Rowan in the deal. If both of those concepts suit you, then your Friday (Nov. 20) plans are set.
MIPSO: ALBUM RELEASE SHOW
The Chapel Hill-born string band celebrates the release of its new record in NoDa. The group's bluegrass tunes have been heard on festival stages across the country, and Old Time Reverie marks the band's latest foray into Americana.
DISCOVERY PLACE
Science and fun collide at this kid-friendly venue. Even if they don't realize it, visitors learn the ins and outs of physics, biology, and chemistry. Body Worlds & The Cycle of Life (Nov. 21-May 1) shows the human body through all of life's stages. Here's the kicker: The bodies in the show are real, preserved through a process called plastination.