This Weekend's Agenda: Arts, Food, Beer, & Social Events (11/27-29)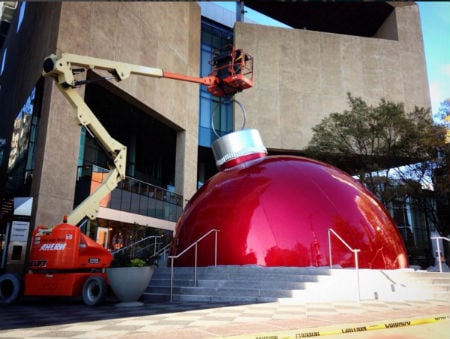 WITH FULL HEARTS and heavy stomachs, we enter this post-Thanksgiving weekend. Here are a collection of events that'll scratch the itch for whatever vibe you're wanting. Small Business Saturday shopping? That's in there. Some live music, social events, or theatre to keep the party going? That's in there, too.
Or maybe what you just want to see a tree-lighting ceremony at a museum dedicated to the sport of auto-racing and its colorful history with special guests Kevin Harvick and Santa Claus? Well, that's one specific request, my friend. But hey, I've got you covered, too. —Andy Smith
---
BLACK FRIDAY BLACKOUT PARTY
Black lights reign supreme tonight at this party on Friday (Nov. 27). Wear white or neon colors to glow under the black lights and get ready to dance off that Thanksgiving dinner. Doors open at 9 p.m., and the event is free with an online registration. BAR Charlotte is at 300 N. College St. Register here.
ALL-BLACK-ATTIRE AFFAIR
Don't put those black threads away so soon. Here's another black party, and this one's at the fancy Westin Uptown on Saturday. The evening of music, cocktails and black ties and dresses begins at 9 at 601 S. College St.
HOLIDAYS AT THE GARDEN
Still have family in town? Why not take them to the Daniel Stowe Botanical Gardens for the annual Holidays at the Garden event? Along with the beautiful gardens, the landscapes explode with Christmas lights and holiday cheer until Jan. 3. Aside from the lights, there's an outdoor fire, holiday crafts, warm beverages and opportunities to visit with Santa.
---
OTHER PEOPLE 10TH ANNUAL GRATEFUL DEAD TRIBUTE THANKSGIVING BASH
This show has become a holiday tradition during the past decade, and it returns Friday (Nov. 27). It hasn't been around as long as, say, the Novant Health Thanksgiving Day Parade, which started in 1947. But a decade is pretty good for jam musicians.
THE SOUND OF MUSIC
Director Jack O'Brien, a three-time Tony Award winner, has revived this classic. The massive production marks the 50th anniversary of the film version, the most successful movie musical in history.
NASCAR HALL OF FAME TREE LIGHTING ON THE PLAZA
Off the track, this NASCAR site takes visitors behind the scenes. Stand by the vehicles and artifacts that represent the sport's history. For this Saturday event, music, activities, and food trucks accompany a tree lighting ceremony. Special guests Kevin Harvick and Santa Claus will also be in tow.
---
SMALL BUSINESS SATURDAY AT THE MARKET
Celebrate Small Business Saturday with the farmers, bakers, beekeepers, and other vendors of the Charlotte Regional Farmers Markets. "Thank you" gifts will be passed out during the event, beginning at 8 a.m.
INDIGO DINNER
Catherine Cross, from Summer Blues Indigo, is working on a new project entitled, "The Art of the Harvest, An Agriculture and Sustainability Project." She is looking to revitalize the indigo industry that was a force decades ago when denim was being produced in N.C. To help out, Heirloom has turned the artisan dinner for November into an Indigo Dinner on Sunday (Nov. 29). The meal will use indigo as inspiration for all of its courses and will be preceded by a workshop taught by Catherine herself on how to dye linens with indigo beginning at 3 p.m.
---
BEER
BLACK FRIDAY BREW RELEASE PARTY
D9 Brewing Company puts the black back in Black Friday with the release of its Black Ice ale today. To celebrate the release of this strong ale (Seriously, it's 10 percent alcohol by volume), D9 is throwing a party from 2 p.m. until 10 p.m. So, instead of dealing with the crazed crowds at the malls, the brewery has live music starting at 7:00 p.m. and the Wingz on Wheelz food truck starting at 2 p.m. to give you a break from those Thanksgiving leftovers.
SMALL BUSINESS SATURDAY AT TRIPLE C
Small Business Saturday is the alternative to Black Friday, focusing on local stores rather than national retailers. Triple C Brewing Company will have more than 60 small businesses inside each hoping for you to spread your holiday cheer. In addition the local shopping, there will be raffles, music, the Sugar Donut food truck and, naturally, craft beer. Triple C is at 2900 Griffith St., and it opens at noon.