This Weekend's Agenda: Arts, Food, Beer, & Social Events (12/18-20)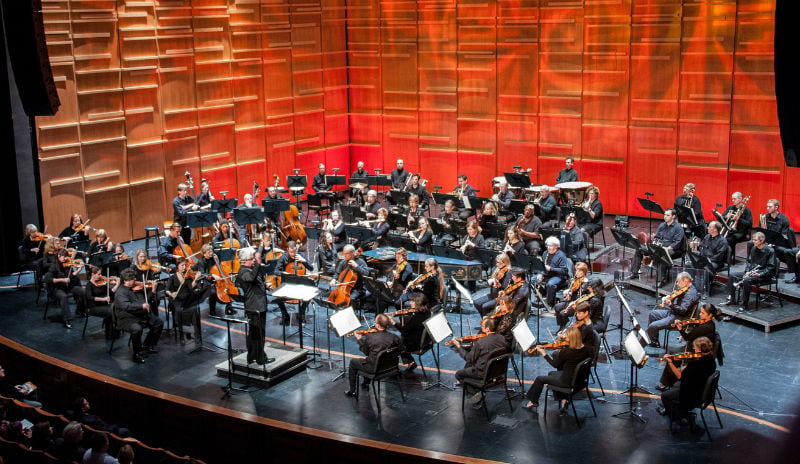 EVEN IF you're doing some last-minute Christmas shopping, you have to make time for fun this weekend. Below, we have a category-by-category breakdown of some of the weekend's best offerings. Seasonal choral music? Yep. Parties with ugly Christmas sweaters? Of course. Cookie bar? Oh, man. Yeah.
---
CHARLOTTE SYMPHONY: MESSIAH
Kenney Potter conducts this version of Handel's masterpiece. Get ready for the goosebumps and calming movements of "Messiah." This program has become one of several Christmas arts traditions in Charlotte. Concerts will take place Friday (Dec. 18) and Saturday.
GOODBYE TREMONT
Tremont Music Hall's last show is an all-day affair, with acts like The Fill Ins, Tattermask, Messenger Down, Deadlock, Ernie, Baasthyrian, Suit City, The Body Bags, and more. It all kicks off at noon.
AMY SCHUMER
Schumer has become a household name through her Comedy Central show, films, and of course, her original vocation of stand-up. Here, she plays the biggest stage in Charlotte. The arena is no stranger to stand-up: Fellow comedy giant Kevin Hart performed there in May.
---
CHARLOTTEANS OF THE YEAR LUNCHEON
From Cops and Barbers to a NASCAR driver to a man trying to save Charlotte's character and quirk, Charlotte magazine honors its Charlotteans of the Year on Friday (Dec. 18). The event will be hosted by WCNC anchor, reporter and Charlotte magazine contributor, Michelle Boudin and will include lunch and awards.
UGLY SWEATER BAR CRAWL
This Saturday party starts at 8 p.m., so you can take your ugly sweater and walk right over to another ugly sweater party. At this one, there's a Christmas cookie buffet. If those aren't the three most beautiful words in the English language, we don't know what are. On hand will also be candy canes, cider and egg nog because the Christmas cookie buffet, fruitcake-eating contest and ugly Christmas sweaters just weren't enough. Still there's more! If you bring two canned goods, Whisky River will give you a lunch or dinner coupon to use next week.
NAUGHTY OR NICE CHRISTMAS PARTY
We've checked our list twice, and you're all on the naughty list. BAR Charlotte hosts its annual Christmas party on Saturday, and this year features a sexy Santa costume contest with the winner taking home $200. Come one, come all.
---
COCOA LAB
There are plenty of new holiday-themed classes popping up on the Cocoa Lab calendar. Reserve your spot for the Lab's classes today, Thursday and Friday (Dec. 18). The class will focus on traditional holiday cookies like the cherry pecan bar, cinnamon hot chocolate, and chocolate walnut cookies. Friday's class will let guests hone in on the art of gingerbread house construction.
COCKTAIL CLASS AT HEIRLOOM
Bar Manager Kelly Minton will host a cocktail class at the restaurant on Saturday. The class will include small bites and cocktails and cocktails made with exclusively NC products. Muddy River Rum's Caroline and Robby will also be on hand as guest speakers.
GREEK PASTRY SALE
The Ladies Philoptochos Society of St. Nektarios Greek Orthodox Church will hold its 2nd annual Greek Pastry Sale on Saturdays during the holiday season across from the farmer's market in downtown Matthews. Keep an eye out for the white tent, then stop by for sweet Mediterranean desserts.
---
SALTY COCONUT RED ALE AT SYCAMORE
This Saturday (Dec. 19), Sycamore Brewing will have The Salty Coconut Red Ale bottles available for purchase in the taproom, beginning at 9:30 a.m. This beer has been one of beer writer Matt McKenzie's favorites since it debuted at Sycamore. The addition of just the right amount of coconut gives it a unique finish, and the batch that is now in bottles have been aging in wet rum barrels from Nicaragua and Barbados. Sounds like a winner.
UNKNOWN'S CHILI COOKOFF
For $10, you'll be able to sample chili from 20 different amateur teams at the brewery on Saturday, and then vote for your favorite. Of course, they'll will have a full lineup of beers to wash it all down with. There will also be live music during the event, which will see some proceeds benefit Purple Heart Homes.