This Weekend's Agenda: Arts, Food, Beer, & Social Events (12/4-6)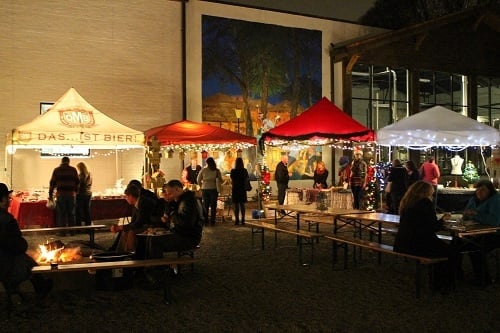 WHAT ARE you up to this weekend?
I thought I had my plans figured out, but then I looked at all of the lists represented here. Here are several ways to kick off December, with categories like food, arts, beer, and social events. Click the name of each category to see its extended listings.
Also: Looking for some events that are specifically Christmas-focused? Here's a round-up of holiday arts events. —Andy Smith
---
SECOND CHANCE CHRISTMAS COCKTAIL PARTY
A cocktail for a cause is always something we can get behind. Bring a toy to this Friday party (Dec. 4), and you get discounted admission. At this rooftop cocktail party, there will be DJ, live band, a photo booth, free appetizers and a full bar.
PANCAKE BREAKFAST AT THE FIG TREE
On Saturday, head to The Fig Tree Restaurant for a pancake breakfast for charity. The minimum $10 donation for each person (OR you can donate a new child's winter coat) will go toward Assistance League's Operation School Bell Program which provides clothing for children in need. There will be pancakes, eggs, sausage, coffee, juice, AND Santa Claus will make an appearance.
WEIHNACHTSMARKT
On Friday and Saturday, head to Olde Mecklenburg Brewery for the 6th-annual Weihnachtsmarkt, the brewery's version of a traditional, German-inspired "Christmas Market" with open-air booths selling gifts and baked goods from local Charlotte vendors. Winter seasonal beers will be on tap, too.
---
CHARLOTTE SYMPHONY: MAGIC OF CHRISTMAS
Sing along with the symphony for this night of Christmas cheer. Albert-George Schram conducts, and he's joined by Charlotte Symphony Chorus, Charlotte Children's Choir, singer Michael Andrew, and Martha Connerton/Kinetic Works Dance Company.
THE GREAT AMERICAN TRAILER PARK CHRISTMAS MUSICAL
This is a familiar December title for the Actor's Theatre of Charlotte. Tunes such as "Christmas in My Mobile Home" offer insight into the humor found in the fictional Armadillo Acres trailer park.
BILLY JOEL
What can you say about a guy who has sold more than 150 million records worldwide, boasts six Grammys, and in 2013 was a Kennedy Center Honors recipient? I'm told he's a big deal. And he comes to Time Warner Cable Arena on Saturday.
---
GOOD MORNING BREAKFASTS
Good Bottle is continuing its streak of "Good Morning" breakfasts during the next several weeks, and Saturday's (Dec. 5) will feature fresh cinnamon buns and toast from Bethlehem Bread Company. The taplist is still being finalized (follow Good Bottle on Twitter for the latest) but owner Chris Hunt provided me with three to get started: Triple C's Up All Night, Left Hand's Bittersweet Imperial Coffee Milk Stout and Grimm Purple Prose, a sour with black currants and raspberries.
LENNY BOY BREWING
Lenny Boy Brewing is releasing two new beers on Saturday: Holy Moly and Ground Up. Holy Moly is a gluten-free wild ale that checks in at 4.4 percent ABV. It's brewed with sweet potatoes, molasses and spices. Ground Up is Lenny Boy's coffee stout featuring coffee beans from Counter Culture, coming in at 5.3 percent ABV. Lenny Boy opens Saturday at noon.
BIRDSONG BREWING ANNIVERSARY
The brewery has a number of special things planned as part of its celebration on Saturday. The party takes place at the taproom beginning at noon and running until 10 p.m. and features a dynamic taplist that includes the release of two Birdsong favorites: The Pride and Puppies on Penguins.
---
7TH ANNUAL RED PUMP/RED TIE AFFAIR
On Saturday (Dec. 5), the Red Pump Project presents this annual event to raise awareness and funds for women living with HIV and AIDS. The stylish affair includes live entertainment, a cocktail reception with silent auction, runway show,and presentation of the 2015 Red Pump Award to a local community leader. The event is also co-hosted by Edward "Special Ed" Archer and Kendra James.
ACC FAN FEST
This is the biggest day party in Uptown on Saturday, as the ACC championship game takes over town. This outdoor concert series leading up to the game begins at noon and ends at 7 p.m. before the game begins at 8 p.m. Whether you're a Tigers fan or a Tar Heels fan, this free event is for you. The concerts are along Stonewall, Mint and Graham Streets along Bank of America Stadium.
HOLIDAY TEA AND SHOPPING AT THE DUKE MANSION
The Duke Mansion continues its centennial year celebrations on Sunday (Dec. 6) with a two-hour high tea and shopping event. Local boutiques will be located throughout the historic home, and with the holiday season upon us, it's time to get shopping. Tea, sandwiches, canapes, scones and other sweets will be served at 2 p.m.