This Weekend's Agenda: Arts, Food, Beer, & Social Events (9/18-20)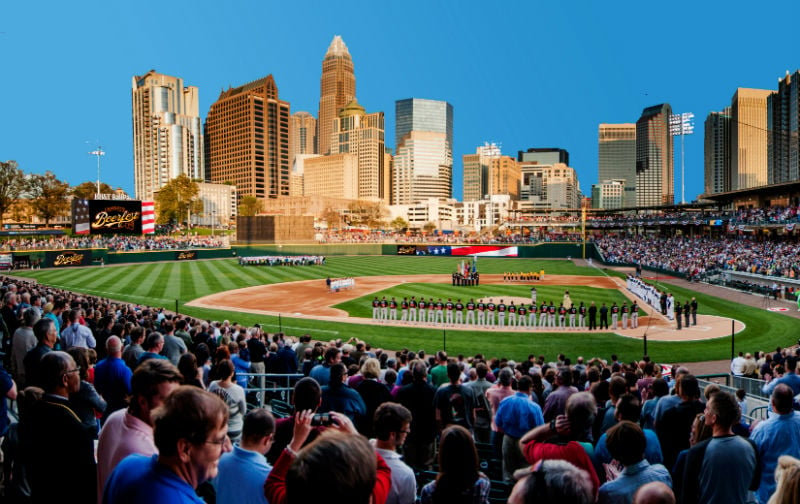 LET'S CALL this the #CLTChallenge. (Every movement needs a hashtag. T-shirts should be back from the printer by tomorrow.) I want to challenge you to check out one thing from each one of these categories this weekend. It's not so hard. Here's one possible scenario:
Check out a museum (or three) this weekend as part of the ASC's Connect With Culture Day on Saturday. Participating venues are free that day. That leaves some cash to grab a beer (or three) at Brawley's Beverage for some Mocktoberfest fun. You're going to be hungry by then, so why not go check out that Southern Sauce festival at Romare Bearden around lunchtime? That's free, too. And since you saved that cash earlier in the day, treat yourself and loved one to the newly opened Zebra Restaurant.
Sound like a plan? Let us know if you come up with your own combination from the below events—or something else from the extended listings for each category.
Click on each subject to get extended listings, and click each event to see its calendar entry, including cost, venue, and more.
---
GOOD MORNING BREAKFAST
Wake up Saturday morning (Sept. 19) with Good Bottle Co. as it's the first Good Morning Breakfast of the fall. This regular event has a seasonal theme, as Hex Coffee is the special guest. Hex is a local coffee pop-up establishment that also specializes in waffles, making it a perfect partnership. Saturday's waffles will feature NoDa Brewing's Gordgeous pumpkin ale in the batter.
CHARLOTTE BEERFEST
The BeerFest goes down Saturday (Sept. 19) at BB&T Ballpark. while it's certainly weird to see Miller Lite advertised at a craft beer festival, there are some local and regional breweries participating and worth checking out if you go. Charlotte-area participants include Sugar Creek, D9, Bayne, Red Clay Ciderworks and Lenny Boy Brewing.
MOCKTOBERFEST
Brawley's Beverage is getting in on the festival fun with Mocktoberfest, which is this Saturday (Sept. 19) The name is a nod to Brawley's location on the corner of Mockingbird Lane and Park Road. The highlight here is a special tapping at 2 p.m. of a certain sought-out barrel-aged beer from Michigan that begins with a "K." (I've already given away too much here so you'll just have to go to see).
---
PANTHERS HOME OPENER BUD LIGHT BAR CRAWL AND PEP RALLY
The Panthers make their home debut this weekend, and uptown has the bar crawl for you to celebrate on Friday (Sept. 18). A $5 ticket gets you a 2015 season opener Panthers T-shirt, Panthers Koozie and free cover at about a dozen Uptown locations. Registration begins at Rooftop 210.
OKTOBERFEST
Dust off your lederhosen, ladies and gents. It's Oktoberfest time. The weekly festival big on German beer and brats starts tonight and repeats every Friday and Saturday evening until Oct. 10. A different German band plays each weekend at the Waldorn Restaurant.
SOUTHERN SAUCE AT ROMARE BEARDEN PARK
Y'all, this is the time to shine. Focusing on all things Southern, this festival features blue-ribbon barbecue from across the Southeast, local artisans selling their crafts and a world-class blues and craft beer festival. It takes place Friday and Saturday (Sept. 18-19). There is no admission fee to this festival, so what are you waiting for?
---
CHARLOTTE SYMPHONY POPS: SINGIN' IN THE RAIN
In sync with the 1952 musical film Singin' in the Rain, the Charlotte Symphony Orchestra plays the score on Friday and Saturday. Albert-George Schram conducts this experience for lovers of film and the symphony experience. The Pops series is one of the symphony's most accessible offerings, typically bringing in modern acts and other pop culture attractions.
ASC CONNECT WITH CULTURE DAY
Here it is. The big day is back. There are several museums, galleries, and other arts venues offering free events and pop-up performances on Saturday (Sept. 19). Check out the entire list here, broken down by region in Charlotte. Whether you want to venture into uptown or stay closer to home in East Charlotte, there's going to be something down the road worth checking out.
THE LONE BELLOW
Time to add a little twang to your weekend. Starting as a solo act from Zach Williams, The Lone Bellow has evolved to a full-fledged alt-country band. Their latest, Then Came the Morning, was released this year. The show goes down at Neighborhood Theatre Saturday (Sept. 19).
---
ZEBRA GRAND OPENING
The restaurant in SouthPark will celebrate its grand opening week beginning Friday (Sept. 18), with a reservation only event in support of The Humane Society of Charlotte. Half of all profits for the evening will be donated to the charity. The evening will feature an all-inclusive six-course menu including sparklers and wines as well as live music.
HEIRLOOM CRAFT COCKTAIL CLASS
On Saturday (Sept. 19), Heirloom will host a craft cocktail class at 1 p.m. with Muddy River Rum Distillery, North Carolina's first rum distillery since Prohibition. Students will learn to craft three cocktails and enjoy a few small bites.
NEW APPALACHIA COLLABORATION DINNER SERIES
The dinner will be "our typical dinner service at Heirloom but with a twist," says Chef Barlowe. Farm-to-table pioneer Sam Ratchford from Vidalia restaurant in Boone will be in house with Barlowe cooking a 12-course meal. Ingredients will be sourced from exclusively New Appalachia, a distributor from Western N.C. Proceeds from the dinner will go to benefit the Carolina Farm Land Trust. Offerings will be from 3 to 12 courses and will be priced as per typical menu items.