This Weekend's Agenda: Arts, Food, Beer, & Social Events (9/25-27)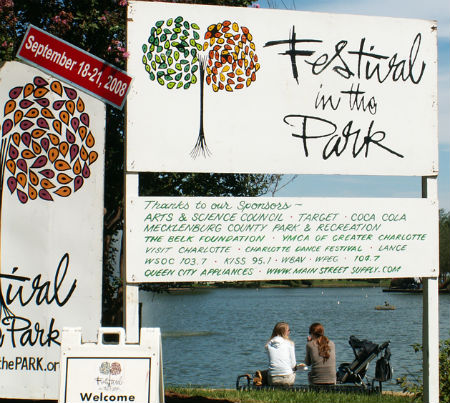 THE LAST FEW stragglers are out front loitering, but this weekend, everyone else files into place for fall. Now, you're going to see several more to-go cups of hot lattes, cardigans, and of course, everything pumpkin. (Is there pumpkin pizza? Asking for me.)
Oh, wait. There's just one more thing between us and true fall: It's going to rain all weekend. And next week. But that doesn't mean Charlotte's going to halt the fun until the weather is once again Instagrammable. There are still symphonies, and galas, and exhibits, and parties, and beer events.
And there are still festivals in the park. (One, in particular, comes to mind.) Just bring an umbrella; it'll be worth it.
---
CHARLOTTE SYMPHONY CLASSICS: BEETHOVEN SYMPHONY NO. 7
Beethoven's 7th symphony is supplemented by his "Piano Concerto No. 1" and Stravinsky's "Pulcinella Suite." Behzod Abduraimov is featured on the piano for this one. The show runs Friday (Sept. 25) and Saturday.
FESTIVAL IN THE PARK
In its 51st year, this Charlotte fixture is back with bands, 180 artists, and a wide array of food. The annual arts festival has become one of the city's premier fall destinations, drawing thousands each time. The event runs for three days and is free.
BECHTLER MUSEUM OF MODERN ART
The Bechtler is more than just a rolling roster of fine art exhibitions. Films, chamber music, and presentations tie into the works, with jazz concerts as a separate monthly offering. Portraying the Patron: Andy Warhol and the Bechtlers (through Jan. 18) displays the interaction between the famed art patrons and the pop-art legend in 1973. Sam Francis: Rapid Fluid Indivisible Vision (through March 7, 2016) explores the abstract expressionist work. Francis is known as "one of the leading interpreters of color and light," the Bechtler says.
---
NIGHT OF NUEVOLUTION
Preview the Levine Museum of the New South's newest collection on Latinos in the South on Friday (Sept. 25) at this one-night-only event. Aside from getting a glimpse of the new collection, the evening also features DJs, food, signature cocktails and giveaways.
QUEEN CITY'S LARGEST NETWORKING EVENT
The name says it all. Come out after work on Friday (Sept. 25) with more than a few of your fellow Charlotteans and get to know like-minded professionals. The event also features drinks, giveaways and activities.
ANNIE T. DOE MEMORIAL FOUNDATION BENEFIT GALA
The red carpet's being rolled out for this one, on Saturday (Sept. 26). Throw on your fancy shoes and prepare yourself for an elegant evening of fashion, food and fun. Last year, the gala raised, according to the event organizer, about $30,000, which helped fun education for 75 Liberian children. The evening starts at 7 at the Embassy Suites Charlotte.
---
UNCORKED
On Saturday (Sept. 26), the U.S. National Whitewater Center will host a wine festival featuring local, regional, and national wineries all in one spot. Guests can purchase individual tickets (valid for samples) for the all-day event.
FRESH LOOK AT SCHOOL FOOD
Heirloom's Chef Clark Barlowe has had a busy September, and as the month draws to a close, not much has changed. On Saturday (Sept. 26), Barlowe will moderate Fresh Look at School Food at Johnson and Wales, a discussion on improving cafeteria programs between Charlotte Mecklenburg School and Health Department representatives. There will also be a cooking competition between Barlowe and JWU Chef Megan Lambert.
THE GREAT CHILI COOKOFF
With a first-place prize of $2,500 for the day's best chili, this Saturday (Sept. 26) event means serious chili business. Along with the heaps of chili to warm you up s fall rolls in, the event also features music, games, a kid zone and beer and wine.
---
BEER
MECKTOBERFEST
Olde Mecklenburg Brewery welcomes fall this weekend with its annual three-day festival. Starting Friday (Sept. 25) and lasting until Sunday evening, this free festival includes German beer, food and live German music.
NATIONAL BEER MILE
Most races start with good, long stretches. For this race on Saturday (Sept. 26), though, you might want to see if you can stretch out your liver. While this race is only a mile, you stop at each quarter mile for a cold beer. After you've downed a third of a 12-pack and run (OK, let's be honest, stumbled) your way through the mile, VGBG hosts the after party with live music and bar games. There are two waves for the races.