This Weekend's Agenda: Arts, Food, Beer, & Social Events (9/4-6)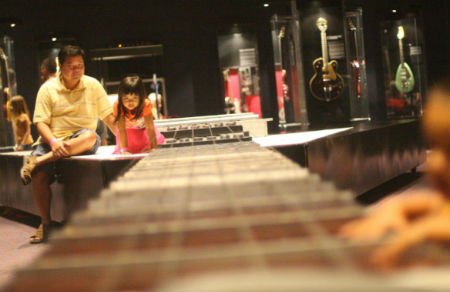 IN SEPTEMBER, the changeover between summer and fall is reflected in weekend events. Museum exhibits end, like Discovery Place's popular and massive guitar display mentioned below. Outdoors concert series start closing down for the year. And with local teams ending seasons, you have accompanying social events also come to a halt. You'll see that in these listings, too.
But with those ends come plenty of beginnings. There are returning festivals like Matthews Alive and next weekend's Yiasou Greek Festival. New museum programs will launch; restaurants will change menus. And don't forget the seasonal beers. So this weekend, say goodbye and hello to what Charlotte offers. Go big; it's Labor Day weekend, after all.
FOOD
SULLIVAN'S STEAKHOUSE
Today, Friday, September 4, from 5 to 9 p.m., Sullivan's will host a White Hot Party as a send off to summer. Guests are encouraged to dress in their favorite summer white attire. The evening will feature giveaways, food, and $7 signature cocktails, wines, and bar menu items. Highlights include the classic bar burger, flatbreads, and more. RSVP here or call 704-335-8228.
MATTHEWS ALIVE FESTIVAL
The annual street festival in historic downtown Matthews (the Downtown Matthews-Stumptown Park at 120 South Trade Street) will span four days, starting today, Friday, September 4, at 6 p.m. There will be a large parade, a full carnival, kids crafts, musical acts, tons of street vendors, and more. All proceeds benefit area non-profits; admission is free. The festival's hours are 6 to 10 p.m. on Friday; 9 a.m. to 9 p.m. on Saturday; Noon to 5 p.m. on Sunday; and 9 a.m. to 5 p.m. on Monday.
---
ARTS
SKYLINE ARTISTS IN RESIDENCE AUGUST SHOWCASE
See what's been produced by August's artists at the old Goodyear building in uptown. This month's slew: loops from experimental theatre company XOXO's latest work, Matthew Steel's newest sculptures, and paintings and mixed media from Robert Childers.
JAZZ AT THE BECHTLER – MILES DAVIS 1956: COOKIN', RELAXIN', WORKIN', STEAMIN'
One of jazz's patriarchs is paid homage by the Ziad Jazz Quartet. This specific concert focuses on his contractual obligation to Prestige Records, in which he produced records that comprise the subtitle for this Jazz at the Bechtler program: Cookin', Relaxin', Workin', and Steamin'.
LAST CHANCE TO SEE AN EXHIBITION: DISCOVERY PLACE
Science and fun collide at this kid-friendly venue. Even if they don't realize it, visitors learn the ins and outs of physics, biology, and chemistry. Guitar: The Instrument That Rocked The World (through Sept. 7) boasts the world's largest playable guitar, games, and a station for designing your own guitar.
---
SOCIAL EVENTS
BATS AND BUDS SEASON FINALE
Tonight is the Knights last home game of the season, and Draught wants you to help the boys go out with a bang. A $10 ticket gets you admission to the game, one beer before the game and two after the game. Check-in is from 5:45 p.m. until 7 p.m. at 601 S. Cedar St.
LABOR DAY BASH
Ashley Nicole from VH1's "Love and Hip Hop Atlanta" and Freekey Zekey & 730 Dipset perform tonight to help kick off your Labor Day weekend. DJ Fame also has beats spinning from 10 p.m. until 2 a.m. The bash is at Mynt Restaurant and Lounge, 1508 S. Mint St.
LAKE WYLIE MUSIC FEST AND CRAFT BEER EXTRAVAGANZA
Head a bit south of the border for this two-fest event. This year, the annual free music fest combines with a craft beer festival to create the "Extravaganza." The unlimited tasting and music gets underway at 2 p.m. at the Red Fez Shrine Club, 1600 Red Fez Club Road. Tickets are $40.
BEER
NODA BREWING RELEASES CANNED GORDGEOUS
Today, when the taproom opens at 4 p.m., you can get your very own cans of NoDa's pumpkin ale. The beer is a seasonal favorite of many in Charlotte, and before now, you could only get it in draft form. Though some may say it's too early for pumpkin years, many, many others are rejoicing.
GROWLER GALLOP
This Olde Mecklenburg Brewery event is actually a 5K race. The Growler Gallop starts at 4 p.m. and ends with a celebration. Live music and, of course, local beer will be a few of the elements involved.