This Weekend's Agenda: Arts, Food, Beer, & Social Events (April 29-May 1)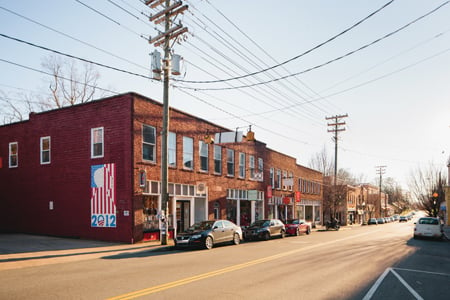 RAIN OR SHINE, on the first day in May, the streets are open.
Open Streets 704 arrives on Sunday. For four hours (12 p.m.-4 p.m.), three miles of road between NoDa and the Central Piedmont Community College's campus in Elizabeth are closed to cars for a street festival. Along the way, check out four "featured zones," including a family zone, arts and science zone, a green zone, and a wellness zone.
Open Streets 704 says it "aims to build a better, healthier, connected community by encouraging Charlotte and Mecklenburg area residents to walk, bicycle, and experience the city together in a way that's just not possible in a car."
As for the rest of the weekend:
---
INTERNATIONAL SANDWICH FESTIVAL
Bring your blankets and lawn chairs to the first International Sandwich Festival on Saturday, a community event honoring the diverse culture of Charlotte's east side. Sandwiches and street food from many of the cultures represented in east Charlotte will be available to try, and live entertainment—including Brazilian dancers and an international community choir—will begin at noon. There will even be a "Create Your Own Festival Sandwich" station exclusively for kids, where they can build their own sandwich creations and then pose with King and Queens of Sandwich crowns. Admission is free; food and drink available are for purchase.
CHARLOTTE WINE AND FOOD WEEKEND – TASTINGS
Tickets are still available for the tasting events this weekend, including for the Grand Tasting Tent at Romare Bearden Park in Uptown. Oenophiles: consider the Premier tasting events, which include the 1,000 Point tasting, where you can enjoy ten 100-point wines from across the globe.
ORDER/FIRE EPISODE #5
Get to Free Range Brewing a little early to grab a seat for the latest episode of Order/Fire on Sunday. This installment of the local culinary video series features Greg Auten of Pinky's Westside Grill, who also helped run The Penguin. Consider it a history lesson on the Charlotte dining scene—with beer.
---
'70S NIGHT
It's Disco Funk Fever on Friday (April 29) as Blue Olive Lounge turns back the clock to the era of peace, love and disco, baby. Throw on your best '70s wear, and get ready to party with $2 Corona and Corona Light. (The party is free.)
SOMBRERO BAR CRAWL
Get a head start tonight on your Cinco de Mayo festivities, which, by the way, is not Mexican Independence Day. Registration is at Vida Vida from 6 p.m. until midnight, and the first 500 people looking to stereotype Mexican culture will get a free sombrero to go with the copious amounts of Corona, Modelo and Dos Equis. Bubble, Suite, Blackfinn, Rooftop 210, Howl at the Moon, Tin Roof, Whisky River, and StrikeCity are also stops along the EpiCentre's crawl.
BARK IN THE PARK
This annual dog festival features live music, food trucks and events like dog costume contests, Huntersville Police Department K-9 demonstrations, largest dog contests and, of course, a cutest dog contest. The event is free unless you're interested in a "fun" run at 8:30 in the morning.
---
THE NEW LATINO SOUND
Witness the vibrancy of Charlotte's Latino music scene with Orquesta Mayor, Patabamba, Jahlistic, and Reinaldo Brahn. These are bands that call this city their home, and genres range from traditional samba to roots reggae.
CHARLOTTE SYMPHONY: BRUCH VIOLIN CONCERTO NO. 1
Bruch's concerto is the centerpiece for this program, with the German Romantic composer leading a group that also has Maurice Ravel and Vaughan Williams in the mix. Angelo Xiang Yu is featured on violin; Christopher Warren-Green conducts.
ROCK THE ED MUSIC FESTIVAL
For nearly a decade, the East Mecklenburg High School Foundation has raised funds and developed programs for East Meck students, teachers, administrators, and parents. Foundation members recently reached out to Cameron Lee, founder of CLTure Creative Group and the CLTure blog, with a new idea to raise money: They wanted to start a music festival, and they needed his help. Bands include Junior Astronomers, Ancient Cities, Sinners & Saints, Bless These Sounds Under The City, Serfs, and others. The festival hits Amos' Southend on Saturday.
---
BEER
BIG BREWS HIGH-GRAVITY BEER FEST
Be ready for a doozy. Each local beer on sample tonight packs a punch. At more than 10 percent alcohol by volume, these beers are "high gravity," so go easy, tiger. The party is at Whisky River on Friday. Tickets cost about $18 and include samples of eight high-gravity beers, pretzel necklaces, and an entry into the raffle to win an at-home brew kit! Repeat: Pretzel necklace.
PINTS FOR PAWS
If one dog event isn't enough or you, you're in luck. Olde Mecklenburg Brewery hosts this event at its brewery and invites you to bring your four-legged friends along. The event features raffles, giveaways, music, contests, vendors and even pet adoptions.