This Weekend's Agenda: Arts, Food, Beer, & Social Events (Feb. 26-28)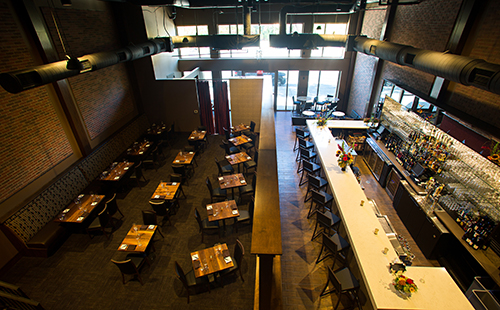 IF YOU'RE looking for CIAA parties and events, look no further than Jarvis Holliday's list here. He went through entry after entry to compile an elite list of 30 events. Otherwise, check out other happenings below, organized by category. (Click the category to see more.)
---
FRIDAY FISH FEAST AT PASSION8
This Friday (Feb. 26) and every Friday through March 25, Passion8 offers guests a special, three-course menu designed just for Lent.
FEAST FOOD TOURS: LOCAL FLAVORS OF HISTORIC NODA
Spots remain for this weekend's Local Flavors of NoDa Tour. Hear the stories, gain exclusive access behind the scenes, and enjoy samples of the cuisine served by some of the restaurants, chefs, and artisans of Charlotte's historic North Davidson neighborhood. If you can't make this one, look to March for additional spots for this tour and others throughout Charlotte, including the Dives to Dining Plaza Midwood Tour.
ORDER/FIRE VIEWING PARTY NO. 3
Visit Free Range Brewing this Sunday for a viewing of the latest Order/Fire, an original video series focused on the Charlotte culinary scene. The third episode features Chef Alyssa Gorelick of Chef Alyssa's Kitchen, who joins host Marc Jacksina, chef at Earl's Grocery, for a candid conversation. The series is a collaboration between Jacksina, Peter Taylor, and Darius Monte Evans.
---
THE BOOK OF MORMON
This musical is no stranger to walkouts, but it still sells out when it comes to town. The Trey Parker-Matt Stone creation follows missionaries who find themselves at odds with each other and their given mission. Read our four things to know here.
NEW FREQUENCIES AT MCCOLL CENTER
A regional premiere, Stephanie Barber's Daredevils is screened as part of the ongoing New Frequencies series on Friday (Feb. 26). The experimental film focuses on a writer who interviews an artist and the broader themes of risk-taking and the nature of art.
AN EVENING WITH PATTI LABELLE
This R&B singer has been a staple of the genre since the doo-wop days of the 1960s. She's remained in the spotlight through tours and acting appearances in shows like American Horror Story: Freak Show and A Different World. She performs in Charlotte Saturday.
---
GREASE IT UP PARTY
If you haven't gotten enough of your Rydell High fix from Grease Live, Mona's Lounge is throwing a "Grease"-themed party on Friday (Feb. 26). Come dressed as Danny, Rizzo or any of your favorite characters from the classic. The free party starts at 9, and DJ BOB will spin the beats tonight. Mona's is a trek – 138 Village View Drive in Mooresville – but did we mention it's a "Grease"-themed party?
TYBERPALOOZA
Tyber Creek Pub's annual two-day festival is back this weekend. Friday night hosts the pub's annual Flip Cup tournament with $200 in prizes up for grabs. The fest features a cornhole tournament on Saturday with more prizes up for grabs.
THIRD ANNUAL TOGA PARTY
North Mecklenburg County is really bringing it's A-game with the themed parties this weekend. Bring out your togas (because we all just have those somewhere around our homes, right?) and get ready to get down on Saturday. The free toga party starts at 9 p.m. at On The Roxx in Cornelius.
---
GOOD MORNING BREAKFAST
Good Bottle will be pouring NoDa's Hop Cakes, Burial's Bolo Coconut Brown, Wicked Weed's El Paraiso (an imperial stout brewed with coffee and cocoa nibs) and Sixpoint's C.R.E.A.M. Ale (a blonde ale brewed with coffee). There will also be donuts from Your Mom's Donuts and coffee available from Magnolia Coffee.