This Weekend's Agenda: Arts, Food, Beer, & Social Events (March 25-27)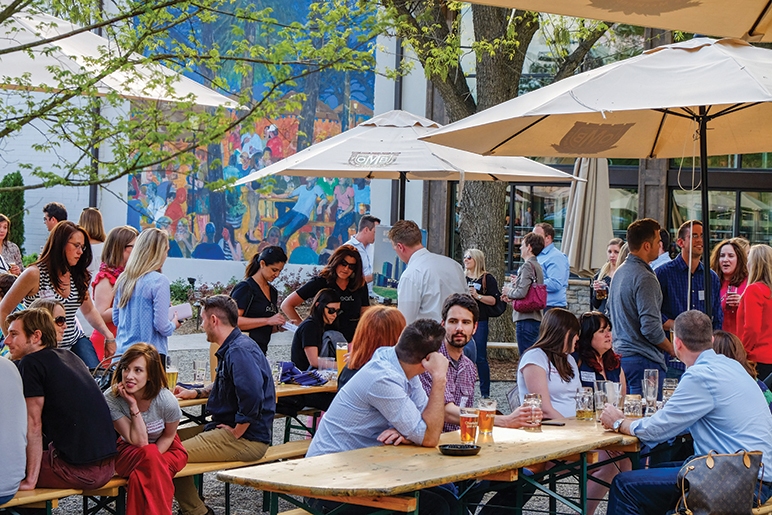 EASTER WEEKEND is here. And though Charlotte-Mecklenburg Schools is now on spring break, the fun isn't reserved for kids only. (Egg hunts, either, if you look under "Social Events.") Below, you'll find a category-by-category breakdown of what the weekend holds. Click the headers to see more events in those categories.
---
EASTER SUNDAY BRUNCH AT FORK!
Enjoy Chef Groody's daily curated menu, including a chef's selection of eggs benedict, shrimp and grits, fried chicken and waffles and French toast. Dine inside or take in the Easter Sunday sunshine on the restaurant's cozy front porch. Call for reservations.
7TH ANNUAL EASTER BRUNCH AT THE LIBERTY
This casual brunch starts with fresh buttermilk biscuits for the table, then lets you choose from several salads or a she-crab soup before enjoying the main course. Entrees include choices like shrimp and grits, pan-fried chicken with an herb-pecan waffle and Sriracha honey, and Southern Ham with smoked Gouda mac and cheese. Finish off with one of four decadent dessert options.
EASTER BRUNCH AT AIX EN PROVENCE
Enjoy a French-inspired Easter Brunch in the heart of Myers Park this Sunday. In addition to Chef Nick's three-course menu, the restaurant will offer several drink specials for the occasion. Call to reserve.
---
MAD MONSTER PARTY
Halloween comes early at this annual horror- and fantasy-themed convention this weekend. The convention lasts all weekend, giving Easter Sunday a special chill. Events tonight range from a "Night of the Living Dead" question-and-answer session at 6:30 p.m. to Scaraoke at 11 p.m. and a magic show at 11:11 p.m. The scaring begins at 555 S. McDowell St.
HEAVENLY WHITE PARTY
Welcome the start of spring in all white on Friday. Label is throwing its white party tonight, starting at 9. The party will feature confetti cannons, light shows, costumed performers and artists and dancers. All-white attire is (obviously) required to attend.
BAGS AND BUNNIES CORNHOLE BAR HOP
An Easter-themed bar hop officially banishes winter to its icy hole from where it came. That's the rule, right? This bar crawl bills itself as "part cornhole, part putt putt, part bar crawl and all fun." At this crawl, Charlotteans travel to seven Uptown bars, as they toss cornhole bags up and down staircases, over obstacles and at moving targets. A ticket that costs about $12 gets you prizes and drink specials that concludes at the 19th hole party at TILT on Trade, where there will be an Easter egg hunt with hundreds of dollars in cash and prizes awaiting you. Registration starts at 5 for teams of two.
---
SISTER HAZEL
Florida's Sister Hazel first broke through with "All For You" in the 1990s, when acoustic-driven alt-rock was at its prime. With more releases and a more evolved sound, the band has continued to tour throughout the country. They're joined by JD Eicher and Brad Ray.
THE MIRACLE WORKER
This classic tale describes the relationship between teacher Annie Sullivan and Helen Keller, who struggled with deafblindness. The play and film were informed by Keller's autobiography, The Story of My Life.
RUN RIVER NORTH
Folk-rock ensemble Run River North used to be known as Monsters Calling Home. The band changed its name but kept its sound. Charlie King joins the Korean-American band for the Neighborhood Theatre show.
---
See which brewery is celebrating an anniversary this weekend here.