This Weekend's Agenda: Arts, Food, Beer, & Social Events (Oct. 16-18)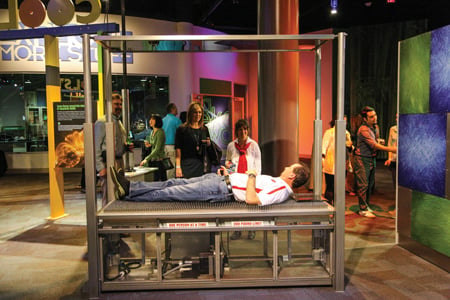 RIGHT NOW, in South End, there's a living room.
Well, that's no surprise. Plenty of houses there. But the Neighborhood Living Room is something else entirely. In the parking lots of Dilworth Artisan Station, this public event runs through the weekend and brings coziness outdoors. Stop in, play a game, watch some live music, grab some food or coffee, paint a pumpkin, and this Sunday, tailgate with other Panthers fans. Check out the full schedule here.
Down the road on Saturday, head a couple miles down the road to the Little Sugar Creek Greenway. That's where the master plan for the Cross Charlotte Trail, the 26-mile bike trail and greenway, will be celebrated. They've finalized the route, so get a preview with bike and walking tours. More details on that here.
Otherwise, check out our category-by-category breakdown of other weekend items below. Click the category for extended listings; click the event to get more details on our loaded calendar.
---
CAROLINA JUBILEE
On Friday and Saturday (Oct. 16-17), from noon to midnight each day, VanHoy Farm (located at 742 Jericho Rd., Harmony, NC) will host Carolina Jubilee 2015, an annual musical event with the mission of providing support for the farm to table initiative with locally produced food and beverages. Local and regional farms will be represented and education will be provided to guests on the importance of the industry and its sustainability.
SOUTH END WINE FESTIVAL
On Saturday, head to the corner of Mint St and Carson Blvd for the annual South End Wine Festival. Enjoy unlimited tastings from 20 different vineyards plus live music and, of course, food trucks. All proceeds benefit Classroom Central and their mission to equip students living in poverty.
UNC CHARLOTTE INTERNATIONAL FESTIVAL
On Saturday, head to the UNC Charlotte Barnhardt Student Activity Center for the 40th Anniversary International Festival. The event celebrates people, places, and culture diversity with food, art, music, dance, and games. There will also be fireworks to mark the close of the festival. Admission is free.
---
CHARLOTTE BALLET: FALL WORKS
There are three pieces for the autumn event: Sasha Janes creates a new, so-far-unnamed piece; Jiri Kylian's Forgotten Land returns; and artistic director Jean-Pierre Bonnefoux's Shindig brings back the bluegrass. The show runs Friday and Saturday (Oct. 16-17).
FIDELIO
Opera Carolina offers Beethoven's only opera, with three performances spread over more than a week. Performers include Maria Katzarava as Leonore and Andrew Richards as Florestan. This weekend's performance takes place Saturday.
GREEN RIVER ORDINANCE
The band infiltrates the Neighborhood Theatre with its Texas brand of pop-rock on Sunday. Fifteen, their fourth full-length LP, was released last month. The band is named for the city ordinance that bans door-to-door solicitation.
---
SCIENCE ON THE ROCKS: FRIGHT AT THE MUSEUM
Adults take over this children's museum in the monthly installment of Science on the Rocks on Friday (Oct. 16). October's event is all about Halloween, featuring spooky science experiments, a Fear Factor challenge, cockroach racing, a zombie shoot-out and a spider web obstacle course. On top of that, there's a costume contest for all the grown-ups, so come dressed in your scariest of costumes. Cash bars are located throughout the museum.
BACK IN TIME HALLOWEEN SEASON KICKOFF PARTY
To celebrate the 30th anniversary of Back To The Future and the day Marty McFly went to the future, Oct. 21, 2015, On The Roxx is throwing a Back to the Future-themed costume contest on Saturday. Throw on your best Biff or Doc Brown garb and be ready to get "Back in Time."
A LIFE AS BRIGHT AS THE VEGAS NIGHTS
No need to head out to Sin City this weekend. Charlotte's bringing the casinos to you on Sunday. A $60 ticket buys you unlimited beer, wine and appetizers as well as gaming. Plus, the funds are to help two children who just lost their mom. We can get on board to support this one. The night of gambling and drinking happens at Draught.
---
BREWER'S BALL
Here's a chance for you to drink lots of beer and do something that benefits others on Saturday (Oct. 17). Benefiting the Cystic Fibrosis Foundation, the Brewer's Ball features unlimited beer, wine and cider as well as food tastings. The evening also features an auction and other live entertainment. Plus, the event is at Discovery Place, so let the inner child in you run loose.
GOOD BOTTLE CO.
The final celebration for Good Bottle's week-long, 3rd-anniversary celebration comes Saturday beginning at 9 a.m. as part of Good Bottle's "Good Morning" breakfast series. For the three-year anniversary edition, there will be free cinnamon toast courtesy of Bethlehem Bread Co., along with coffee pourovers from Central Coffee. The taps will include 2014 bourbon barrel-aged St. Tuber Abbey Ale from Birdsong, Burial's Skillet Donut Stout, 2014 Event Horizon from Olde Hickory, Prairie Bomb! and Wicked Weed's Silencio.