This Weekend's Agenda: Arts, Food, Beer, & Social Events (Oct. 30-Nov. 1)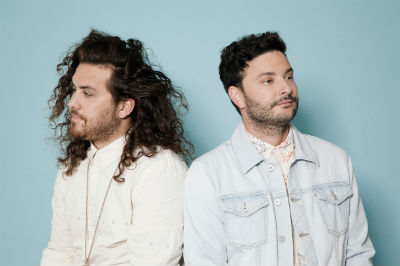 THE SPOOKIEST weekend of the year is upon us.
What are you doing with your Halloween? Well, whether you want to recognize the holiday or not, there's plenty to do in the categories of food, arts, beer, and social events. Ah, for one, am so excited to premiere my costume: Contributing Magazine Editor with Dad Bod.—Andy Smith
---
FOREVER YOUNG: AN '80S PROM AND HALLOWEEN PARTY
Turn back the clock tonight and get ready to dance to the tunes of the '80s on Friday (Oct. 30). Pick your poison tonight: come dressed in your '80s prom attire or a Halloween costume. The Duke Mansion celebrates its 100th birthday this year, so this bash will be huge. Chef Harrison Booth provides the free food, and the band Bad Daddies provides the music.
NIGHTMARE ON FIFTH STREET BAR CRAWL
If one bar crawl in Uptown isn't enough for you, tonight's your night. This costumed crawl begins at Fitzgerald's on Friday and then travels to The Local, Prohibition, SIP, Ri Ra, Connolly's, Roxbury and, finally, TILT on Trade.
HALLOWEEN PUB CRAWL
Brought to you by the same duo who sponsors the extraordinarily epic St. Patrick's Day pub crawl, Rich and Bennett invite you to their 15th-annual Halloween bar crawl on Saturday (Oct. 31). This year features more than 20 Uptown bars, which will all feature drink specials throughout the evening. There's a contest for best individual and best group costume, so come prepared.
---
SKYLINE ARTISTS IN RESIDENCE SHOWCASE
This month's group of artists at the old Goodyear building in uptown includes poet/artist de'Angelo Dia, illustrator Lisandro Herrera, and installation artists Leah Mulligan Cabinum and Foozhan Kashkooli. For the last few months, a new crop of artists have come in to help transform the building before it's upcoming demolition. Friday (Oct. 30) brings the showcase for the October artists.
JR JR
"Indie pop" is a term often associated with JR JR, the Detroit band formerly known as Dale Earnhardt Jr. Jr. The NASCAR driver himself is a fan and expressed disappointment when the group announced its name change this summer. Synth act Brothertiger opens. The set comes Friday.
CORALINE
Neil Gaiman's spooky novella comes to life, courtesy of Children's Theatre of Charlotte. This show is recommended for kids 8 and above, as the scariness of the source material is faithfully adapted. This Halloween season, follow this girl protagonist through the magic door that kicks off this adventure.
---
D9 BREWING
The Cornelius brewery is pulling out all the stops this Friday (Oct. 30) as part of celebrating one year in production. Starting at 2 p.m., D9 will host its one-year anniversary party and haunted taphouse. The event is highlighted by a special 12-tap takeover of new beers, each paired with a different kind of candy.
NODA BREWING 4TH ANNIVERSARY PARTY
NoDa's Spooky Saturday, part of its anniversary celebration that extends through the weekend, looks to be serving up only taproom treats with 2014 Monstro and arguably the brewery's sleeper hit of last year, Captain Peanut Butter's Chocolate Revenge, which was also released during the Monstro event. Captain Peanut Butter quickly drew raves around the taproom that morning, and has been in enough demand that you just might see it again down the road in a larger capacity at NoDa (hint, hint).
UNKNOWN BREWING
Unknown is also releasing a special beer in honor of the holiday weekend, and this is the second in the brewery's Day of the Dead series (you may recall last year's bottle, "La Jordana del Escorpion en Fuego Hacia la Casa del Chupacabra Muerto," or simply "Escorpion en Fuego," which was brewed with agave nectar, serrano peppers and yes, 99 scorpions, before being aged on tequila oak staves.
---
BONTERRA
On Friday (Oct. 30), Bonterra will host its Robert Foley wine dinner. Space is limited and reservations are required for the five-course wine dinner which costs $115 per person. Already planned dishes include wild boar chops with cauliflower gratin and Brussels sprouts petals as well as a tart with chocolate, blue cheese, and pistachio.
WICKED WINE HALLOWEEN TOUR
Tip your glass to this wonderfully wine-themed event on Saturday (Oct. 31). This "boo-tiful" tour brings you to five different vineyards for tasting and back before the sun goes down for those werewolves in tow. The bus departs at 10 a.m. from 900 Metropolitan Ave.
ORDER/FIRE
This Sunday (Nov. 1), Chef Marc Jacksina will host the premiere of Order/Fire at Free Range Brewing. There will be live music by the Loose Lugnuts, plus the first 100 beers are being provided by Asterisk Creative. This first episode of Order/Fire, Charlotte's culinary video web series, will feature Chef Clark Barlowe of Heirloom Restaurant. Order/Fire is produced and filmed by award winning photographer and director Peter Taylor. Each episode aims to get a behind the scenes look at the area's leading culinarians, mixologists, restaurateurs, purveyors and farmers.