This Weekend's Agenda: Arts, Food, & Social Events (Feb. 19-21)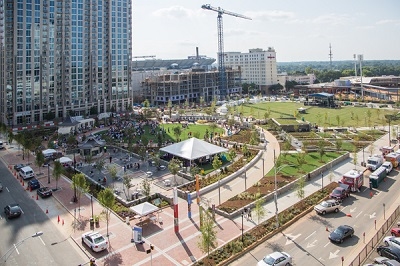 MY FIRST suggestion would be that you just get outside this weekend. I've checked three weather apps, and they all say it's going to be warm and clear outside. This is not a drill. Put the leash on the dogs, place the baby in the stroller, go to a park, bask in the sunlight—get out there, guys. And when you're done with that, make it to one or more of these weekend events.
---
CHARLOTTE SYMPHONY: GERSHWIN & COPLAND
Pianist William Wolfram joins the symphony to bring the classic pairing of Gershwin and Copland to the stage again. Enjoy Gershwin's "Rhapsody in Blue," Copland's Our Town score, and more. The program runs Friday (Feb. 19) through Saturday (Feb. 20).
THE BEACH BOYS
Charlotte isn't a city where you'll find a lot of surfboards. But the bouncy and infectious harmonies have found millions of fans in every climate. A note for purists: This show doesn't include Brian Wilson, David Marks, or Al Jardine. But if you're more interested in hearing the classic songs, rather than specific personnel, you'll find what you're looking for with this Ovens Auditorium show. The venue is where the Beach Boys have historically frequented, but they haven't played a show in Charlotte since 2003. The show arrives Saturday.
JOURNEY TO OZ
In Journey to Oz, the classic Wizard of Oz narrative is reimagined as an immersive, interactive story in which audience members are assigned characters. The experimental show will be filmed on Feb. 20 and Feb. 21 for archival purposes.
---
SEOUL FOOD MEAT CO. OPENING
Celebrate the Saturday opening of SouthEnd's newest restaurant: Seoul Food Meat Co. Chef and native Charlottean Tim Chun has designed a menu of Korean-inspired smoked meats, along with Korean-fried chicken and fusion side dishes, like slaw made with kimchi. Learn more about this new concept and the couple behind it, then stop in Saturday to enjoy select items from the menu.
FITZGERALD'S TURNS FOUR
This Uptown spot turns 4 on Friday, and so it's celebrating by offering $4 U-call-its and a free buffet from 5:30 p.m. until 6:30 p.m. This free party is at 201 E. Fifth St.
---
SCIENCE ON THE ROCKS
Discovery Place turns up the heat on Friday (Feb. 19) with its February adults-only night. This month features fire demonstrations, dry ice experiments and liquid Nitrogen Baileys-flavored ice cream among other activities. Tickets are $8 in advance or $10 at the door.
BANANA BAR CRAWL
Get ready to split and go bananas, Charlotte. The Banana Bar Crawl is back for its fourth year of potassium-packing partying. This year, the crawl takes Charlotteans dressed as bananas to Whisky River, Blackfinn, Suite, BAR Charlotte, Fitzgerald's, Prohibition, Whisky River, SIP and Bubble.
GUYS AND DOLLS AUCTION AND GALA
Pony up $125, and you'll get a five-hour open beer and wine bar, heavy appetizers, access to a DJ and dancing, and free entrance to Uptown after parties. The fundraiser sends funds to the Cystic Fibrosis Foundation, and last year, about 700 people filled this party. Doors open to this black-tie-optional party at 6:30 p.m. at the Hilton Charlotte Center City.