This Weekend's Arts Events (9/11-13)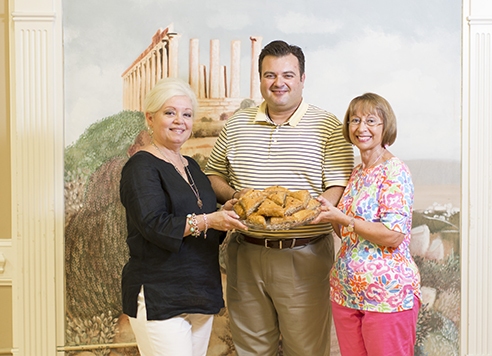 FRIDAY
VAN HALEN
For the past nine years, David Lee Roth has again been at the mic stand for the band, which comes to PNC Music Pavilion this weekend. The regal, fictional character Joe Dirt once stated his allegiance with this line: "Van Halen, not Van Hagar."
YIASOU GREEK FESTIVAL 2015
From our 50 Things Every Charlottean Should Do list: The festival began in 1978 and has grown into one of the premier late-summer events in Charlotte. John Tsumas, president of the parish council at Holy Trinity Greek Orthodox Cathedral, estimates about 50,000 people come through the gates each year, with hundreds of volunteers helping make this a must-do event in the city.
"We've been a part of Charlotte for a long time," he says, adding that while the cathedral has been at the current location for 60 years, the institution has been around for more than 90 years. "The goal is to offer the culture of our community so that people learn more about the church and the Greek tradition."
ZZ WARD
ZZ Ward is a favorite in the Coachella and Bonnaroo circuits. Hear her blues-rock music in a more intimate setting at the Fillmore. Her latest LP,This Means War, came out this past June.
LA CAGE AUX FOLLES
The revivals of this comedy-musical keep adding Tony Awards to the collection. In this Theatre Charlotte production, the owner of a drag club tries to hide his relationship with another man from his son, who brings home his fiancee. The potential in-laws turn out to be ultra-conservatives.
SATURDAY
CHATHAM COUNTY LINE
Raleigh's Chatham County Line brings bluegrass to town, and fellow Triangle act Bombadil adds some folk-pop as an opener for this Neighborhood Theatre show.
1065 THE END PRESENTS WEENIE ROAST '15
I'm going to throw a lot of names at you, so bear with me: Stone Temple Pilots, Live, Langhorne Slim, Passion Pit, Bleachers, Atlas Genius, Blues Traveler, and Mutemath. See them and a few others at PNC Music Pavilion.
RIVER JAM
On Thursdays and Saturdays, River Jam adds bands to the outdoor-enthusiast vibe at the U.S. National Whitewater Center. Check out the center's wide selection of food and beer to enjoy with the tunes.
SUNDAY
AN EVENING WITH MICHAEL W. SMITH
The name "Michael W. Smith" is synonymous with contemporary Christian music (and infomercials in the 1990s). The artist's music has lasted three decades. Head to Knight Theater for a night of worship and storytelling.
21ST FESTIVAL OF INDIA
Through arts, dance, speakers, food, and handmade goods, explore Indian culture in uptown. The festival packs Belk Theater on Saturday and Sunday.