This Weekend's Arts Events (9/18-20)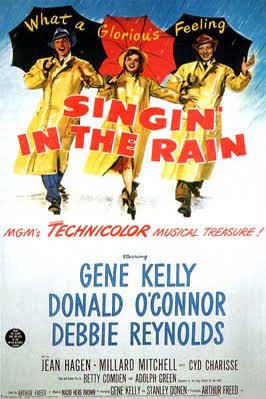 The ASC has its own line-up of free events as part of Cultural Free for All this week. Read more about that here. Otherwise, check out other offerings in town below.
FRIDAY
THE JAZZ ROOM
Jazz vocalist Sasha Masakowski comes to the Stage Door Theater to cover the songs of Antônio Carlos Jobim and other Brazilian tunes. Jobim is a legend in the worlds of bossa nova and Latin jazz.
CHARLOTTE SYMPHONY POPS: SINGIN' IN THE RAIN
In sync with the 1952 musical film Singin' in the Rain, the Charlotte Symphony Orchestra plays the score. Albert-George Schram conducts this experience for lovers of film and the symphony experience.
JANET JACKSON
You can actually call this one a comeback, LL Cool J. Jackson's returned in a big way, with new songs and jewelry line. This date is part of her current world tour.
SATURDAY
THE LONE BELLOW
Starting as a solo act from Zach Williams, The Lone Bellow has evolved to a full-fledged alt-country band. Their latest, Then Came the Morning, was released this year.
TOSCO MUSIC PARTY
The "living room" vibe from the early days, as described by John Tosco himself, is carried over to the Knight Theater. Fifteen acts offer a song or two, with a jam at the end.
RIVER JAM
On Thursdays and Saturdays, River Jam adds bands to the outdoor enthusiast vibe at the U.S. National Whitewater Center. Check out the center's wide selection of food and beer to enjoy with the tunes from groups like Dead 27s and Ancient Cities.
STONECREST SUMMER CONCERT SERIES
This Friday-Saturday program offers two stages for the Saturday portion. The Greg Lilley Band tackles multiple dates in August and September.
SUNDAY
BECHTLER MUSEUM OF MODERN ART
The Bechtler is more than just a rolling roster of fine art exhibitions. Films, chamber music, and presentations tie into the works, with jazz concerts as a separate monthly offering. Portraying the Patron: Andy Warhol and the Bechtlers (through Jan. 18) displays the interaction between the famed art patrons and the pop-art legend in 1973. Sam Francis: Rapid Fluid Indivisible Vision (through March 7, 2016) explores the abstract expressionist work. Francis is known as "one of the leading interpreters of color and light," the Bechtler says.
THE PATRON SAINT OF LOSING SLEEP
Call center rep Ada has insomnia. Things get complicated when a caller's drama enters her life. Actor's Theatre of Charlotte puts on this humorous production.
LA CAGE AUX FOLLES
The revivals of this comedy-musical keep adding Tony Awards to the collection. The owner of a drag club tries to hide his relationship with another man from his son, who brings home his fiancee. The potential in-laws turn out to be ultra-conservatives.