Thom Tillis Is the Strategist
In a dozen years, Tillis went from IT pro and volunteer youth sports coach to the state's Speaker of the House. Now, after leading the Republican Party to an unapologetic romp in this year's legislative session, he's after an even bigger prize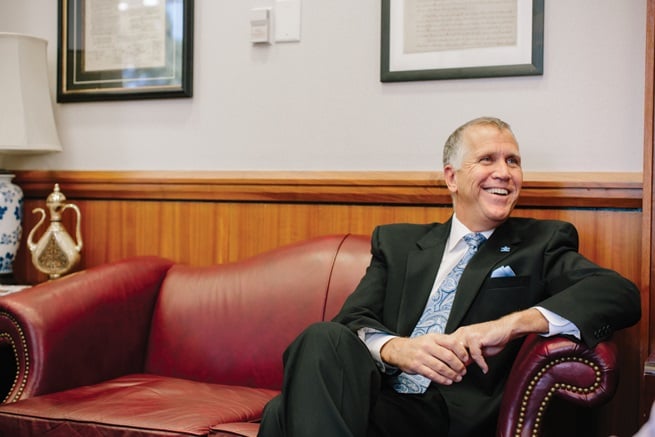 On a spring day in 1999, Jeff Tarte, then director of the youth sports leagues in Cornelius, stood on a baseball diamond at Smithville Park and eyed his volunteer coaches, who were lined up against a chain-link fence. There were about 15 of them, a few veterans, some new guys. Most kept quiet and waited for Tarte to speak.
One guy stood out: a fit six-footer with a quick smile, direct manner, and close-cropped hair under, oddly, an orange-and-white Tennessee Volunteers cap. Hey, buddy, Tarte thought. You're in the wrong state. But Tarte took to the new fellow, who had just moved to town from the suburbs of Washington, D.C. Like Tarte, Thom Tillis was an information technology management consultant and had an interest in community activities and youth sports.
Something else caught Tarte's attention: Tillis took charge of things without bullying his fellow volunteers. While the other coaches hung back, he asked questions and listened intently, encouraging the others to do the same. "He was automatically the leader in organizing the activities for the coaches. He was just a natural," Tarte says. "He was just front and center. And he's just personable—that big, beaming smile, always cutting up a little bit, but in a good way, with a laugh that's totally infectious. There's no task beneath him, and that's an amazing thing."
The two became friends and neigh­bors—Tarte lives in Cornelius's pricey Peninsula development, and Tillis lives just outside it, about a half-mile away; Tillis runs past Tarte's house, and Tarte bicycles past his. In 2007, Tarte ran for Cornelius mayor and won. Tillis, who by then was already representing northern Mecklenburg County in the N.C. House, swore him in. After the brief ceremony, Tarte did something odd: He turned to the audience and said, "I want to personally thank the future Speaker of the House for swearing me in."
Tarte was prophetic. Tillis was elected N.C. House speaker in 2011. A year later, Tarte won a seat in the state Senate. Now, as Tillis embarks on his run for U.S. Senate, Tarte thinks about that initial encounter on the baseball field in Smithville Park and what it signaled about Tillis before either of them had considered a serious run for public office.
"It told me," he says, "that he has extreme self-confidence."
Thom Tillis tends not to ruminate. This doesn't mean he's impulsive, or that he forges ahead with little or flawed information. He just moves quickly. He spent nearly 30 years in management consulting, working for big businesses such as IBM and PricewaterhouseCoopers. Business consulting places a premium on quick evaluation of available information and rapid action. Wasting time wastes money.
His ascent to the leadership of the N.C. House is one of the most rapid political rises in the state's history. It wasn't so much the product of careful planning but, in the strictest sense, opportunism. Tillis, 53, saw chances and placed himself in a position to take advantage of them. He enlisted prominent businesspeople throughout North Carolina for endorsements and campaign funds. That opened other doors, and he walked through them. Simple as that.
The latest doorway may lead next November into the U.S. Senate, just 12 years after Tillis began his political career by joining the Town of Cornelius's Parks and Recreation Advisory Board. Tillis explains his candidacy not with the standard politician's bromides about how the nation has "lost its way" and is in need of "strong leadership." It's plainer and more practical: strategy.
"I believe it's a critical part of Republicans gaining a majority next year," Tillis says. We're in his office in the Legislative Building in Raleigh. It's early September, the day after the General Assembly has finished a brief session to override a pair of gubernatorial vetoes, and the building—host to an extraordinarily contentious legislative session, complete with mass weekly protests—is oddly quiet. "This is the swing state; it's the only state that Romney carried that's considered a legitimate swing state, and I feel strongly that we have to have somebody with a statewide presence who can run a credible campaign. That's the primary reason I decided to do it."
The North Carolina race is one of four expected to determine whether Republicans gain the majority in the U.S. Senate—which would give the GOP control of both houses of Congress for President Obama's final two years in office. The other three races are in Alaska, Arkansas, and Louisiana, Republican-dominated states where the incumbents are Democrats. If Tillis beats first-term Democratic Sen. Kay Hagan in North Carolina, a state with more Democratic than Republican reg­istered voters, it's a strong sign that the other races will swing to the GOP, too.
On the surface, it's an ideal time for Tillis to run. It'll be his first statewide race; if he wins the primary, Hagan will be only the second opponent he's ever faced head-to-head. But he's earned statewide recognition as the leader of the N.C. House supermajority in a legislature that, since 2010, has made national headlines for its aggressive shift to the right.
Tillis has helped push conservative, pro-business legislation on issues ranging from tax and regulatory reform to a rollback of environmental protections to education reform. Those efforts prompted the American Legislative Exchange Council, a corporate-backed organization that drafts and lobbies for pro-business legislation in statehouses throughout the country, to name Tillis its 2011 Legislator of the Year. Tillis joined ALEC's national board of directors this spring. Those connections and accomplishments provided him with a platform for fundraising. In June, the first formal month of his campaign, Tillis raised more than $275,000, much of it from CEOs and business leaders.
Hagan is vulnerable, as first-term senators tend to be. There are other reasons, too. "She is not well-defined, so that gives Republicans a lot to work with," says Jennifer Duffy, a senior editor for The Cook Political Report in Washington who's covered the Senate for a quarter-century. "They can also take advantage of a situation where the president is not terribly popular, especially on issues like health care. … Voters, when you ask them about her, they can't tell you about her, and when Republicans talk about her, they can say, 'Well, she supported health care reform.' She didn't really win this race six years ago. Elizabeth Dole lost it."
But Tillis's candidacy carries its own complications. Tillis has publicly cautioned his own party against legislative "overreach," which has prompted accusations from state and national tea party organizations that he's trying to moderate for the sake of his Senate campaign. Members of his own party in the General Assembly have criticized him for leaving Raleigh to raise money for his Senate campaign in Washington during key floor debates in the House. And he's been stung by reports that he pushed strongly for plum appointments to the University of North Carolina Board of Governors for some of his top campaign contributors, precisely because they were some of his top campaign contributors.
During this year's legislative session, some of Tillis's most revealing moments came not during debates in the House—as Speaker, he sponsored only five bills, none of them controversial—but outside the chambers. At the height of the Moral Monday protests in April, state NAACP President William Barber posted a video that shows Tillis chatting amiably with citizens in the Legislative building. Then, as Barber repeatedly calls, "Mr. Speaker," Tillis ignores him and retreats to his office. "I'm afraid Dr. Barber needs to get with my office and set up an appointment," he tells the videographer. "I have to keep a tight schedule."
In August, during the Moral Monday protest in Marshall Park in Charlotte, UNC law professor Gene Nichol included Tillis in what he called "the Mecklenburg trio," along with Gov. Pat McCrory and N.C. Sen. Bob Rucho of Matthews. Nichol said the three are devoted "to waging war on poor people and granting more largesse to the wealthiest North Carolinians. Our governor and our General Assembly looked at those strong inequalities and decided to make them deeper."
In the first month of his formal campaign for U.S. Senate, Thom Tillis raised more than a quarter-million dollars. The list of donors looked like a who's who of the state's top business executives.
Tillis waves aside the criticism, saying he tried to guide the House in the conservative direction most voters wanted. "Those are old political stand­bys," he says. "If I weren't here, they'd be saying that about somebody else."
His popularity with voters hinges largely on how the effects of his legislative work play out over the next year. What's undeniable is that Tillis is corporate to the core, in style and substance: process-oriented, devoted to detail, adept at building and operating complex systems, more practical than ideological, devoted to making government operate as much as possible like the corporations he's worked for and whose needs he serves—and focused on the endgame.
He does his homework. The day we meet in his legislative office, his communications director explains that Tillis was hesitant to grant an interview to me because I've written blog posts on this magazine's website that have criticized the General Assembly's leadership.
Tillis doesn't mention the blog during our cordial 25-minute conversation. But as I get up to leave, he says something surprising.
"You still have Ophelia?" he asks, grinning. "I love German Shepherds. I used to have one back when I was a teenager. Beautiful dogs."
Through social media, it's not difficult to discover that I do, in fact, have a German Shepherd named Ophelia. But it's telling that Tillis or someone working for him made the effort to look me up before our lone conversation—and even more telling that Tillis made sure I knew it.
"He's sort of like a chess player," says Tarte, his old friend. "His thinking is three-dimensional. He's always two, three, four steps ahead. I think that comes from his management expertise. But I also think that's innate."
From an early age, Tillis hustled. His father, Thomas Raymond "Ray" Tillis, was a boat draftsman whose work took him from Jacksonville, Fla., where his first son was born on Aug. 30, 1960, to jobs around the country. His mother, Margie, was a stay-at-home mother in the traditional mold. (Tillis has three older sisters and two younger brothers.)
One of his dad's jobs was in West­­­wego, La., on the west side of the Mississippi River and just upriver from New Orleans. It's home to Avondale Shipyard, which was one of the nation's largest and most active shipbuilding companies. It was there that young Tillis began looking for creative ways to earn money. One of his neighbors was an elderly woman who said she needed her cat walked. So Tillis did it in exchange for cash or, if that was short, biscuits. "Who walks cats?" his sisters and brothers asked him. "Anybody who wants to make some money," he replied.
The Tillis kids had to make the most of short stays in temporary homes. The family, Tillis says, moved 20 times by his 17th birthday, shuttling a few times between Westwego and Jacksonville as available work dictated. He never attended the same elementary school two years in a row. His first real stability came in his teen years, when the family settled in the Nashville area. Tillis was student body president in his senior year at Antioch High School, and when he graduated in 1978, his classmates had voted him most likely to succeed.
The itinerant childhood wasn't ideal, Tillis says, but it did teach him how to adapt to unfamiliar territory. "In my case, it was really a great experience, because it put me in a situation where, year to year, I had a new set of friends, new set of teachers, new set of priorities, new community," he says. "And frankly, it probably laid the groundwork for me to have a successful career in consulting, because that's how consulting works. You have a new job every nine months to a year. And when you come here, it's the same thing. In the legislature, every day, it's something new."
After his high school graduation, Tillis chose not to go to college, taking a job instead at a Nashville-area records warehouse. Just 17, he hated it. So he fed his growing interest in technology with courses at local technical schools. In 1981, he moved to Chattanooga to work as a records management specialist for an insurance company, where he took classes at a local community college while helping his boss with a massive and tedious task: indexing and cataloguing thousands of records into a mainframe computer, a cumbersome project for the early 1980s. But he excelled at the task.
His work on that and other jobs for the insurance company led to a project development job in Boston with the now-defunct computer company Wang, which transferred him back to Chattanooga, then Atlanta. In 1990, PriceWaterhouse, the international accounting and consulting firm, recruited Tillis. He spent the next 12 years in a variety of systems and operational management roles while living in the Virginia suburbs of Washington, D.C.
He made partner in 1996, the same year he finally earned a bachelor's degree in technology management from the University of Maryland. By then, one of his major clients was Charlotte-based NationsBank, which in 1998 absorbed San Francisco's BankAmerica to form Bank of America. That was also the year Tillis decided he'd moved enough. He, his wife, Susan, and their two children settled in Cornelius.
Systems implementation and manage­ment is exacting, often tedious, work. But it provided Tillis with ideal training for some of his most important later accomplishments, such as effectively managing the often-unruly 120-member N.C. House and helping guide Republican legislative campaigns throughout the state.
"I've been in the room with him on business things, and he's very, very smart," says Dave Gilroy, a financial consultant and friend who took Tillis's seat on the Cornelius town board when Tillis stepped down to run for N.C. House. "When you're trying to work with banks at a senior level, and when you're doing that on behalf of IBM, you've got to be pretty smart."
Tillis landed at IBM in 2002, when PricewaterhouseCoopers, as it was called by then, sold its management consulting arm to the computer giant. Even after his election as the representative of North Carolina's 98th House district, Tillis stayed with IBM—until April 26, 2009, when, on the verge of earning a half-million per year, he left to concentrate on a new project.
It was a more public but less lucrative opportunity to put his organizational and leadership skills to use: The N.C. House Republican Caucus needed someone who could lead the party's attempts to recapture the House for the GOP.
Under "Interests" on Tillis's LinkedIn page, the last item reads, "Mountain biking, hiking, anything that gets the adrenaline up." Those things led him into politics.
In 2002, Tillis—a Cornelius resident for only four years—approached town officials about building a beginner's mountain biking path on undeveloped land off Jetton Road. He thought the project stood a better chance if he had a direct say in it. So he joined the town Parks and Recreation board.
The trail got built, and the experience whetted Tillis's taste for public office. The next year, he was one of 10 candidates running for five seats on the town Board of Commissioners. The bike trail exposure paid off; Tillis tied for second place with incumbent Jim Bensman. To break the tie, a voter literally pulled Bensman's name out of a hat. Bensman, as the official second-place winner, won a four-year term on the board. Tillis had to settle for a two-year term.
It turned out to be a momentous draw. Tillis said later that he would have been inclined to serve out the four-year term if he'd won it. The abbreviated term left him room to pursue something else.
N.C. House District 98 is Mecklenburg County's northernmost, encompassing Davidson, Cornelius, and most of Huntersville, along with the affluent waterfront homes on the southern and southeastern shores of Lake Norman. In a county that leans Democratic, it's solidly Republican. In 2006, the incumbent was Republican John Rhodes, a Cornelius real estate broker and prickly social conservative known for obstructionist tactics in a majority-Democratic General Assembly. Tillis's race against him illustrates his businesslike approach to politics—and why he's able to attract broader support than some of his more hard-right colleagues in the General Assembly.
At a business meeting in 2005, Tillis approached Paul Shumaker, a longtime political consultant for conservative candidates in North Carolina, including U.S. Sen. Richard Burr. Tillis told Shumaker he wanted to talk about a run for state House. The two met a week later at a Cracker Barrel in Statesville to discuss strategy. Shumaker was impressed with Tillis's immediate grasp of a campaign's logistical necessities; the political novice spent little time discussing issues.
"He talked about rate of return, burn rate, cash flow, all of that. He's very process-oriented. Actually, Richard Burr's a lot like that," Shumaker says. "There's a fundamental process to this, and 75 percent of the people who get into politics do not understand the process."
The Republican primary was May 2, 2006. Tillis trounced the two-term representative, Rhodes, 1,805 votes to 1,061. That won the seat. There was no Democratic challenger in the November general election. Tillis hasn't had a challenger since.
"Rhodes was clearly a guy who was out of touch with his district," Shumaker says. "At first, he was attacking Thom for not being a native North Carolinian. Well, our polling showed that over 50 percent of people in that district were from out of state. We just said, 'Keep saying it.' Thom Tillis is more reflective of North Carolina today than John Rhodes was. We had a guy who ran on business criteria and solving problems instead of just obstructing the majority."
The race was a watershed for both candidates. Shumaker stayed in touch with Tillis and now is advising the speaker in his U.S. Senate campaign.
Rhodes declined to comment for this story, other than to say, "I don't par­ticipate in anything political anymore."
One day in February 2010, Tillis asked to have a word with Scott Laster, who had just been hired to run the Republican N.C. House Caucus. The two men went into Laster's office. Tillis shut the door.
It was a critical season for the Republicans. Both houses of the General Assembly and the governor's office were in Democratic hands, swept in by the wave of support for Barack Obama in 2008. Still, the people leading the state Republican Party saw reason to believe they could take it all back. The GOP had performed respectably in 2008, actually picking up a seat in the legislature—although Democrats held a 30-20 margin in the Senate and a 68-52 edge in the House. The GOP hadn't held both houses of the General Assembly since 1870. But opposition to the Obama administration, especially health care reform, was cresting.
Laster came to North Carolina from Florida, where he was an experienced hand at legislative campaigns. Tillis, by now the second-highest-ranking Republican in the state House, decided to have a heart-to-heart with the new GOP House Caucus director.
"He said, 'We're learning each other. But there's one thing I want to make clear to you: I don't want a 'yes' man. Give me the facts and an honest appraisal of what's going on,' " Laster recalls. "He looked me dead in the eye, with the door closed in my office, and told me that.
"I said, 'OK. You're on.' "
Tillis, Laster, and other Republican leaders began targeting House districts. In August, September, and October of 2010, they traveled all over the state to potential swing districts, visiting newspapers and civic clubs to push their candidates. Tillis burned through a set of tires on his blue pickup truck, says Tillis friend and Cornelius town commissioner Dave Gilroy.
Back at state party headquarters, Laster assembled detailed spreadsheets with data on voter penetration, comparative contributions, cash on hand, message penetration. The party also received ample assistance from prominent conservative and former House member Art Pope, now the state's budget director, whose family and organizations linked to him raised $2.2 million for Republican candidates in 22 contested legislative seats, according to the Durham-based Institute for Southern Studies.
Helping guide it all was Tillis, playing exhortatory coach. "I heard this one phrase over and over again from people around party headquarters: 'This effort has never been organized like this before,' " says Laster, who became executive director of the N.C. Republican Party in 2012 before he resigned at year's end to found a lobbying firm with his wife. "Thom absolutely thought, 'Yes, we're going to do this. We're going to get this done.'
"He just exuded confidence. To carry this message to folks who had been in perpetual minority status, we needed somebody to hear that message from."
The Republican takeover of the General Assembly in 2010 surpassed even Tillis's expectations: near-perfect flips in both legislative houses, from a 30-20 Democratic margin in the Senate to a 31-19 Republican majority, and from 68-52 Democrats in the House to 67-52-1 Republicans. Two years later, the margins widened even more: supermajorities in both houses, plus a Republican, McCrory, in the governor's mansion.
The road was clear for Republicans to pass whatever they wanted, and in the 2013 legislative session, they did.
Now, a few months removed from the protests and late-night votes, Tillis understands he has another sales job to do.
"It's a matter now of going back to the voters and saying why we did the things we did. What can we point to that's producing positive results?" Tillis says. "I'm completely convinced we'll have a satisfied electorate."
Tillis has managed to appear more moderate than some members of his own party in the legislature by stressing economic rather than social issues. Conservatives and progressives were surprised in 2012 when the speaker, while retaining his support for a statewide ban on same-sex marriage, candidly observed that if it passed, it probably would be repealed within a generation. The measure passed, and Tillis is probably right.
The focus on pocketbook issues draws the attention, and the checks, of CEOs. Tillis formally announced his candidacy for Senate at the end of May. In the month before the Federal Election Commission's June 30 deadline for second-quarter campaign receipts and expenses, Tillis raised $277,922, and the list of supporters who donated the per-quarter maximum of $2,600 apiece reads like a roster of North Carolina's most prominent corporate executives.
Belk CEO Tim Belk and his brother, President and COO Johnny Belk, each contributed $2,600. So did furniture magnate James Edgar Broyhill of Winston-Salem and Raleigh restaurateur Lou Moshakos. The executives of Cornelius home and business services company ACN Inc.—founder and President Greg Provenzano, co-founder Tony Cupisz, Chairman Robert Stevanovski, and Vice President David Stevanovski—each contributed the maximum. So did their wives. (Calls to the company went unreturned.)
The most obvious example of direct corporate influence on legislation Tillis pushed came in the 2011 legislative session, when the House passed a bill that allowed consumer lenders to charge higher interest rates on small loans used to buy such items as cars and appliances.
The nonpartisan watchdog group Democracy North Carolina revealed last year that Tillis had accepted more than $20,000 in contributions from donors and organizations connected to the consumer finance industry. Chief among the donors was Gail Norris Blanton, the CEO of Time Investment Corp. in Greenville, N.C., who had hosted a fundraising event for Tillis in October 2011. Blanton co-hosted another fundraiser for Tillis in Greenville in June, along with her son Royce Everette, the company's president, and Everette's wife, Bonnie. All three contributed the maximum $2,600 to Tillis's Senate campaign, campaign records show. (Calls to Time Investment went unreturned, as well.)
After two years of Tillis as House speaker, progressive groups draw little distinction between Tillis the supposed moderate and Tillis the archconservative. "It almost seems like Tillis wants it both ways: He wants to be seen as a moderate, thoughtful businessman, but the way he governs belies that," says Chris Fitzsimon, founder and director of N.C. Policy Watch, a Raleigh organization that observes state politics from a liberal perspective. "He and McCrory seem to be cut from the same cloth: They come across as moderate, but their governance is not moderate at all."
Fitzsimon refers to a Tillis move that puzzled him and other political observers in Raleigh. In July, the House and Senate passed a controversial bill that toughened health standards for abortion clinics in North Carolina, forcing most to make expensive improvements or face closure. (Tillis missed the start of the floor debate to attend the fundraiser in Greenville.)
Tillis joined the GOP majority in voting for the bill, 74-41. His vote was a surprise not because it signaled his position on a social issue—he's always been anti-abortion—but because he clearly didn't have to vote. House speakers rarely do. Having already announced his run for Senate, why would he risk alienating female voters in a potential race against a pro-choice female opponent?
"[A] reporter asked me the same question the day of the vote. He said, 'Why did you vote?'" Tillis says. "I said, 'So you'd have my answer now instead of later.' If I felt that way, I felt like I needed to demonstrate the courage to show it versus leaving it open to interpretation."
Support him or not, you know where he stands. The world of Thom Tillis admits little doubt.
Greg Lacour is a contributing editor for this magazine. Read more of his political commentary on his blog, Poking the Hornet's Nest, at www.charlottemagazine.com.