Those Aren't The Acres You're Looking For
The fight over the airport channels Obi-Wan Kenobi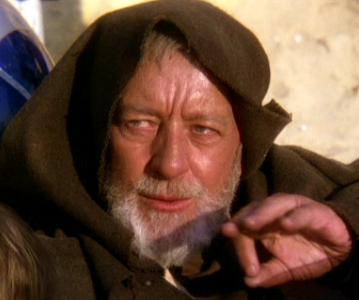 Here is what the airport fight has come to. Jerry Orr, who used to run Charlotte's airport, wants it to be run by an authority. City Manager Ron Carlee and current aviation director Brent Cagle, who are in charge of the airport currently, think everything is just fine as it is.
So yesterday, when Carlee and Cagle said the airport had been run sloppily for years, Orr took offense. One of the many issues? Nobody can agree on the size of the land parcel that the airport leases to a dog pound:
Carlee and Cagle said the airport had discovered that the facility is actually almost 6 acres, while it is officially listed in leases as only 2 acres. Orr disputed that.
"Are they surveyors?" Orr said. "My people (have) been surveying here since 1830, and I say the building occupies 2 acres."
Are they surveyors? I say the building occupies 2 acres. Either Orr is borrowing the "journalists are not economists" line of thinking from the governor, or he had to have been doing the Jedi Mind Trick when he said that. I need to try this with my wife:
WIFE: You need to mow the lawn.
ME: Are you a landscaper? That's the neighbor's yard.
It strikes me that Orr, who rightfully deserves recognition for building the airport into the US Airways hub it is today, now sits firmly in With All Due Respect territory. As in:
While praising Orr's leadership several times, Carlee also said the problems show that the airport wasn't keeping pace with its growth.
Basically, the city's saying he's great, but terrible. Or vice versa. So there. It's a complex story, so it does help to imagine Jerry Orr as Chuck Norris and go from there.